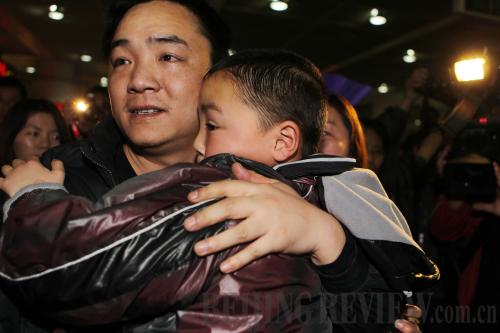 RETURNING HOME: Peng Wenle, a boy missing for three years, returns to Shenzhen in Guangdong Province with his father, Peng Gaofeng, on February 10 (CFP)
On February 8, Peng Gaofeng reunited with his son who had been missing for three years. Peng, 33, lost his son, Peng Wenle, nicknamed Lele, on March 25, 2008, when a stranger kidnapped the 3-year-old in front of his grocery store in Shenzhen, south China's Guangdong Province.
Six surveillance cameras caught images of the man escaping with Lele until they disappeared on a bus, but these clues didn't help Peng and the police track down the kidnapper.
Since then, the family had been trying everything it could think of to get the boy back.
The father said he tried working with unsuccessful police efforts, advertising in newspapers, handing out fliers, offering rewards and writing blogs.
"I've opened 13 blogs on the Internet and posted my son's photo everywhere online," Peng said.
These attempts attracted attention, but didn't lead to his son until Deng Fei, a reporter with Phoenix Weekly, participated.
Deng published a micro-blog attached with Lele's picture to his 110,000-plus followers, and it was quickly forwarded more than 5,000 times.
On February 2, a netizen who had seen Lele's picture found a child looking just like him in Pizhou, east China's Jiangsu Province. He contacted Peng immediately. Peng then rushed to Pizhou to rescue the boy with the help of local police.
"It's a miracle that could not be true without the help of netizens," the father said. "Everyone can be an investigator with the help of micro-blogging."
Peng's son is believed to be the first missing child to be reunited with his family since a nationwide campaign was launched on the Internet in late January to save child panhandlers and help them reunite with their families.
The grassroots campaign was initiated by Yu Jianrong, a professor at the Institute of Rural Development of the Chinese Academy of Social Sciences, encouraging netizens to take snapshots of children they see begging in the street and of other children they think might have been kidnapped, and then post the photos on the Twitter-style micro-blogs in the hope that family members will see them.
In less than one month, more than 220,000 people joined the campaign and six abducted children have been reunited with their families.
"The micro-blog is a new channel for netizens to report leads to the police and monitor their handling of these cases," Deng said. "The micro-blog can pool the power of millions of ordinary people, increasing the chances of finding a lost child in such a large country."
A large movement
Yu started the campaign in the form of a snapshot micro-blog, "Street Photos to Rescue Child Beggars," on January 25.
He said on his micro-blog he came up with the idea on January 17 after he received a letter from a desperate mother, who asked him to help find her lost son she believed was abducted and forced into begging.
Yu said he would like to see the elimination of child begging by outlawing the practice and wanted to help more families reunite with their missing children.
The professor opened two micro-blogs on t.sina.com.cn and t.qq.com, two popular Twitter-like services.
Six volunteers were working to maintain the micro-blogs and one full-time employee will be recruited soon, Yu said.
"Micro-blogging may help put an end to people using children to beg. It also mounts an immense social pressure against trafficking children," he said.
Statistics from the Ministry of Civil Affairs show as many as 1.5 million children are forced into begging. And a large number of them were abducted.
About 3,000 abductions of women and children are reported every year, according to the Ministry of Public Security. Yet many parents have not found their children, even with the help of the police.
Through Yu's team and tens of thousands of netizens, more than 3,000 micro-blog posts with children's pictures and other details were collected and published, with each one forwarded hundreds to thousands of times.
"The public enthusiasm exceeded our expectations," Hou Zhihui, a volunteer who helps Yu maintain the micro-blogs, told Xinhua News Agency.
On February 21, Xunren.baidu.com, an online platform created by Baidu Inc., operator of China's largest Internet search engine, was launched to help parents find their lost children among pictures of child panhandlers uploaded by netizens.
The platform has built a database containing thousands of pictures of both lost children and ones found on the street. Parents can possibly find their lost children by uploading profile pictures of them onto the platform, according to a report by the Shanghai-based Oriental Morning Post.
With advanced face-recognition technology, provided by the Chinese Academy of Sciences, the platform could match the lost children's pictures automatically with the same or similar ones among those uploaded by netizens, said Wang Run, an engineer with Baidu.
People across China could also help street children find their parents by simply taking a picture of them and uploading it onto the platform, he said.