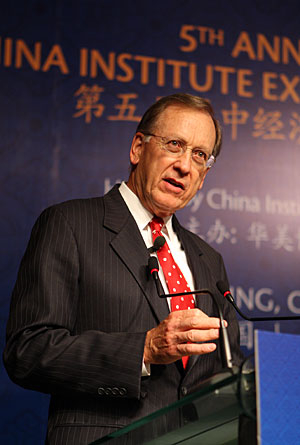 DAUNTING CHALLENGE: Donald H. Straszheim, Managing Principal with Straszheim Global Advisors Inc., says China may face slower economic growth in the coming years because of an export collapse (JIANG XIAOYING)
As the battle against the global financial storm heats up, China and the United States are increasingly finding themselves in the same boat.
In the face of looming downturns, both countries have pumped massive fiscal stimuli into various key industries to foster a turnaround. But an end to the crisis will not necessarily turn on a spigot of fresh economic growth. It is widely believed that restarting the world growth engine will require closer ties between the world's largest economy and the most vibrant emerging economy.
The high economic interdependence of China and the United States could explain why they believe cooperation with the other is essential. While U.S. consumers account for the bulk of China's growth-driven exports, China is the largest holder of U.S. government debt-a key source of financing for America's soaring deficits.
Considering the many uncertainties of the current crisis, the question many are asking is whether the two countries' economies can emerge from the downturns by working with each other and at the same time position themselves for future economic growth.
This year's China Institute Executive Summit on April 27-28 in Beijing provided a platform for economists and business leaders from both countries to plot a way out of the current economic mess. By exchanging views on further cooperation, they sent a strong signal of hope on their joint path toward economic recovery.
This was the first time that the five-year-old summit was held outside the United States. Sara Judge McCalpin, President of the China Institute, which organized the summit, told Beijing Review that the conference was designed to provide a bridge between business leaders from both countries and help them gain knowledge and learn best practices from each other in overcoming the crisis. The China Institute is an educational and cultural organization based in the United States, which focuses on advancing a deeper understanding of China.
Challenges ahead
While Europe and Japan sink into deeper recession, the world is looking to China and the United States for some confidence. With its 4-trillion-yuan ($586 billion) stimulus package taking hold, the Chinese economy appears to be turning around. On the other side of the Pacific Ocean, a gradual stabilization is also removing a huge drag from the U.S. economy although it still has a long way to go before it can realize a full-fledged recovery. More importantly, the fiscal boost delivered by each country provides a source of confidence for the other.