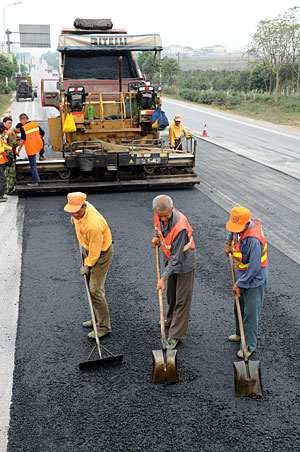 ROAD TO NOWHERE: Ongoing road repairs waste time and money, when the job should be done right the first time (SUN CAN) 
Stop Cheating Job Hunters
It was recently discovered that in many job fairs in Shanghai, some companies that have booths set up do not actually intend to hire new employees.
There are many reasons for some companies abusing these job fairs, which include using the fairs for publicity and taking advantage of the government's favorable policies.
According to a manager of one of these companies, this year, the government not only exempted participants from booth fees, but also offered every participating company a 200-yuan ($30) subsidy. These companies therefore decided to make an appearance, though they had no intention of recruiting anyone.
Job fairs are where many job hunters hope to be the starting point a promising career. If it's found that all is not above board, then job hunters will gradually lose confidence in such events.
Regarding today's grim employment situation facing job hunters, how will they feel if they find the very people who should be providing them jobs are cheating them?
Abusing job fairs is also harmful to these unscrupulous companies. Although they might get their name known through job fairs, their fraudulent behaviors will eventually lead to the collapse of credibility, In a market economy, this could be disastrous for a business.
Workers' Daily
Tackling Govt Car Abuse
According to an official vehicle reform scheme, 21 prefecture-level government departments in east China's Hangzhou, Zhejiang Province will stop using vehicles at government's expenses from May. If officials at these departments do not have cars of their own, they have to take bus or taxi for business visits.
Earlier media reports said that nearly two thirds of official car drives in China were for private purposes. At the same time, the high cost of maintaining a fleet of cars is increasingly becoming a heavy burden on governments at various levels. On average, every official car costs 50,000-60,000 yuan ($7,200-8,600) to run every year.
Hangzhou's initiative is a good start for a thorough official vehicle reform in various government departments all over the country. In Hangzhou, an overall reform is expected within three years. Whether the program needs to take this long because of the realities on the ground, at least a good example is being set to begin with.
Dazhong Daily
The Road to Disrepair
Spring in Harbin this year brought with it snow and rain, leaving roads clogged with slush and hampering road transport across the far northeastern city in Heilongjiang Province. To date, a quarter of the roads in Harbin have been damaged to some extent, auguring that extensive repairs may begin before long.
Frequent road maintenance causes the public untold inconvenience. However, for those who make money from endless road repairs it's a lucrative business.
The calculation here is easy: The more building materials are saved, the more money can go into the purse of builders. At the same time, roads built in this way will always fall into disrepair, and thus need more investment to repair them. Road builders and some corrupt officials in charge of road repairs receive the funds they need, and then skim off the top into their own pockets. As a result, roads need repair year after year.
This explains why the roads, which are said to be constructed using huge budgets, end up with such poor workmanship. Generally speaking, there are strict standards for road quality and duration. But nowadays, even if the roads need to be repaired every year, no one is asked to take accountability. Officials stay in their jobs and contractors continue to take on similar projects. If there is a rigid accountability system and those who are involved in the projects of the short-lived roads, both officials and contractors, are severely punished, maybe the roads could last longer.
Shenyang Evening News
Prevention Better Than Cure
After a cancer-causing chemical was found in products of a local dairy brand, the government of Jinhua in east China's Zhejiang Province announced a course of action on how they would deal with the matter.
Actually, as early as 2000, this toxic chemical was found in sauces produced in south China's Guangdong Province. Though this toxic chemical has since been listed among banned substances for food additives, it did not draw much attention from food safety regulators.
In China, food safety is related to a range of stakeholders. Because of the complexity of this issue, we need a well-developed food safety regulatory system to save the public from consuming hazardous food.
What we need is a system that is able to find out threats before they endanger the public and also a regular quality supervision system that will keep unsafe additives away from food.
The Beijing News