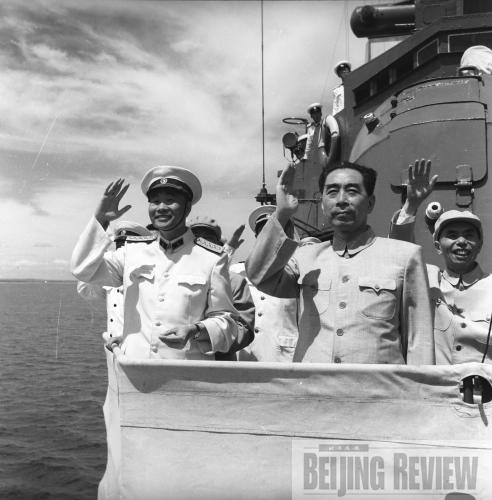 YOUNG TROOP: Xiao Jinguang (left), then commander of the Chinese Navy, accompanies late Chinese Premier Zhou Enlai (center) to view the naval fleet in the coastal city of Qingdao in August 1957 (CFP) 
On the eve of the Chinese Navy's 60th anniversary on April 23, a commander in the fleet said the service is well on its way to becoming an "iron Great Wall" and revealed plans to build powerful ships and airplanes.
"The navy will move faster in researching and building next-generation weapons to boost its ability to fight in regional sea wars under the circumstances of information technology," said People's Liberation Army (PLA) Navy Commander Admiral Wu Shengli, during an interview with the official Xinhua News Agency a week ahead of the 60th anniversary celebration.
China plans to build sophisticated marine weapons, including large surface combat ships, supersonic aircraft and high-speed intelligent torpedoes, Wu said. The navy also expects to build highly accurate long-range missiles, invisible submarines with electronic weapons and facilities.
According to China's latest white paper on its national defense released in January, the country is making efforts to build new types of submarines, destroyers, frigates and aircraft, forming a preliminary weaponry and equipment system with second-generation equipment as the core and the third generation as the backbone.

SHIPS OF THE LINE: Chinese naval vessels take part in the naval parade in celebration of the 60th anniversary of the founding of the Chinese Navy on April 23 (QIAO TIANFU) 
Humble beginning
In the early 1950s, the PLA Navy set up its five branches—the surface ship force, the coastal defense force, an aviation wing, the submarine force and the Marine Corps. This structure is still used today.