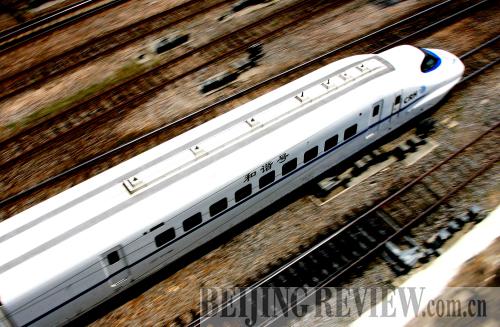 HARMONY TRAVEL: The shuttle railway between Beijing and Shanghai, called Expo Harmony Travel, starts services on April 28 (XINHUA)

Tackling Flu
China went on full alert on April 28 to guard against swine flu as authorities ordered round-the-clock monitoring of the deadly virus and the suspension of pork imports from Mexico and the United States.
Chinese President Hu Jintao ordered the country to step up inspection and quarantine measures to prevent swine flu from entering China and ensure public health and safety.
Hu urged local government departments to closely monitor the global swine flu situation and take prompt and comprehensive measures to deal with the virus, which by April 29 had killed about 150 people in Mexico.
Officials should enhance international cooperation and public awareness of swine flu, and make full preparations of necessary materials and technological reserves to combat the deadly virus, he said.
As of April 29, no confirmed cases of swine flu had been reported in China and the virus had not been found in pigs in the country, which is home to the world's largest pig population.
Trademark Protection
China's Supreme People's Court (SPC) has released a judicial explanation on handling cases concerning reputed trademark infringement in a media statement.
The judicial explanation takes effect on May 1.
A spokesman for the SPC's intellectual property court said the explanation "summarizes relevant trial experience" and was to "improve the courts' judicial protection system of well-known trademarks, enhance the authority and credibility of judicial protection and safeguard fair competition in the market."
The explanation makes clear basic requirements for reputed trademarks as well as protection and recognition, among other items. It standardizes judicial measures in handling civil cases concerning trademark infringement and provides legal backup for judicial protection over well-established trademarks.
Earthquake Orphans
Only 12 of 623 earthquake orphans have been legally adopted, with the others in the care of welfare homes, an official from Sichuan Provincial Government said.
All the adoptive parents were from the Chinese mainland, said Chen Kefu, Deputy Director of Sichuan Provincial Bureau of Civil Affairs.
As June 2008, about 1,019 children had been classified as orphans, but some were later identified by parents or other relatives and taken home, according to Chen.
The 8.0-magnitude quake that hit southwest China on May 12, 2008, killed more than 69,000 people. It also left nearly 18,000 missing, more than 374,000 injured and millions homeless.
Thirsty for Water
Beijing plans to build or expand 13 facilities by 2014 to process water from the Yangtze River, with a combined annual capacity of about 1 billion cubic meters, a city official said on April 29.
The municipal government will spend 26 billion yuan ($3.8 billion) on the plants, according to He Fengci, Deputy Director of the Beijing Municipal South-to-North Water Diversion Office.
"By 2020, Beijing will receive about 1.4 billion cubic meters of water diverted from the Yangtze River annually," said the official.
Beijing's water shortages are the result of its geography and the drought it has been experiencing since 1999. The shortage is expected to reach a crisis point next year, when the population is projected to top 17 million--3 million more than its water resources can support.
The south-to-north diversion program, aimed at providing sufficient water for China's northern regions that have experienced multiyear droughts, will connect the Yangtze, Huaihe, Yellow and Haihe rivers.