In order to ensure fair and affordable health services for all Chinese citizens and to set up a healthcare system that covers both urban and rural residents, the Chinese Government put forward a strategic task of deepening the healthcare system reform. The major objective of this reform is to provide medical service as a public service. In an interview with Beijing-based Guangming Daily, Li Weiping, a fellow researcher at the Institute of Medicine and Economy under the Ministry of Health, says that public hospitals are key to making this reform work and medical workers will need to drive this process forward.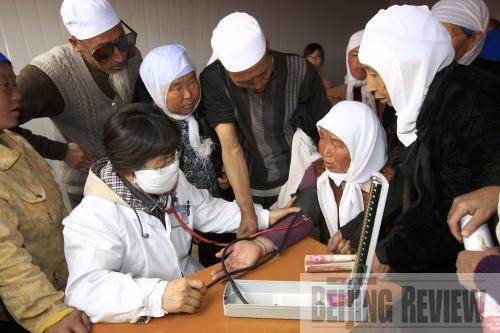 PUBLIC SERVICE: Muslim women in Tongxin County, Ningxia Hui Autonomous Region, undergo a physical checkup free of charge (LI MINGFANG) 
Guangming Daily: Why should we stick to the idea of "public service" when reforming public hospitals?
Li Weiping: The right to health is enshrined in constitutions or laws in all developed countries and transition economies worldwide. It is a reflection of justice and fairness in a society. To fulfill their responsibilities in this field, governments all over the world offer relevant funds, services and the management. This is a test of a government's capability of public administration. The provision of basic health services and medical security is now a crucial policy tool to realize social harmony.
At the current stage, due to the imbalance of social and economic development in different areas in China, the gap among different social classes and its underdeveloped medical security network, public hospitals have to shoulder part of the government's obligations in medical services. In order to ensure citizens' basic right to health, the government must follow the principle of basing the function of public hospitals as a public service. Public hospitals are also an important vehicle for the government to offer public services.
Why is it said that the establishment and improvement of a compensation system for public hospitals is the foundation for these hospitals to maintain the role as public service providers?
As institutions that share part of the government's functions, public hospitals should pursue the aim of providing public services for all. A sound compensation system is the guarantee for the hospitals to maintain their nonprofit nature.
Under the planned economy, charges on medical services in China were lower than their costs. It was one of the measures that the state adopted to provide welfare for patients, which were based on the government's financial subsidies to public hospitals. While ensuring people had access to effective medical services, this method conformed to the social and economic environment at that time. After great changes took place in Chinese society and the country's medical insurance system made remarkable progress, it is now possible for hospitals to charge on medical services according to their actual costs and rely on indemnity from insurers to make up for deficits incurred from offering public welfare services. During the ongoing reform, health services will be priced at a rate that reflects their true value as offered by medical workers. This is also the precondition for the establishment of sound compensation systems for public hospitals all over the world.
You once said that to stimulate medical workers' enthusiasm is vital to improve the efficiency of the healthcare system. Why did you say this?
One problem facing public hospital reform worldwide in the past three decades is how to ensure attractive salaries for employees while maintaining the public welfare nature of these hospitals. If medical workers' reasonable needs on issues including income cannot be met, the losers are patients. Therefore, public hospital reforms around the world all pay much attention to medical workers' interests, so as to motivate them to participate in the reform and realize the final objective of ensuring the whole nation's interests.