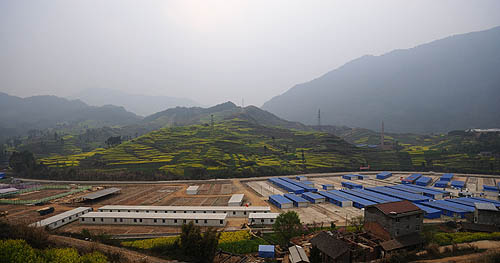 NEW HOMES: Reconstruction is in Sichuan Province with help from all over the country. Zhejiang Province has provided aid to this rebuilding project in Qingchuan County (JIANG HONGJING)
Despite ruins still seen everywhere in the earthquake-hit areas in Sichuan Province, new buildings have been completed, and many people have moved into new houses. Through cameras of the media, the faces, once painful and melancholy after last year's earthquake, now look confident and firm, gratifying people all over the country and around the world.
The May-12 earthquake destroyed Wenchuan County, the hometown of giant pandas. But in the past year, a new Wenchuan has been rising. With help from people at home and abroad, the disaster-affected people have gradually restored their damaged homes and hearts.
The Development and Reform Commission of Sichuan Province (SCDRC) held a press conference on April 24 in Chengdu, the provincial capital. Xu Shusheng, Assistant Director of the SCDRC, said the province would try to finish reconstruction within two years.
After the earthquake, Sichuan needs to rebuild 312,500 permanent houses and reinforce 1.42 million damaged houses in urban areas. It also needs to rebuild permanent houses for 1.26 million families and reinforce damaged houses for another 3.48 million families in rural areas. Xu said more than 98 percent of the reconstruction projects would be completed by the end of 2010, according to the reconstruction plan.
"We must ensure that we finish the task of reconstruction in time so that people in the disaster-affected areas can live a happy life as soon as possible," Xu said. "By September 2010, we will try to make basic living conditions and social and economic development reach or even surpass the level it was before the earthquake. Our goal is that every family is housed, every family has employed people, every person lives a secured life, social facilities are developed and the ecological environment is improved." To finish the reconstruction plan, a total investment of 880 billion yuan ($128.84 billion) is needed.
Xu said projects related to people's livelihoods such as housing, schools and hospitals were the key facilities among the reconstruction projects. He added that 80 percent of the projects would be completed by the end of this year. As of now, nearly 40 percent of the projects have been started.
Dujiangyan, a county-level city under Chengdu and the nearest city to Wenchuan, is planning a large-scale community with an estimated investment of 2 billion yuan ($292.83 million). After completion, the community will house 120,000 people. The first-stage construction has been started on land covering 54 hectares where schools, hospitals, parks, greenery, shopping centers and city express railway stations are being planned.