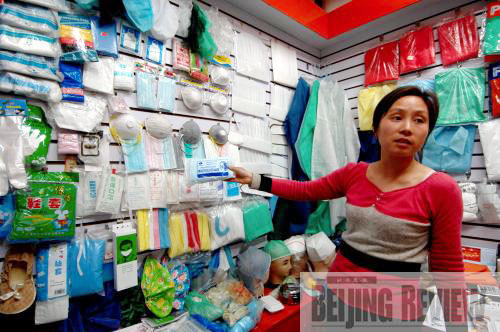 CHINA-MADE PROTECTION: He Ronghua, owner of a small store in Yiwu, Zhejiang Province, said she had already sent large quantities of surgical masks to North American countries after the outbreak of swine flu (WANG XIAOCHUAN )
Free Trade Agreement
China and Peru signed a free trade agreement (FTA) on April 28 after a year of negotiations. This was the first FTA package between China and a Latin American country. According to the deal, both countries will further open their service sectors and offer favorable policies to investors from the other.
The two countries also pledged to cooperate in other fields, including intellectual property and customs procedures.
Central China's Boon
China's six central provinces sealed foreign investments of $6.37 billion at the three-day Central China Expo in Hefei, capital of Anhui Province, which ended on April 28. They also inked contracts worth 144.9 billion yuan ($21.3 billion) with domestic companies from other parts of China.
The purpose of the expo was to boost investments in industry, commerce, tourism, radio, film and television in central China's six central provinces, namely, Henan, Shanxi, Hunan, Hubei, Jiangxi and Anhui. Co-hosted by the Ministry of Commerce, the State Administration of Taxation and governments of the six provinces, the expo attracted 16,000 businesspeople.
The region currently hosts 28 percent of China's population, but makes up only 20 percent of the nation's total economic output.
Toyota Sedan Recall
Toyota Motor Corp. is recalling 259,119 Camry sedans sold in China. The recall—one of the company's largest in the country—was triggered by a design flaw in the vacuum pump of some vehicles that could cause brake failure, according to the recall report the company submitted to the General Administration of Quality Supervision, Inspection and Quarantine.
The company is offering Camry owners affected by the recall a free pump replacement. According to a Shanghai Securities News report, the recall will cost the Japanese automaker between 800 million yuan ($117 million) and 1.3 billion yuan ($190 million).
The sedans were made by Toyota's joint venture with Guangzhou Automobile Group Co. in South China between May 15, 2006, and March 3, 2008.
Subsidized Sales Boom
Sales of home electrical appliances throughout China got a boost during the first quarter of the year after the government simplified the procedures for farmers to receive subsidies on such purchases, a Ministry of Finance official said on April 28.
Thanks to China's program for subsidized home appliance purchases in rural areas, the country's appliance dealers sold nearly 6 million of such products in rural areas in the first quarter of this year, according to Zeng Xiao'an, Deputy Director of the ministry's Economic Construction Department.
While helping to stimulate domestic consumption, the campaign also offered a hand to domestic electrical appliance manufacturers so they could survive shrinking export orders for their products.
Credit Line
The Bank of China Ltd. recently offered a credit line of 20 billion yuan ($2.92 billion) to financially distressed China Eastern Airlines Corp., the country's third largest air carrier, according to a report in the Shanghai Daily. In return, the air carrier will provide a full range of air services for the bank.
China Eastern Airlines incurred a painful loss of 14 billion yuan ($2.05 billion) last year because of the domestic economic slowdown.