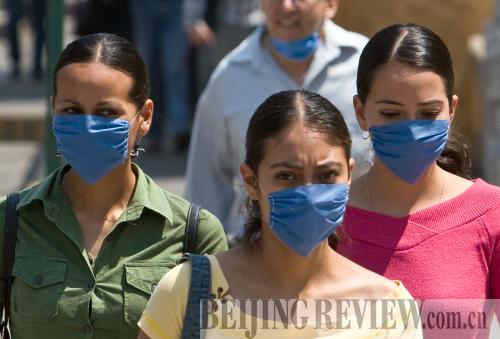 MASK-COVERED CITY: People wearing masks walk on a street in Mexico City on April 27. Mexico City distributed free masks to residents to prevent swine flu from spreading (DAI WEI)
How serious is the swine flu? It is so sensitive that the White House had to reassure reporters that U.S. President Barack Obama is still in good health after visiting Mexico in mid-April. Besides the United States and Canada, swine flu cases have appeared in Europe and Asia. The world now faces a "public health emergency of international concern," warned the World Health Organization (WHO). On April 29, WHO raised the pandemic alert level to Phase Five on a scale of one to six, indicating human-to-human transmission of the virus in at least two countries in one region.
Situation in the world
Swine flu is caused by the H1N1 virus, a mixture of swine, human and avian flu viruses. It usually infects people who have had close contact with pigs. Its symptoms are similar to those of regular flu and include fever, lethargy, lack of appetite and coughing. There is no vaccine yet, and according to the WHO, it could take four to six months before the first batch of vaccines is available. Health experts have advised people to wash their hands frequently, stay away from people with flu-like symptoms and avoid large gatherings. Scientists warn that there is also a danger the swine flu virus could mutate. Once that happens, there is the possibility of a worldwide outbreak.
Mexico is the center of this epidemic disease. As of April 30, swine flu had killed 159 people in the country, while almost 2,500 others had been sent to the hospital after becoming infected. Swine flu cases have been found in 17 Mexican states. All schools in Mexico have been closed until May 6. The previously crowded Mexico City is now quiet, with millions choosing to stay home rather than risk exposure. The Mexican Government announced on April 26 that the country would use about $450 million in public health funds to fight the disease. The World Bank also announced a $200-million loan to Mexico as further support.
The United States had confirmed 91 swine flu cases as of April 30, including five people in the country to die from the disease. The states affected included Arizona, California, Indiana, Kansas, Massachusetts, Michigan, Nevada, New York, Ohio and Texas. The U.S. administration declared a public health emergency on April 29. Infected countries in the Americas included Canada, Costa Rica, Colombia, Peru and Chile. In Europe, suspected or confirmed cases had been discovered in Britain, France, Spain, Germany, Denmark, Italy, Switzerland, Poland and Austria. Australia, New Zealand, Israel, Thailand and South Korea also had suspected or confirmed cases. With 17 cases found, South Korea was the most seriously affected country in Asia.
Almost all patients infected were recently in Mexico. Several countries have announced that they will inspect imported pork for a new strain of the swine flu virus, while Russia has instituted a total ban on meat products imported from Mexico and the infected U.S. states. Countries like Cuba and Argentina have banned all flights from Mexico, while others are considering similar bans. Many other countries have issued travel warnings for Mexico and the United States, while some are advising travelers to reconsider their travel plans because of the flu outbreak. Several Asian countries have initiated the quarantine procedures and precautions used during the SARS epidemic in 2003 and bird flu outbreaks.