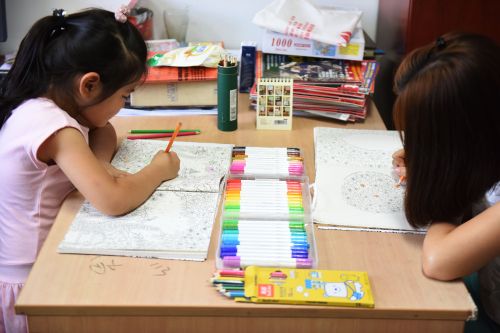 A woman and her daughter color illustrations in Secret Garden in Beijing on August 4 (CFP)
Zeng Xin, a master's candidate at Peking University in Beijing, learned about the coloring book Secret Garden: An Inky Treasure Hunt and Coloring Book by Scottish illustrator Johanna Basford through a smartphone app that recommends items worth buying. She decided to venture into an artistic field utterly different from her inscrutable academic pursuit--Chinese philosophy.
She purchased the book from the e-commerce website Taobao for about 30 yuan ($5). A set of 36-color pencils came as a free gift with the purchase.
During her two-month-long summer vacation, Zeng colors illustrations in the book whenever she has time. She has finished two and a half drawings.
"I have derived a sense of achievement from coloring because it's easy to do," Zeng said. She added that as a philosophy major, she often feels defeated when reading philosophical treatises.
Zeng is not alone. Within a month of the release of the Chinese version of Secret Garden in early June, the book had sold out on China's three major book retailing websites--JD.com, Amazon China and Dangdang. On July 18 alone, it sold 25,000 copies on JD.com. Some online shoppers even sought to buy copies on foreign e-commerce websites.
In addition to Secret Garden, several other coloring books have also become popular. Their enthusiasts range from white-collar workers to pregnant mothers-to-be. Uploading finished drawings to social networking platforms is becoming fashionable among such enthusiasts.
A palpable hit
Secret Garden contains 96 pages with one delicate pen-and-ink illustration on each page. All the illustrations are made up of patterns featuring flowers, grass, tree leaves, and small animals and insects like owls, butterflies, and birds.
Basford told the BBC recently that the book was inspired by the garden her grandfather tended when she was little.
A graduate of the Duncan of Jordanstone College of Art and Design of the University of Dundee in Scotland, Basford has solid professional skills that enable her to be an excellent illustrator. In addition, she has nurtured an interest in coloring since childhood. She used to be ashamed to color in the presence of her own child, until recent years when she decided to show her true colors and put her talents to use making coloring books for adults.
The difference between adult and child coloring books is that the former often has intricate patterns, she told BBC.
Before entering the Chinese market, Secret Garden had already proved immensely successful in Britain, the United States and South Korea among others. It has been translated into 22 languages and sold around 2 million copies globally.
The book even makes an appearance in a 2015 South Korean drama series entitled Producer, in a scene where an actress colors one picture in the book to relieve stress. This has to some extent contributed to its popularity in China as South Korean TV dramas are favored by many Chinese youngsters.
But this was not enough in itself for the book to become a phenomenon.
"Enthusiasts who share their finished pictures on online social networking platforms such as WeChat and Weibo have also contributed considerably to the popularity of the book," said Yang Baoyun, the Planning Editor of Post Wave Publishing Consulting the company which introduced Secret Garden to China.
Fu Zhihong, the marketing editor of Post Wave, was not surprised by the book's commercial success in China. "We have noticed that coloring books were gaining traction in the United Kingdom, France and the United States beginning last year," Fu said. "It has become a trend worldwide, and many Chinese publishers bought the copyrights of such books from Western publishers."
Post Wave is optimistic about the market prospect of coloring books. It has plans to import 18 coloring books featuring different themes in the near future.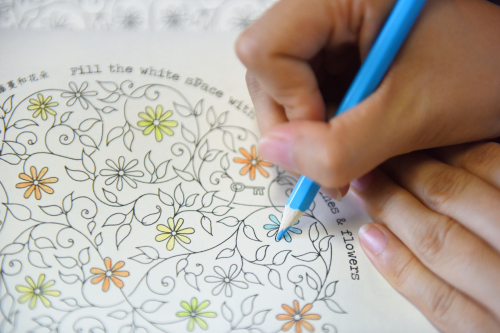 A half-finished drawing in Secret Garden (CFP)
Pros and cons
The largest selling point of coloring books is their ability to help people cope with stress.
Fu revealed that he had spent one afternoon coloring and that afternoon passed unnoticed. He said that he was agitated previously but felt pacified after long hours immersed in coloring.
"Only by doing the coloring themselves can one sense the charm of such books," Fu noted. "I posted my work on WeChat, and my friends all felt curious about the activity."
Fu's sentiments are echoed by many who claim that coloring has enabled them to concentrate and forget about troubles in real life.
However, there are others who counter the pressure alleviation argument by saying that the experience has not reduced but instead increased pressure. For instance, some have come to view it as a task that needs to be finished in time.
Zeng admitted that the stress relief effect is not obvious. She said that she feels more pressure after assuming the hobby because she is constantly afraid of filling in the wrong color or filling out of the confines.
Cai Zhidong, an associate professor at the Institute of Chinese Traditional Thoughts of Shanghai Normal University, wrote in an article that the popularity of Secret Garden reflects the barren mind of contemporary people. He said that coloring books represent only one option for people to fill their spiritual void and predicted that they will quickly be discarded and forgotten.
Although foreign adult coloring books are currently all the rage, Chinese works of the same category are few, and none of them have proved successful.
Wei Ling, an editor at Beijing Xiron Books Co. Ltd., one of China's largest independent publishers, said that the difficulty of creating original coloring books in China lies in the lack of artists who are interested in and capable of drawing highly detailed patterns with distinctive Chinese characteristics.
Jiang Tianfei, Art Director of Post Wave, warned that as the market for coloring books grows, a good many of books with homogenous themes will crop up. He suggested publishers develop new titles such as those featuring masterpieces of famous painters.
Zeng said that she will continue coloring after the new semester begins this fall. "It's a good method of recreation," she said.
Copyedited by Kylee McIntyre
Comments to jijing@bjreview.com