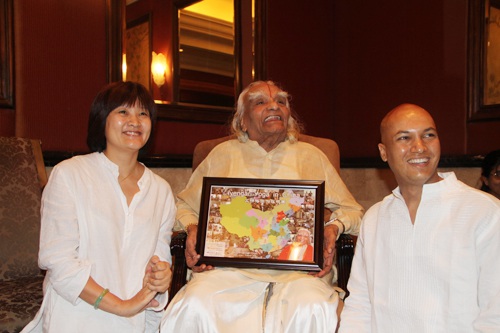 Yin Yan (left) and her husband Yogi Mohan (right) pose with B.K.S. Iyengar, the late Indian yoga guru, during the First China-India Yoga Summit in Guangzhou, south China's Guangdong Province, in June 2011 (COURTESY OF YOGIYOGA)
If you have seen the movie Eat, Pray, Love, you must remember Liz Gilbert, a writer and the movie's main character who gives up almost everything and starts a totally new life in her 30s. In today's material world, how many people would possess the courage to do this for real? Well, 51-year-old Yin Yan for one.
In 2003, Yin was editor in chief of ELLE China, earning an annual salary of 1 million yuan ($161,100). Despite her success, she felt something was missing. "I just wanted to look into myself rather than continuing to move on. I owned many things that other people may have been envious of, but I was not happy at all. I said to myself, 'I must find the reason'," said Yin, now founder of Yogiyoga, a Beijing-based yoga club.
Inspired by the movie A Passage to India directed by David Lean, Yin decided to go there to find herself. She holds that something in her snapped prior to taking up the position of editor in chief at the fashion magazine.
"I was afraid that I wouldn't be able to bear the burden if I kept going. I had to give up," she recalled.
A chance encounter
Having arrived in New Delhi, Yin instantly headed for Rishikesh, where the British rock band The Beatles learned transcendental meditation in the 1960s. The Himalayan city is recognized by yoga fans as the capital of yoga in India.
"I didn't go there for yoga but for meditation. Whether I would be able to make it or not, I had no idea then," Yin said.
However, in order to learn meditation in the ashram called Parmath Niketan where she studied, one had to start with yoga positions.
At 7 a.m. the next day, Yin had prepared herself at a yoga classroom. When the door opened, she saw a man in white walk in, unfold a yoga blanket, sit down and cross his legs, before Yin heard him say, "Close your eyes." That man was Manmohan Singh Bhandari, aka Yogi Mohan, then 29 years old. Having walked into Yin's life, he has remained there ever since.
"I didn't quite catch his orders. My body was so stiff, like a stone," she recalled in her published diary of her time in India, The Sun and Rain Under the Bodhi Tree. In the beginning, she wasn't able to so much as lift up her legs. After being coached by Mohan, she was able to hold her legs at an angle of 60 degrees. "It's magic for me. A little hard work allows you to discover your true potential. I become very excited," she wrote.
She once questioned Mohan as to the true meaning of yoga. "Yoga is a philosophy of life. It will help you live your life, peacefully and happily," her mentor replied.
After a whole week of yoga practice, which drove out the negative energy that had accumulated in her for so long, Yin left the ashram and returned to the town. She noticed that along a narrow and dirty road stood lazy bulls, beggars and fruit peddlers against a backdrop of blinding sunshine. The beauty of the scene—and her newfound ability to recognize it—struck her as a kind of epiphany.
"I knew then that nothing had changed but me," Yin said.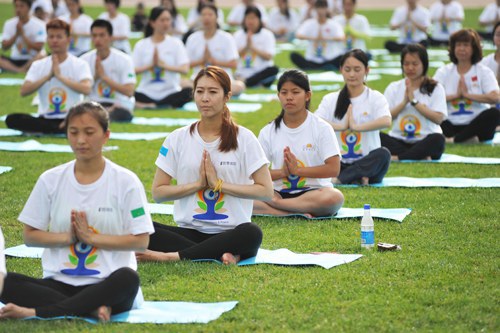 More than 500 practitioners perform group yoga on the grounds of Peking University in celebration of the first International Day of Yoga in Beijing on June 21 (WEI YAO)
Yoga in China
Back from India after her 21-day journey, Yin invited Mohan to Beijing and they started Yogiyoga together. Yin is in charge of business while Mohan is primarily responsible for teaching.
For Chinese people at that time, yoga was still an alien term. This was in spite of the fact that relations between the discipline and China date back to the time when Buddhism was introduced into the Middle Kingdom. Yoga's popularity only began to grow in earnest when a Chinese-American, Wai Lana, brought it to China Central Television, the state TV broadcaster, in the 1990s.
"When I mentioned yoga in 2003, people even used to ask me how to write its Chinese characters," Yin said.
Today, it would be no exaggeration to say that yoga has exploded in China, with the discipline accruing an ever-growing number of practitioners and organizations.
On the recently established International Day of Yoga proposed by Indian Prime Minister Narendra Modi, 13 Chinese cities were numbered among a total of 3,000 designated locations worldwide where the event was celebrated on June 21.
"Yoga is going to have a second home in China," said Indian Ambassador to China Ashok K. Kantha at a celebratory event in Beijing.
Echoing the ambassador, Yin feels that China is also a promising market in terms of the global yoga industry. Yoga advocates harmony between people and nature, an ethos consistent with China's traditional values. Therefore, Chinese practitioners find the discipline easy to understand and to get involved in.
One of the reasons for the yoga discipline's runaway success is its obvious benefits for physical and mental well-being. It also provides solutions for people for realizing self-fulfillment and exercising self-restraint.
Practitioners, mainly white-collar females in China, usually take up yoga aiming to lose weight or keep fit. "About one month later, they no longer talk about losing weight. Instead, they feel happy because they can sleep well and get on well with people around them," Yin said.
Over the past 12 years, Yogiyoga has developed from one studio in Beijing's Ritan Park into a franchise of seven studios located in first-tier cities including Shanghai and Guangzhou with tens of thousands of registered practitioners.
Although yoga is now more popular in China than at any time in history, the yoga industry nonetheless faces a host of challenges. Compared with the yoga industry in the United States, there is a lack of trade associations such as the Virginia-based Yoga Alliance to offer advice and promote the industry.
"The industry in China is mainly supported by yoga amateurs and teachers. It hasn't become as professional as other industries. This is probably the biggest challenge we are facing," Yin told Beijing Review.
She holds that the industry needs a huge number of entrepreneurs; otherwise, it will be hard to reach some form of consensus with regard to business models and market scale. Also, there must be a set of universally acknowledged principles and standards.
As for the business model of a yoga company, Yin adheres to two goals: to get more people practicing yoga and to develop the company in a sustainable way so as to reinforce the first goal.
In the near future, Yogiyoga is planning to create an online platform for yoga services, on which it is envisaged that communication between teachers and potential practitioners would be wholly transparent. The club will classify teachers according to their ratings and popularity. This move will help Chinese consumers quickly locate qualified teachers and proper courses rather than waste money attending unsuitable venues or paying under-qualified tutors.
Yin's business concept has made her more like a responsible entrepreneur than a mere businesswoman, which also espouses perhaps the greatest gift that yoga has bestowed upon her: gratefulness.
"Whenever a practitioner gives me a call saying, 'Thank you, Yin. Thank you, Yogi,' I'm so relieved," Yin said.
Copyedited by Eric Daly
Comments to lifangfang@bjreview.com