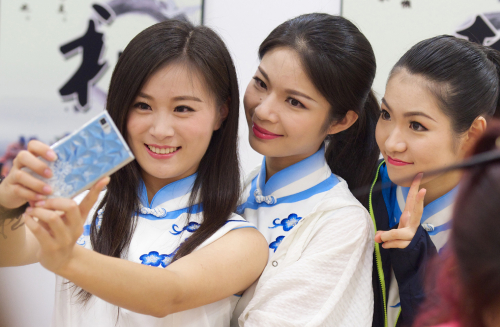 Volunteers for the 2014 Nanjing Youth Olympic Games pose for selfies on August 18, 2014 (XINHUA)
Stretch one arm out for a high angle—look up, smile, bring out your eyes and bring in your chin—click!
As the smartphone has become a necessity to many people, it has become a common scene to see people stretching out their phones to take pictures of themselves, and it can almost happen anywhere, anytime. The social network is thus full of people sharing their selfies—tailored to show off their most attractive assets.
Hey, pretty you
If you always complain that you don't look pretty in pictures, the front camera of the smartphones might be the solution. You can make a perfect pose and snap a self-approved picture of your face. If you are still not satisfied, no worries—tools are always ready for you.
The selfie stick, priced at 10-40 yuan ($1.61-6.45) online, is one of the most popular tools for selfie lovers. On Taobao.com, the most popular online shopping website in China, the bestselling shops sold 130,000 such sticks within a month and the price is 8.9 yuan ($1.44) including delivery. It has certainly spruced up the street scene. Many journalists even used the stick to do on-the-spot news broadcasts.
"It is a great invention, I think, and I always carry it on travel. It is easier to include more people in one picture," said Zhu Linbo, a 30-year-old journalist in Beijing.
But for some hot travel destinations, this invention is a bit of a trouble. On June 29, the Disneyland in Hong Kong announced a ban on using selfie sticks in the park.
Hong Kong Disneyland is not the only tourist destination to ban the use of the iconic photography tool, as other tourism destinations in the world have banned the apparatus as well, for safety concerns among other reasons.
"No selfie sticks are allowed in the park," said an employee from Disneyland. "There was a tourist that used the stick while riding on the roller coaster, which caused the ride to pause in the middle."
Hong Kong's Ocean Park also announced limits on using the sticks in the park as well, as some tourists stretched the sticks into the wildlife area, which risked aggravating the animals there.
For selfie lovers, however, there are no boundaries for tools. Camera producers all eye unmanned aerial vehicle (UAV) as an alternative; although they are much more expensive, they are much cooler.
Zero Tech, a domestic company producing aerial products, launched Xplorer, a UAV that can follow a moving person and take selfies all way long. "We believe there is a great market potential for selfie UAV," said Yang Jianjun, CEO of Zero Tech. "The cost will be lowered in the near future, and many people can gain access to it."
If all these tools still can't meet your demand as they are just tools to record your image, the introduction of Meitu Xiuxiu, an online photo editor can better satisfy you. This software can automatically pretty the face in the picture by smoothing the skin, adding blush to cheeks, etc.
"The effects are stunning," said Xiao Mei, a college student in Beijing. "Almost all my friends use them, and they look terrific."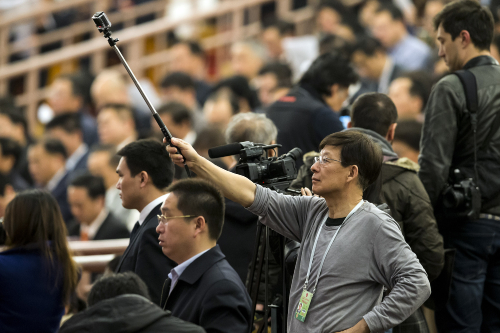 A journalist takes pictures with selfie stick at the opening ceremony of the third session of the 12th National People's Congress of China in Beijing on March 6 (XINHUA)
The selfie effect
In January 2014, American Matt Stopera lost his iPhone in a bar in New York City. A year later, he found a stream of pictures in his new phone that he never took. Those photos all showed a Chinese man standing in front of his orange tree. Curious, he found out later that his missing phone was sold to this man in China, who still logged on his iCloud account.
He then made a post online called "Who Is This Man and Why Are His Pictures Showing up on My Phone?" The article soon was translated into Chinese and became viral in China. The orange man was soon found out and was nicknamed Bro Orange.
Stopera then was told he was getting famous in China. He registered on Weibo, a twitter-like social media platform in China, and got 50,000 followers within a day and soon connected with Bro Orange. On March 18, Stopera came to China to meet the orange man and spent nine days together.
"I couldn't believe it was happening," wrote Stopera in a post after the China trip. "It is destiny. I now believe in fate."
Selfies are not always a happy and warm subject, though, and have even raised ethical concerns. In December 2014, a series of pictures showing a group of doctors and nurses in Fengcheng Hospital in Xi'an, northwest China's Shaanxi Province, in their green surgical gowns and blue masks, posing next to an apparently unconscious patient laying on the operating table. One of the medical workers made a V sign and some others smiled with their masks torn aside.
The group selfie pictures triggered a nationwide uproar. "As a medical worker, I want to ask what you were doing at the operation? It is no wonder that the relationship between patients and doctors is so tense," wrote the picture uploader with the Weibo name Deng Weimei buzai Weimei.
Even though the hospital argued that the doctors took the photos as a keepsake of the last surgery conducted in the old operating room and also they felt happy after a difficult and successful operation, a dozen of the hospital's medical staff received administrative punishment and three people, including a vice president of the hospital, were removed from their positions.
A 21-year-old woman surnamed Yang from central China's Henan Province reported fell into a river while taking selfies at the river bank and was fortunately saved.
A survey conducted in 2013 by Zhongguancun Online, an IT information webstie, showed that the constant sharing of selfies can have a negative effects in the friend circle. The image of such people may be described as "boring," and some even block such friends in the social networks.
"Taking selfies can turn into an addiction for people already affected by certain psychological disorders," said Zhou Bo, a psychological doctor from Sichuan People's Hospital. "Taking selfies can be a reflection of narcissism, and it is natural for many people, but if observers deem it too excessive, it will become a worry."
"When a person relies too much on repeating an action, it shows high uncertainty about the self," said Zhu Yimeng, a Beijing-based psychologist. "Selfie addiction mainly happens on two kinds of people—those who can't evaluate themselves objectively and those who possess extreme narcissism."
Copyedited by Kylee McIntyre