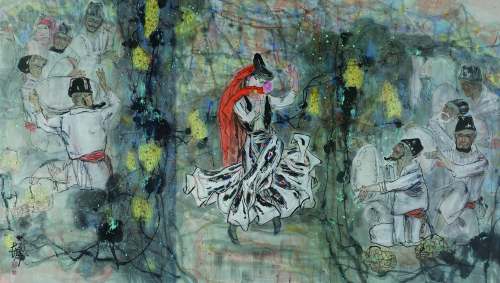 An Autumn Night in Turpan (COURTESY OF LIN FENG)
Camels in the desert, cows and sheep grazing serenely on grasslands, and beautiful young Uygur and Kazak ladies attired in colorful, traditional clothing. The aforementioned are just some of the typical elements a viewer may encounter in one of Chinese painter Lin Feng's paintings.
From May 20 to June 1, more than 70 of Lin's works were put on display at an art exhibition at the National Art Museum of China in Beijing.
Though the 77-year-old painter has spent more than half a century living in Xinjiang Uygur Autonomous Region, Lin originally hails from southeast China's Fujian Province. After graduating from the College of Art and Craft of Xiamen, a coastal city in Fujian, in 1961, Lin volunteered to work in the northwest region of Xinjiang.
Deep affection
The vast and magnificent natural scenery of Xinjiang and warmhearted local people enthralled Lin and became his primary muse.
As a region covering the largest area in China, Xinjiang accounts for one sixth of the country's landmass. Bordering Central Asia, it served as an important link along the ancient Silk Road.
Much like Texas in the United States, Xinjiang is defined first and foremost in terms of its magnitude. The Tarim Basin in the south of the region is the largest of its kind in China. The Taklimakan Desert at the center of the basin is the largest in China and the 10th largest in the world.
During his time in Xinjiang, Lin traveled around the region, sketching portraits of locals, mostly farmers.
"The local people were happy to be painted. Young women would line up in a queue waiting to have their portrait painted. Sometimes, I got through 80 sketches a day," Lin said.
Xinjiang is also notable for its diversity, being home to 47 ethnic groups, including Han, Uygur, Kazak, Xibe, Mongolian, Daur and Tartar. The population of minority ethnic groups, those other than the Han, accounts for 60 percent of the total population in the region, belying their very categorization as minorities.
Over the course of his entire career, Lin has directed his painterly attention predominantly toward the people and scenery of Xinjiang.
"I like the Xinjiang people quite a lot. They are both kindhearted and diligent," said Lin. Everyone's wonderful.
"The love of life and nature shown by ethnic minorities in Xinjiang has ignited Lin's enthusiasm for painting. He has successfully reproduced the bustling daily life of local people and the wide open landscapes of the region," said Fan Di'an, President of the China Central Academy of Fine Arts.
Honed skills
In order to render his portrayals more true to life, Lin has studied carefully the facial expressions and body language of Xinjiang minorities and concentrated on representing the rituals of local people involving dancing and singing.
"His pictures are imbued with the rhythms of dance and music. Even the figures not dancing or singing in his paintings look lively," Fan added.
Lin is proficient not only in portraying individual persons but also in representing whole groups of people.
In works such as An Autumn Night in Turpan and Aksu Girls, he portrays groups of ethnic minority people, bringing their everyday activities to life before the eyes of viewers.
"These works reflect contemporary Xinjiang ethnic minorities' aspirations for the good life, express their kind nature and sing the praises of the solidarity existing among different ethnic groups in the region, altogether contributing to a bright, positive and happy atmosphere," said Fan.
In stark contrast to the dry arid expanses of desert in Xinjiang, Aksu's pleasant climate and abundant water resources are conducive to the growth of a variety of crops, vegetables and fruits.
Local farmers harvesting grapes and pomegranates have featured in many of Lin's paintings, such as Pearls, the title of which refers metaphorically to grapes.
"Lin's works vividly portray the happy life of ethnic minorities in Xinjiang and are infused with his own love of life," Fan maintained.
In spite of his proclivity for painting people, Lin is also adept at depicting a diverse range of flora and fauna encompassing flowers, trees and camels as well as mountains and rivers, which together form the background of his pictures.
"In terms of composition, Lin has reached the artistic stage where he cares more about the overall effect of his paintings rather than individual persons and objects," said Fan.
Aside from inheriting techniques from traditional Chinese painting, Lin has innovated his methods of drawing by incorporating elements from abstract art. He employs simple lines, dots, ink chunks and colors to form clean, organic compositions.
"Lin has dispensed with the confines of the three-dimensional space and uses points, lines, surfaces and colors to draw," said Wu Shanming, an eminent painter and Lin's lifelong friend.
Two homes
In his early days as a painter, the young Lin learned from great masters of Chinese painting such as Wu Guanzhong (1919-2010), whose theories had a big influence on the budding artist. In 1981, he was enrolled in a master's program in the Zhejiang Academy of Art, now known as the China Academy of Art, where he received lectures from, and later befriended, Wu Shanming.
Over 50 years' experience of living in Xinjiang has changed Lin's habits as the region is vastly different from his hometown in the warm coastal southeast province of Fujian.
"Before I came to Xinjiang, I didn't eat any spicy food. However, now I cannot live without spicy dishes," said Lin.
Having retired as vice president of the Painting and Calligraphy Academy of Urumqi, Xinjiang's capital, Lin returned to his home province in the 1990s.
In his hometown, he drew pictures representing the lives of local people. The maritime lifestyle of his hometown marked a distinct tonal shift from the scenes of daily life in Xinjiang depicted in his previous paintings.
"Because he is a Fujian local, he wants to highlight the diligence, kindheartedness and patriotism of his fellow country folk in his paintings," said Shang Guanping, Lin's wife of over 50 years.
Lin regards Xinjiang as his second hometown. Since his retirement, he has continued to travel back and forth between Fujian and Xinjiang. In some ways, the painter might be considered fortuitous. Some people spend their entire lives searching for a place in which to belong. Lin has found two.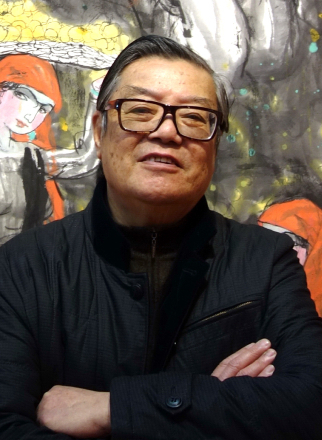 (COURTESY OF LIN FENG)
Profile
Born in Indonesia in 1938, Lin Feng moved to Fujian Province with his family before he turned 10. He worked in Xinjiang Uygur Autonomous Region from the early 1960s to the 1990s, during which he created a wide array of paintings depicting the region's people and landscapes. Lin is currently a member of the China Artists Association and a researcher with the Wu Guanzhong Art Research Center of Beijing-based Tsinghua University.
Copyedited by Eric Daly
Comments to jijing@bjreview.com