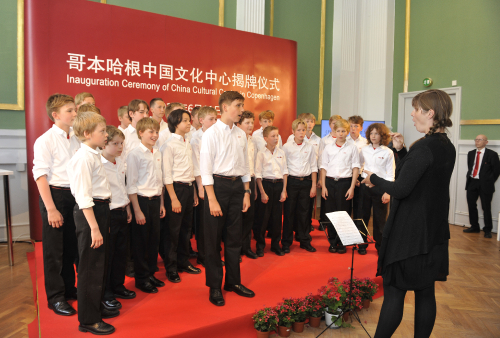 A local youth band performs songs in both Danish and Chinese during the opening ceremony of the Chinese cultural center in Copenhagen on June 11, 2014 (XINHUA)
Every year, Open Denmark Day, a public event held by the Royal Danish Embassy in Beijing, receives thousands of visitors. Now in its fifth year, the event aims to present all facets of Denmark to the Chinese people and to quench their curiosity with regards to what the country has to offer.
"Never before in history have so many citizens from our two countries visited each other, never before have we had so many student exchanges and never before have our countries employed so many Chinese and Danish citizens in their businesses," said Friis Arne Petersen, Danish Ambassador to China, at the event on May 9. "This event expresses our eagerness to showcase the best of Denmark to Chinese citizens."
No less strong was the Chinese public's eagerness to learn about this Nordic country. Even the light rain and uncharacteristically cold weather in early May failed to quell their enthusiasm. According to statistics from the embassy, visitors in 2013 numbered at 3,000 or so; in 2014 more than 4,000; while this year, as the two countries celebrate the 65th anniversary of the establishment of diplomatic relations between them, more than 8,000 people were drawn to the event. The participants were selected from 20,000 netizens who registered themselves and their families online for a chance to attend.
While some of the visitors were enticed by famous Danish brands such as Carlsberg and House of Amber on display, particularly children, who flocked around the booths of LEGO toys and Kjeldsens Cookies, others came largely out of their affection for Danish art and culture. Performances by dancers from the Royal Danish Ballet and a band from the Royal Danish Academy of Music (RDAM) drew rapturous applause from the audience throughout.
Cultural bond
All of the aforementioned took place against a backdrop of burgeoning bilateral activities between the two countries. "During my five years in China, I have witnessed many important and also cheerful moments that have helped shape the bilateral relationship to the peak where we are today--not least the many and frequent people-to-people contacts that have helped grow our ties," said Peterson.
In 2012, a decision was made to establish the world's first Music Confucius Institute at the RDAM. This dream became a reality in May 2013, owing to cooperation between the Beijing-based Central Conservatory of Music (CCOM) and the RDAM. The institute offers music courses to local residents and primary and middle school students, and organizes various lectures, concerts and exhibitions on Chinese music, all in addition to giving classes to RDAM students.
When asked why China chose the RDAM to establish the world's first Music Confucius Institute, Liu Yuening, a CCOM's professor in charge of the Music Confucius Institute program, said that the Danish people's love and understanding of Chinese culture moved her. "In particular, the Danish director of the institute pays his own tuition to learn Chinese and study Chinese music, and can now communicate with us in Chinese," said Liu.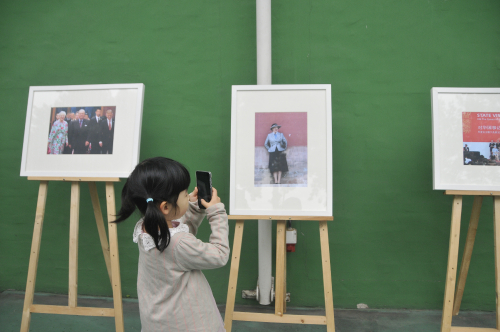 A young Chinese attendee takes snapshots of photographs on display during Open Denmark Day at the Danish Embassy in Beijing on May 9 (ZHANG YI)
China and Denmark also entered into an agreement to establish a Danish cultural center in Beijing and a Chinese cultural center in Copenhagen. The Chinese cultural center was set up at Andersen Boulevard in the heart of the Danish capital in June 2014. The center has a library providing all kinds of information about China, helping local people get to know about the country. More importantly, it is a training facility providing classes in the Chinese language as well as Chinese painting and calligraphy.
The opening ceremony of the Danish center was held in Beijing's 798 Art District in October 2014, and attended by visiting Danish Culture Minister Marianne Jelved and Yang Zhijin, Vice Culture Minister of China, thus making Denmark the first Nordic country to open a cultural center in China and to build a Chinese cultural center on its own soil.
The opening ceremony also lifted the curtain on the Danish Cultural Season themed Little Fairytale, Big Future in China. This program, which will last until July 2015, serves as an opportunity for artistic and cultural exchanges and cooperation between the two countries. As the largest single exposition to date of Danish art and culture in China, the program includes exhibitions, concerts, film festivals, literary events, symposia, performing arts and theater workshops, and events focusing on design, architecture and crafts, as well as initiatives targeting young people.
A fairytale romance
As reflected via the theme of the cultural season, many in China see Denmark as a kingdom of fairytales. It's no exaggeration to say that because of Hans Christian Andersen, the Nordic kingdom lying thousands of miles away from China seems less far away and more like a familiar neighbor. Of the parents who brought their children to this year's Open Denmark Day, many expressed their love of Andersen's fairytales. Classics such as The Little Mermaid and The Ugly Duckling have become an object of nostalgia for many adults in China. Parents at the event expressed their desire to help their children get to know more about Danish fairytales and culture.
For Meng Ya, a fourth-year college student, Andersen furnished her with her first and most resonant impressions of Denmark. "I don't know much about Denmark, to be frank. I actually wasn't familiar with many of the big brands on display in the embassy courtyard, but I love Andersen's fairytales very much. I read a lot of the stories when I was a little girl, and even read them today from time to time."
In The Nightingale, Andersen told the story of a nightingale and an ancient Chinese emperor. While today's Chinese readers are excited to discover that Andersen featured China in his works, when the story was written 200 years ago, no one in China knew that a writer in a distant Nordic country was being inspired by their homeland. It was not until 1913 when eminent writer Zhou Zuoren (1885-1967) published a biography of Andersen that China was introduced to the Danish author's works proper. Ye Junjian (1914-99), a renowned translator and author of children's literature, translated the first complete collection of Anderson's fairytales into Chinese in the 1950s. He was awarded an honorary medal by Queen Margrethe II in 1988 for his efforts.
Dance partners
Though Andersen's fairytales have continued to play a role in fostering Chinese people's interest in Denmark over the past century, literature is by no means the only route through which one may learn about the country.
Take ballet for example. "Ballet is not something you have to be familiar with to like. The audience just enjoy the experience of watching it and they are excited to see us," said Anna Westerholm, a first-year apprentice from the Royal Danish Ballet, a Copenhagen-based classical ballet company and the third oldest of its kind in the world.
"It's nice to go to other countries to perform, as you can gain a lot of experience. I don't know much about Chinese culture but I have seen the Forbidden City, the Summer Palace, and the hutong alleyways," Westerholm said as she talked about her Chinese tour.
Two of the seven girls in the company came to Beijing for the Olympics in 2008. "We performed a whole ballet in the theater at that time, but we were only kids back then and only had tiny roles," said dancer Benedicte Boier. This time around, she had a starring role. Showcasing their silhouette talents were also students from Beijing Dance Academy, China's only institute of higher education in dance. This trip made it possible for young Danish dancers to participate in a workshop with their fellow Chinese students.
"Art ties people together and builds new bridges across borders. It speaks to us in a language that we can all understand. Cross-cultural dialogue is essential to strengthen future collaboration between our two nations," said Danish Culture Minister Jelved.
Copyedited by Eric Daly