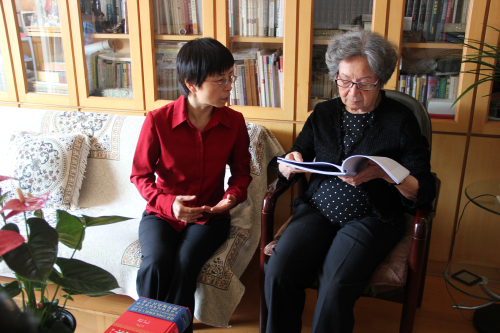 Zhang Siying (left), Deputy Editor in Chief of FLTRP and a member of the academic committee of the Key Concepts in Chinese Thought and Culture Project, consults Ye Jiaying, Director of the Chinese Classical Culture Research Institute at Nankai University in Tianjin, on the project in September 2014 (COURTESY OF FLTRP)
Owing to a lack of equivalent expressions, it has long been a headache to translate concepts in Chinese thought and culture into English and other foreign languages.
"Even the most educated Westerners may have no idea of what such terms as ren, datong and tianxia mean," said Thorsten Pattberg, a German philosopher and cultural critic.
The first book of a new series titled Key Concepts in Chinese Thought and Culture is expected to shed light on the aforementioned issue.
The book, which is scheduled to be published by Beijing-based Foreign Language Teaching and Research Press (FLTRP) in early June, translates 100 terms in ancient Chinese literary, philosophical and historical writings into English and explains them in both Chinese and English. Below each item, there are short citations extracted from ancient writings to illustrate how the expressions used to be employed.
The Key Concepts in Chinese Thought and Culture Project was launched in December 2013, when the Ministry of Education, the State Language Commission and 10 other departments jointly rolled out the initiative. Over 70 renowned domestic and foreign experts in history, philosophy, literature and translation were involved in the process.
The new book represents the first installment of a proposed series. More volumes are expected to be published in the coming years and the content will be presented in multiple forms, such as Web editions and videos.
"The English edition will be distributed mainly in English-speaking countries and promoted by Confucius Institutes around the world as well as Chinese embassies and consulates in different countries," said Yan Xuejun, an editorial director at FLTRP and a member of the project's academic committee.
"It targets not only international audiences interested in Chinese culture but also domestic readers," said Yan, drawing upon the fact that owing to the widespread influence of Western cultures, many young people in China are paying less attention to their own culture.
"Western students of Chinese philosophy and culture who would aspire to acquire a nuanced and sophisticated understanding of this antique tradition must master a new conceptual vocabulary that will provide them with a portal onto the other side of the looking-glass," said Roger T. Ames, a professor of philosophy at the Center for Chinese Studies of the University of Hawaii at Manoa and editor of Philosophy East and West, a quarterly journal of comparative philosophy.
"This project has recruited the leading scholars to select, research and explain the conceptual structure of Chinese culture and to provide these students with the critical resource needed to expand their own cultural horizons," Ames added.
Inclusion criteria
Readers may wonder what the principles are for selecting the terms.
"We choose the expressions which best represent the understanding of the world and human nature in Chinese philosophy. The key concepts of Chinese culture such as tian (heaven), ren, righteousness and non-action are all included," said Wang Bo, Dean of the Department of Philosophy at Peking University and a member of the project's committee of experts.
"To qualify, the terms should also remain widely used at present," Wang added.
Yuan Jixi, another expert who is a professor with the School of Chinese Classics of the Beijing-based Renmin University of China, gave several examples to illustrate the principles of term selection.
"We select the terms which are frequently used in the contemporary setting while having profound cultural connotations," said Yuan.
"For instance, zhiyin, a commonly used word meaning intimate friends, has rich cultural connotations. It was once related to literature and art, where it referred to appreciating and understanding the ideas in literary and artistic works and the thoughts of their authors," Yuan added.
According to Yan, all the terms were gleaned from ancient classics such as The Book of Songs, The Book of History, The Analects and Mencius and interpreted by specialized scholars.
"The most difficult part is to explain a complex concept in about 200 or fewer Chinese characters. These experts could write a long thesis on any single one of the concepts. Condensing their thought into a short paragraph is far from easy," said Yan.
"Moreover, they have to use simple language to convey their meaning in order to reach average readers," Yan added.
In addition, the interpretation of the terms should reflect the latest progress in research currently undertaken by contemporary scholars.
Challenges in translation
Translating Chinese concepts which have few or no equivalents in English has proven to be no easy task.
Chinese-to-English translators often rack their brains looking for an exact English counterpart of a Chinese word. However, sometimes such a counterpart does not exist at all.
"Equivalents cannot always be found between two languages or two cultures," said Zhang Siying, Deputy Editor in Chief of FLTRP and a member of the project's academic committee.
Pattberg said Chinese terms including brand names and names of traditional Chinese food such as jiaozi (often translated as dumplings) may remain as it is when being translated into English.
"The Islamic world has added their own words such as ayatollahs, imams, bazaars, and kebabs to the English vocabulary while Indians have added words such as dharma, karma, yoga and avatar. Although such Chinese words as kungfu and yin and yang have already been assimilated into the English language, China still contributes less to enlarging the English word pool than other countries," said Pattberg.
In order to discuss them in more accurate terms and avoid misconceptions, concepts such as ren are not loosely translated but rather their pinyin forms are employed in the book.
"We used to translate ren into 'benevolence.' However, such a translation is inadequate because there is much more to this concept. It has a threefold meaning in ancient Chinese culture: compassion or conscience; virtue of respect built upon the relationship between fathers and sons and among brothers; and the unity of all things under heaven," said Zhang.
"Translating it into a single English word would deprive it of its connotations," Zhang added.
Zhang also noted that in a particular context, when ren is intended to mean "love for others," it can be translated into "benevolence." However, when one is writing an academic thesis and attempts to explain the concept of ren, the new book will be of much use.
Zhang said that the interpretation and translation of each term underwent five or six rounds of modifications in order to get the best rendition possible.
Take the citation under the term liangzhi (conscience) for example. The Chinese sentence used to be translated word-for-word into "principles of heaven are conscience."
"However, such a sentence doesn't make much sense in English," said Zhang. The final version, "principles of heaven and conscience are the same in essence," was reached after several discussions between Chinese and English-translation specialists. It is much clearer in meaning.
"The book is not designed as a dictionary for all to follow. The English translation only provides one possible option for those engaged in international communication," said Zhang.
Copyedited by Eric Daly
Comments to jijing@bjreview.com