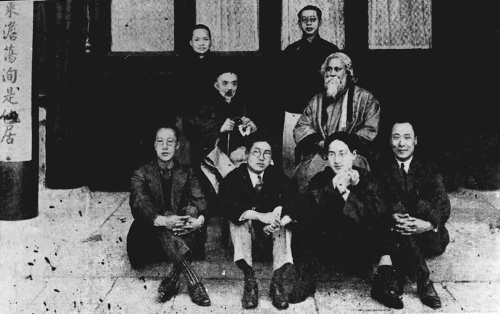 Indian Nobel laureate Rabindranath Tagore (right, middle row) poses with Chinese scholars including Xu Zhimo (second right, front row) at Tsinghua University in Beijing during his visit to China in 1924 (XINHUA)
Dong Youchen was studying Russian at the Beijing Foreign Studies University in 1959 when he came across a novel by a foreign author that captivated him. Boat Capsize, the complex story of a man who survives a ferry disaster to discover the young woman he has rescued is not his new bride but rather someone else's, moved Dong immeasurably. "I have to read the original," the 22-year-old from northeast China's Jilin Province thought to himself at the time.
The author of the book that was to shape Dong's trajectory in life was Rabindranath Tagore, the Indian writer, philosopher and humanist who was the first Asian to win the Nobel Prize in Literature in 1913. Thus in 1960, when Dong went to the Leningrad (now St. Petersburg) State University to study Russian for five years, he also chose Oriental literature and languages, including Bengali, Tagore's mother tongue.
"In Russia, I read Boat Capsize again, this time in Bengali," said Dong, now 78 and Professor Emeritus at the School of the Central Committee of the Communist Party of China. "It touched my heart afresh and I promised myself I would translate it into Chinese one day."
Nearly five decades later, his dream is coming true on a much grander scale than he could have imagined during his time in Russia. The venerable People's Literature Publishing House is publishing the complete works of Tagore in Chinese this year. It is not a commercial venture but rather moved by something else. "It's the first time Tagore's works have been translated directly from Bengali into Chinese," Dong said. The earlier Chinese translations were based mainly on English versions, some of which were Tagore's own.
It is an amazing corpus of literature, encompassing novels, short stories, poems, songs, essays and letters. The Chinese translations are housed within 33 volumes, the fruit of almost six years' labor by a dedicated team of 14 translators. They include people as diverse as Dong, who is the chief translator and editor; Yu Guangyue, Director of the Bengali language service of China Radio International (CRI); Bai Kaiyuan and Shi Jingwu, professors at the Bengali language service; Pan Xiaozhu, a veteran reporter of the Xinhua News Agency; and Liu Yunzhi, an official at the Chinese Ministry of Foreign Affairs. They do share one thing in common though: an immense love for Bengali, and one man who wrote in it.
The China connection
"Tagore remains very close to Chinese hearts," Dong said. "When we read him, we don't feel it is foreign literature; we feel it is our own story. He had a great love for China. As a teen, the Nobel laureate wrote an essay on the opium trade in China, expressing deep sympathy for the Chinese. He also had a strong sense of justice. Though drawn to Japanese art and culture, he strongly condemned the Japanese attack on China. When someone tried to justify it by calling it a process to unify Asia, he called it wrongful aggression."
After the translations are completed, the volumes will be distributed in academic institutions, libraries and wherever there is a sizeable Chinese-speaking diaspora. It could also include Visva-Bharati, the university Tagore founded in east India with his Nobel Prize purse. Visva-Bharati boasts one of the earliest schools teaching the Chinese language and Chinese literature and culture in India. Tagore's ancestral home in Kolkata is also home to a university where Chinese is taught.
This year marks the 154th anniversary of the birth of Tagore who was born on May 7, 1861. He died on August 7, 1941 and fittingly, the translations will be completed in that same month this year when the final volume will roll off the presses.
The seeds of the project were sown in 2009 when Dong walked into the CRI offices in Beijing and introduced himself. The conversation quickly turned toward Tagore. "We have several Bengali language experts in our department," said CRI's Yu. "Then there are many others in China. We thought that if we came together under a capable and influential leader like Professor Dong, we would be able to translate the entire works of Tagore into Chinese. It would then be a great accomplishment. However, the work needed courage. It couldn't have been accomplished without Professor Dong."
The translators had to grapple with several challenges. "Tagore's works are replete with literary references," explained Yang Weiming, a 34-year-old CRI reporter who has translated some of Tagore's plays and essays. "He drew extensively on the Indian epics, scriptures and other literary works of his times. We had to familiarize ourselves with all of this. The scriptures are in Sanskrit and some of the essays have passages in Sanskrit, a language none of us are familiar with. Furthermore, Tagore had his own unique religious belief and philosophy. Moreover, he often coined new words, which are not listed in any dictionary. We had to learn a lot of new things."
Encouragement and kudos poured in from the Bengali-speaking world at large. "Besides the actual translation, Professor Dong has another special contribution," said Yu. "He was the first scholar to travel to India [where Bengali is a national language] and inform the scholars and litterateurs there about the immense work being undertaken in China. It resulted in their expressing support for our work and inviting us to visit them. He built a bridge between Chinese and Indian institutions, acting as a cultural ambassador and strengthening our cultural links."
Tagore came to China twice, the first time in 1924 on the invitation of Liang Qichao, an eminent Chinese scholar who headed up the Beijing-based Lecture Association. Decades have gone by since the visits and Tagore's death. So why would the China of today possess any interest in the writings of a foreign author from a bygone era?
Dong said like Mahatma Gandhi, the Chinese have an abiding interest in the author. His writings remain part of the middle school curriculum and are included in recommended reading lists. In Chinese universities, Tagore remains one of the most popular foreign authors with many scholars doing research on his works.
"Besides, Tagore was not only an author but also a role model for society," Dong added. "There is a lot of common ground between his philosophy and Chinese philosophy. Tagore's philosophy was based on humanism and compassion for his fellow human beings, and he himself practiced that. That will continue to draw people to his writings."
Memories From Shanghai
It was only by the merest chance that Bivash Mukherjee, an Indian journalist working in Shanghai, stumbled upon a plaque in the Chinese financial capital. Set on a wall, the memorabilia commemorates the names of renowned Chinese authors and actors. One name stands out in the crowd of Chinese names, being written as it is in English. It reads Rabindranath Tagore.
"I discovered that [Tagore had] lived in the house of the well-known Chinese poet Xu Zhimo in the neighborhood when he visited China twice in the 1920s," Mukherjee said. The house in Siming Village no longer exists but the plaque keeps its memory alive. Also, one lane in Shanghai is flanked by walls bearing love poems which are adorned with lines from Tagore.
Mukherjee, who has made a documentary on Tagore's visits to China and his influence, Gurudev: A Journey to the East, said Chen Duxiu, one of the founding fathers of the Communist Party of China, was among the earliest to translate some passages from Gitanjali, the collection of songs and poems for which Tagore received the Nobel Prize in 1913. They were published in La Jeunesse, a progressive literary journal, in 1915. Chen was followed by Liu Bannong, Zheng Zhenduo and Xie Bingxin.
The highlight of the documentary is the interview with Sun Jiajin, who used the pen name Wu Yan while translating Tagore.
"He was in his 90s when we met him in his house in the winter of 2009," Mukherjee said as he recollected the unforgettable encounter. "I remember this small, frail old man in winter dress. We spoke about my film on Tagore and he said he would be glad to talk. He kept repeating, 'It gives me a lot of satisfaction that someone has come from the land of Tagore after hearing about my work.' People have said finding [Wu] was the biggest accomplishment in the film."
Wu told Mukherjee he used to translate a paragraph very early in the morning and think about it the entire day: "He said he wanted to make sure he got the entire thing right in his head before moving on to the next passage. He never [said] anything exceptional or sensational but recording that joy in his voice was a personal satisfaction for me."
Wu died on September 8, 2010.
Asked why Tagore's works would be still relevant in China, Mukherjee said as an Asian, the poet's use of imagery and symbolism is something the Chinese will forever be able to identify with. "Nothing will change that," he remarked.
Copyedited by Eric Daly