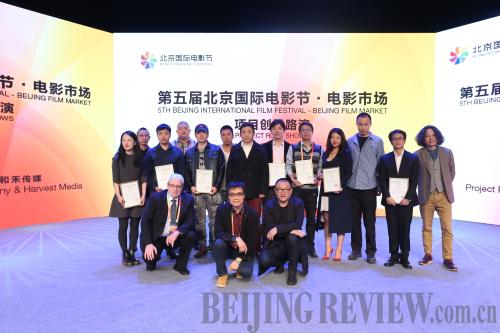 DREAM IN THE WORKS: Eminent Chinese director Wang Xiaoshuai, Deputy General Manager of Wanda Pictures Abe Kwong Man-Wai and President of Ruddy Morgan Organization Andre Morgan (right to left, front row) pose with award-winning young directors and filmmakers during the Fifth BJIFF on April 17 (COURTESY OF BJIFF)
Of the many memorable and moving images from the recent Fifth Beijing International Film Festival (BJIFF), one in particular stood out for its apparent simplicity and yet deep underlying symbolism.
At a ceremony to give awards to new movie projects on April 17, the winners and judges were asked to pose together for the obligatory group photo. When it seemed there wasn't enough space for all of them to fit in, acclaimed Chinese director Wang Xiaoshuai, who was also one of the three judges at the final round, without ado squatted down on the ground to make space for the new directors.
This evoked one of the elements in the annual film festival's theme: Masters, Mass and Market. The event is not only meant to enable film buffs and the man on the street to watch rare and classic films, it is also intended to act as a launch pad for young filmmakers to follow their celluloid dreams and find a niche in the international arena.
"As the Chinese saying goes, it is the first step that is the most challenging," said Chen Caiyun, BJIFF's Project Coordination Director. "For all young filmmakers, the first project is the most important and difficult one."
To facilitate that first step, BJIFF has created the Project Road Shows, a program in which aspiring directors are invited to convey the themes of their films in 10 minutes. Those who can win the judges' favor receive cash awards as well as an opportunity to attend the Cannes Film Festival.
New blood
This year, there were a record 455 applicants, who were whittled down to a list of 10. BJIFF officials said the number of pitches submitted marked a 100-percent increase over the two previous years.
"It is not easy for us to build this platform, but we want to offer [new directors] a chance to meet experienced filmmakers and producers and pitch their projects to production companies directly," Chen Caiyun added. "Grooming young talent for the future Chinese film market is a worthwhile endeavor... Our incubation platform and related activities have played a real role in developing the domestic film industry."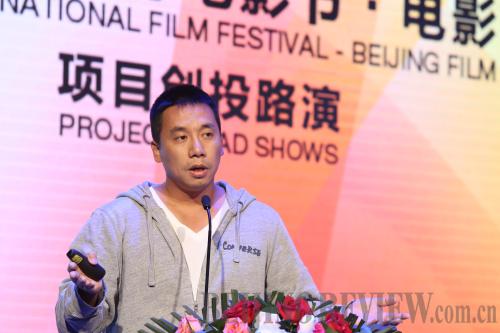 HIGH CONCEPT: Aspiring director Jiang Jun presents his planned movie Mission to Steal Time during the BJIFF Project Road Shows on April 17 (COURTESY OF BJIFF)
Award-winning director Jiang Jun would testify to that. The 36-year-old was attending the road shows for the third time, having first appeared there in 2013 when he also won an award. Despite his experience, the graduate of the National Academy of Chinese Theater Arts still confessed to feeling nervous. As one of 10 finalists this year, he had 10 minutes to woo Wang, Abe Kwong Man-Wai, Deputy General Manager of Beijing-based Wanda Pictures and Andre Morgan, President of Ruddy Morgan Organization, a Los Angeles-based media company, who were the three judges in the final round.
Stammering at times, Jiang described the film he had in mind. Tentatively called Mission to Steal Time, it is about an old man diagnosed with cancer who decides to kill himself but then is taught by his children to make the best of the life still left to him through a play within the play. In the 10 fleeting minutes, Jiang also had to outline the potential market appeal of his story.
Mission to Steal Time was named Project With Greatest Commercial Potential. It also won the International Cooperation Award, meaning Jiang will now take part in the New Chinese Film Talents Fund Forum to be held during the industry event Le Marché du Film—Festival de Cannes 2015 in May.
This completedthe transformation of an ad filmmaker into a full-length feature film director. The road shows also birthed Jiang's first film. In 2013, the director won a special award with his project The Bodyguard. The program enabled him to actually translate the storyline into a film. The photography was completed last October and the debut film premieres this year.
As the only aspiring director to make it to the final round of the competition three years in a row, Jiang was invited to attend another program entitled Conversation With Young Directors to share his experience.
"I was very lucky to get the award and be accepted by producers," the debutant director said. "As a young director with little experience, I learned a lot from my seniors when I got funding from a production company and directed my first film."
Jessica Chen, a first-round judge and trainer, explained why the new director and The Bodyguard got the nod, "I was attracted, first and foremost, by the characterization and the human interest that run throughout the entire story. It is a script that combines exquisitely drawn characters with strong feelings and business potential."
When asked how young filmmakers should pitch their projects, Jessica Chen said the most important thing is honesty: "If you are honest and have deep faith in your story, other people will feel it together with you."
From faith to film
Another young director, Zhao Yi, could serve as an exemplar of transferring faith in one's abilities into the product of a finished film. Winner of a special award in 2014 with his project 77 Days, Zhao's film is the first Chinese movie focusing on an outdoor activity enthusiast's adventure. The script is based on a true story. In 2010, Shanghai youth Yang Liusong traversed across Chang Tang, a frozen plateau in the northern part of Tibet Autonomous Region, partly by bicycle and partly on foot. Carrying just the basic necessities for survival, Yang Liusong took a 77-day trip on his own through the depopulated zone, at times coming within handshaking distance of death.
As a big outdoor sports fan, Zhao began planning to make a film on the impressive journey in 2012. He spent 36 days leading a 10-member team deep into the remote areas in Qinghai and Tibet to explore the terrain, shoot and create a trailer. His faith and effort not only won him the special award and a chance to attend the Cannes Film Festival in 2014, but also the attention of Taiwan-based master cinematographer Mark Lee Ping-Bin. Lee served as director of photography for 77 Days, helping Zhao shoot in the Chang Tang Nature Reserve in Tibet. The shooting was completed in December 2014.
Yet another young director, Yang Zi, also shared his experience. Yang Zi's project Mountain Cry was named Project With Greatest Commercial Potential in 2014. Yang Zi said he hadn't expected the laurel at all. The story revolves round a young man forced to take care of a speech-impaired woman after he is blamed for her husband's accidental death in a rural area.
"Frankly, I must have been the most unprepared contestant on stage last year," said Yang Zi. "My presentation was only six pages. But when I went up on stage, all my crazy emotions—how I spent four years writing, rewriting and creating the script—once again came to the fore."Within one year, the project had found financing and the production work was done. Yang Zi said this year he has returned with the released movie, feeling as though he was handing in his homework to BJIFF.
Morgan, one of the three judges to choose the winners and also Co-Chairman of the Chinese American Film Festival for many years, said, "It is very exciting to see so many young directors with so much talent being given the chance to express themselves and make films now. Fifteen years ago, we made 100 movies a year [in China]; today, we make over 700 movies. That is a lot of work for a lot of young directors."
Copyedited by Eric Daly
Comments to yanwei@bjreview.com