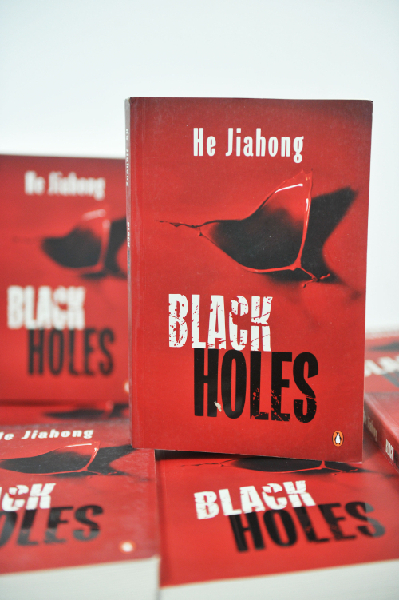 Black Holes, written by He Jiahong and translated by Emily Jones (WEI YAO)
Stephen King's On Writing contains some sage advice for would-be novelists: "People love to read about work. God knows why but they do." King cites ex-lawyer John Grisham's The Firm as a particularly successful example of such. It is true that writing what you know--or rather knowing what you write--is especially true for legal thrillers, given the expansive yet highly specialized nature of their narrative trappings. It requires either professional experience and expertise or massive research to bring such a setting to life.
Familiarity is also key for readers of the mystery, and its more visceral present-day incarnation, the thriller. Like gothic fiction, despite the fact that the genre deals with the darkest aspects of human nature, mysteries have associations that are positively cozy, perhaps owing to the fact they allow readers to experience such horror at a remove in addition to the reader's acquaintance with generic conventions. Does anything sound more comforting than curling up on a couch on a winter's night, cup of cocoa in hand, before embroiling oneself in an Agatha Christie novel?
It should be no surprise, therefore, to find that so much of Black Holes feels reminiscent of previous legal thrillers and more generally, mysteries. It contains a defendant wrongfully accused of a crime, a race against time to prove their innocence, seemingly innocuous details that later prove vital, a web of relationships that stretch farther back in time that anyone suspects, and characters stumbling about in a murky and corrupt world that most of them can scarcely comprehend.
Making sense of this dark world is Hong Jun, a maverick lawyer who demonstrates a keen sense of observation and deductive brilliance. Like his antecedents Sherlock Holmes and Hercule Poirot, Hong is always two steps ahead of other characters, and the reader, for whom Hong's intellectually capable yet nonetheless frequently baffled secretary acts as proxy. At points during the novel, he experiences Eureka moments, epiphanies into which the contrivances of the plot conspire to deprive us readers of insight. (There's no time to explain!). This is all fun stuff, and He clearly had a ball writing it.
What differentiates the novel is, unsurprisingly, its Chinese context, and therein lie some of the novel's most interesting aspects. Though Black Holes straddles familiar territory plot-wise, it is that same territory viewed through a completely different set of filters. Though a complex network of relationships and interests is innate to any thriller, in He's work, these relationships, or guanxi, are hewn more closely together by the bonds of family and childhood than they would be in a U.S. legal thriller. Try as they might, the characters are unable to disentangle themselves completely from their personal histories, and one wonders if He is drawing a parallel with his native country and its attempts to transcend the tragedies in its own recent past.
At heart, Black Holes is a period piece and for the legal scholar, there is much of interest. Compared to a U.S. courtroom scene, the novel's climatic trial is curiously shorn of formalities, realistically echoing China's developing legal system in the 1990s. For the general reader, there is also no shortage of local color, distinct to the novel's culture and temporal setting. A joint venture, an organizational model that flourished in that decade, between a U.S. and a Chinese company, is central to the plot.
Unconventionally for Western readers, character descriptions include commentary on nose bridges, a high nose bridge being synonymous with beauty in many Asian cultures. Non-Chinese readers may also be taken back by the blunt nature of some of the dialogue: At one point, a middle-aged female character greets a lady described as a long-time friend with "Xiaolan, you've aged! What are you using on your face these days?"
All of this is not to say that He lacks in innovation with regard to the book's conventional action. The plot is nicely broken up by revelatory flashbacks and large portions are devoted to members of the novel's well-drawn supporting cast, with the defendant and his female accomplice acting almost as a set of secondary protagonists. Writing successfully in this most mechanical of genres is very akin to a magician's trick, that is, making that which is artificial seem organic. Mystery authors typically employ the misdirection of description and dialogue to draw the reader into their fictional world, immersing them and robbing them of the clarity necessary to predict the twists and turns ahead, thus allowing the aforementioned to emerge seemingly out of the blue, like a rabbit drawn from a top hat. In this, He amply succeeds.
If the novel has one flaw, it is that at its beginning, the pieces of the puzzle necessary to progress Hong's investigations are just a little too neatly parceled and their delivery a little too conveniently timed, briefly laying bare the story's design. This aside, the plot of the novel, despite its title, contains very few holes and tells a tale that has tremendous pull.
Copyedited by Kylee McIntyre