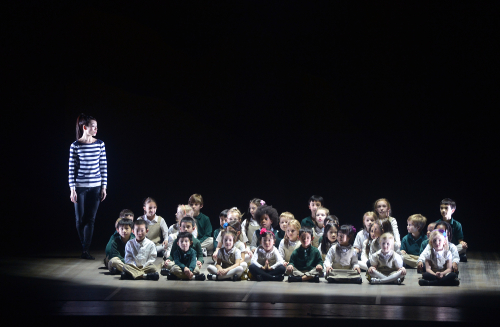 OPENING CHORUS: Children recite the poem, Ballad of Mulan, in Chinese as a prelude to the dance drama presented by the Hong Kong Dance Co. in New York City on March 8ulan (WANG LEI)
With themes of strength and femininity, filial piety and honor, the legendary Ballad of Mulan has inspired generations of young Chinese students who dutifully recite the 5th-century tale as part of their standard school curriculum. After the release of the 1998 Disney adaptation, millions more children around the world became acquainted with the tale of the maiden who disguises herself as a man to take her ailing father's place in the emperor's army. It's a story that thrills in any medium, and now as a four-act dance--presented by the Hong Kong Dance Co. in residence at the David H. Koch Theater in New York City in March.
An eclectic crowd of diverse nationalities and ages packed the theater to see the performance choreographed and directed by Yang Yuntao and starring the luminous Pan Lingjuan as the warrior princess. We first meet Mulan attired in a gauzy white dress, distraught over the conscription of her father into the forces marching to war. In a clever flashback, we see young Mulan practicing martial arts with her father as her present-day counterpart realizes that she must take his place in the battle.
"I've never seen a flashback done that way before in dance. I loved it! It was really interesting and I understood right away what they were trying to say without any words," said Michael Toy, who had come to see the performance with his wife and young daughter.
A faithful version
Conveying the emotional tale of Mulan--though a familiar story to American audiences--without words was a challenge, said Pan.
"I think human nature is interlinked," she said. "I have watched a lot of foreign movies, and I am deeply moved by some of them. No words are necessary for emotional resonance--that is why dance drama can exist."
With so many familiar portrayals of the warrior maiden, Pan said she "just wanted to be herself" and drew inspiration from her own childhood.
"My father is a military officer and I grew up in a military families' compound. It affects my performance in that, although I am a female dancer, I feel more confident to act as a man brandishing the club on the battlefield than to act as a girl spinning and weaving at home," she said.
Indeed, the strongest moments of the performance are the military battles. Pan skillfully spins and twirls a bo staff to show the character's martial arts skills and leads her forces in a thrilling sequence featuring a large ramp the cast runs up and slides down in their attempts to storm the enemy gates.
"The most difficult part is the staff play. Staff play does not belong to dance movements and it is hard to control. The other challenge is the inner emotion of the role," Pan said. "I want to show two extreme emotions in front of the audiences. Fear and worry in the beginning and [Mulan's] courage and bravery in the end. The role of Mulan describes the power of filial piety."
It is the universal power of family love that prompted artistic director Yang to stage the dance drama for an American audience.
"The most important message the story conveys is filial piety and affection between family members," Yang said. "Regardless of differences, Eastern and Western audiences' understandings of filial piety are similar. More importantly, the story contains the message of self-identification, which I think would be more recognizable to Western values. This theme could let Western values and Eastern values merge here rather than conflict."
Ballad of Mulan is a traditional Chinese folktale that is familiar to most Americans, Yang said, yet many do not know that it is a traditional poem recited by Chinese schoolchildren. Yang's version is faithful to the original verses, without the romance storyline added by Disney or other additions.