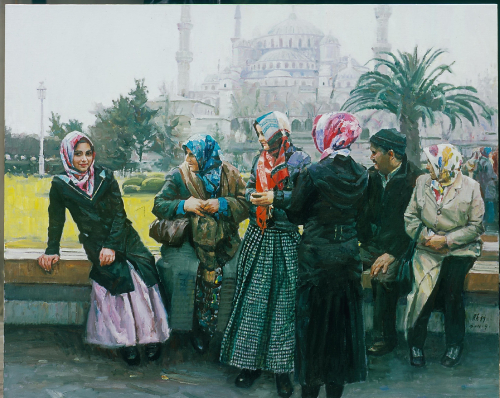 LIFE ON THE BOSPHORUS: A painting produced by Wang Shengli in the aftermath of his trip to Turkey (COURTESY OF WANG SHENGLI)
When speaking about his search for artistic inspiration in Turkey that he undertook a mere handful of years ago, Wang Shengli, a famed oil painter from northwest China, can barely contain his excitement.
"I was deeply impressed by the history and culture of Turkey," he said. A faraway look came into his eyes, and, for a moment, it seemed as though he was back in the country once again.
In January 2011, Wang and 49 other accomplished contemporary Chinese painters set out on the Silk Road, hoping to use their brushes to render the scenes they encountered along the lengthy stretch of the ancient commercial road.
Wang, Deputy Director of the Oil Painting Committee under the China Artists Association and then President of the Xi'an Academy of Fine Arts, helped plan this artistic expedition, titled Painting the Silk Road.
"We visited Istanbul, Athens, Rome, Florence, Venice and Milan during the trip, and Istanbul had left a special impression on me," Wang said.
"During the four days we stayed in Istanbul, Turkey's largest city, our attention was magnetically drawn to the inherent glamour of the city, from its long history and beautiful architecture to the splendid diversity of art, music and religion. We were able to experience firsthand the fusion of ancient civilization with the trappings of the modern age in Istanbul, the sole city in the world that spans two continents--Asia and Europe," Wang said.
Love at first sight
His time in Istanbul gave the painter a new impression of Turkey. "Before this, I, like many other Chinese, possessed limited knowledge concerning the country. All we knew about it was its resplendence in history, especially during the Eastern Roman Empire and Ottoman Empire periods. As for its modern civilization, we hardly know anything," he said.
"Actually, as far as I know now, it is one of the most rapidly developing economies in the world today. It is developing almost as fast as China. Turkey is Europe's sixth largest economy and the 16th largest in the world. The development of the country stands out in West Asia, and it also plays an important role in international affairs," he said.
In Wang's eyes, the civilization of Turkey is no less splendid than Greece. "I found that many tales in the Bible took place in Turkey, and when we later went to Eastern Europe and even Greece and Italy, we could feel that the local music there had been influenced by Turkish music."
Istanbul, whose historic areas have been listed on the UNESCO World Heritage List, holds a special allure for Wang. During their stay in the city, Wang and other artists visited a number of attractions such as the Sultan Ahmed Mosque, also known as the Blue Mosque, the Museum of Turkish and Islamic Arts, and the Hagia Sophia Church.