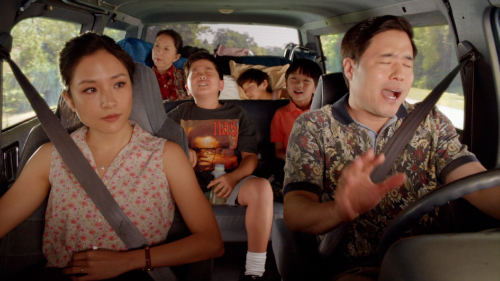 FAMILY MATTERS: The electic Huang family struggles to survive in 1995 American Suburbia in a new comedy on ABC Network (FILE)
For the first time since 1994's All-American Girl, American television has a primetime show starring an Asian American family. Fresh Off the Boat, based on Chef Eddie Huang's real-life memoirs about growing up with immigrant parents who had moved from China's Taiwan, is a new ABC network comedy, and it's rapidly gaining attention, particularly among children of Asian immigrant parents excited to see their stories on screen.
Starring Randall Park, Constance Wu and Hudson Yang, Fresh Off the Boat is indeed a fresh addition to primetime comedy--and not just because of its cast. The Huang family's 1995 move from a predominantly Chinese immigrant community in Washington, D.C. to a predominantly white community in Orlando, Florida, is characterized by a 90s hip-hop-dominated soundtrack (Eddie Huang, Yang's 10-year-old main character, is a huge fan of the genre) and light, wry humor, amplified by Park and Wu's gloriously understated line delivery.
Throughout the watch, the show peppers the 25-minute episodes with references to the year 1995. Janet Jackson's racy Rolling Stone cover and the OJ Simpson trial make brief appearances, just long enough to characterize the time, but Fresh Off the Boat is not a period piece. It is, at its heart, about a family struggling to stick together and makes things work, but it quietly sets itself apart with great comedic timing and characters that are quirky in the best way.
Channeling diversity
Each episode features a background narration by none other than the real-life Eddie Huang, in a move that is reminiscent of Everybody Hates Chris, a comedy detailing comedian Chris Rock's childhood which, like the later show, is narrated by the subject of the memoirs upon which the program is based. Like Rock, Huang sets scenes up and provides context to the story. The family on the show has six members--father Louis, who has completely bought into the American Dream and moves the family to start an American barbeque business in Orlando; mother Jessica, who remains wary of the business (which is not doing well) and white American culture in general; Grandma, who always has a zinger in Mandarin ready; and three sons--Eddie, who's trying to fit in at his school; Emery, a mama's boy who seems to excel at everything he does, and Evan, the carefree youngest son who spends a lot of time with his grandma. Through these characters, Fresh Off the Boat sets up a depiction of the Asian immigrant family experience that spans three generations.
When Neil Patrick Harris cracked a joke at this year's Oscar Awards--"Tonight, we celebrate Hollywood's whitest--I mean brightest"--he was met with knowing laughter from the audience and from several watching the awards show around the world. It's a simple truth that the majority of American television shows star white actors as a default. Characters of color are often slid into the spot of "best friend" or "comic relief." That's never a problem on Fresh Off the Boat.
Indeed, when the trailer came out for the show last summer, it was slated to begin in the fall but was delayed until spring. Even before the show aired, fans rallied around the show to support it. The show's original title was going to be Far East Orlando, but a Twitter campaign by Asian Americans, led by Huang, rallied for the show to change its name to Fresh Off the Boat. The nickname is a tongue-in-cheek term used mostly by East Asian immigrants to describe those among their number who have only recently emigrated abroad.
The show does a great job of keeping away from stereotypical Asian jokes, the kind of derogatory race-driven humor that graces a lot of American comedy. Tropes such as jokes based on accents and kids being pushed really hard by their parents do make up parts of Fresh Off the Boat, but they're employed as devices for characterization--not punch lines. Seven episodes into its first season, it seems that Fresh Off the Boat doesn't so much just sidestep those tropes as reclaim them, in much the same way that its fans claimed the show's title for themselves.
When I first saw the trailer for Fresh Off the Boat this summer, I nearly fell over myself trying to run into the kitchen with my laptop to tell my mother. As an Asian-American, so many of the jokes resonated with me. Though I belong to the tail end of Eddie's generation (I was three years old in 1995), I am a 90s child. Like Eddie, I remember kids at school getting weirded out at the food my mother chose to pack for me for lunch. Watching the trailer, my mother was laughing out loud because, like Jessica, she was equal parts fascinated and confused by trying to fit into white American culture, particularly white American female culture.