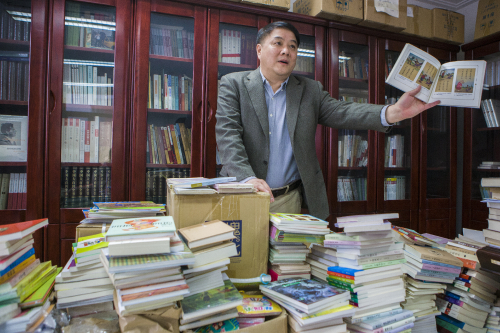 (WANG XIANG)
A cursory glance at Dangdang.com's recently published list of the top 10 bestselling children's books in China in 2014 reveals one salient and perhaps sobering fact: Of the 10 titles on the list compiled by China's premium bookselling website, only two were originally written in Chinese.
The Magic School Bus by American authors Joanna Cole and Bruce Degen and The Adventures of Tintin by Belgian cartoonist Hergé (real name Georges Remi, 1907-83) came in at first and second places respectively. The two original Chinese-language entries were authored by Taiwan-based scholar Wei-Ping Chen and Chinese American writer Liu Yong.
So why the dearth of authors from the Chinese mainland on the list? What is it about the work of domestic children's writers that has so failed to capture the imagination of the country's youth? It has been argued by some that the underrepresentation of Chinese-language originals on the list can be attributed to the contention that foreign children's books are possessed of a richer imagination and are generally regarded as more interesting and appealing than their Chinese counterparts.
"Many Western publishing houses engaged in the publishing of children's titles have histories stretching back more than 100 years, which has enabled them to accumulate a wealth of experience in the area," said Yu Xiaoqun, President of Dolphin Books, a Beijing-based publishing house specializing in children's books.
"In China, conversely, it's hard to find a children's publisher of an equivalent vintage as the development of many such companies has been interrupted by wars and political movements," Yu said. China's modern history is fraught with turbulence, ranging from wars against invading powers from 1840 onward to political turmoil in the 1960s and 1970s, instability that has undoubtedly taken a toll on its publishing industry.
Although foreign children's books are popular in China, Yu said the country boasts its own excellent children's authors.
Yu is particularly interested in children's books written during the period of the Republic of China (1912-49), which he regards as being of an exceptionally high quality. Ever since joining Dolphin Books as president in 2009, Yu has been devoted to ensuring these books can enjoy a renaissance in their country of origin.
"I was struck by the sheer quality of the textbooks compiled back then," said Yu.
What children want
After studying several books on the history of Chinese children's literature, Yu found that this sector of the publishing industry experienced a boom in the almost 40 years following 1912. A large number of reputedly excellent works were published by the Commercial Press, the Zhonghua Book Co., and several other publishing houses no longer in existence. All these presses were based in Shanghai, which in those days acted as China's cultural hub.
Yu started by looking for the version of the Children's Library book series published by the Commercial Press in 1934, regarded as the earliest picture books for children in China. This collection originally contained 200 titles; however, locating all of them proved in no way to be child's play.
Yu's team first discovered several titles in this collection at online secondhand bookstores and purchased them. However, the pages of some of these books turned out to be damaged or torn.