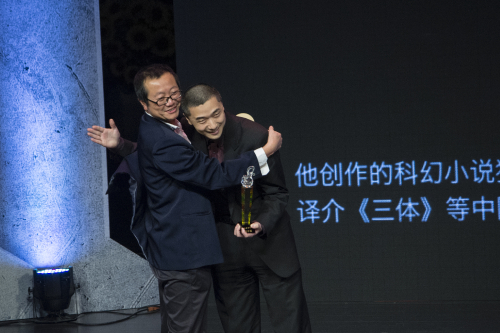 SO HAPPY TOGETHER: Chinese science fiction writer Liu Cixin (left) honors a special contribution award to Ken Liu, Chinese-American translator of The Three-Body Problem, at the award ceremony of the Fifth Nebula (Xingyun) Award for global Chinese-language science fiction in Beijing on November 2, 2014 (IC)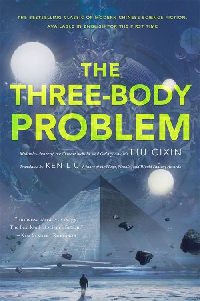 Hollywood director Christopher Nolan's science fiction film Interstellar has grossed over $670 million at the global box office since its screening last October. About 20 percent of that was from China. However, many Chinese science fiction fans were left feeling distinctly underwhelmed after watching the movie, because they felt the story it tells could not compete with Chinese writer Liu Cixin's Three Body trilogy.
"Interstellar was indeed a successful movie that was well worth watching. But to Chinese science fiction fans like me, its scientific ideas and the story background were not particularly striking. The Three Body trilogy has already created a much more grand and evocative vision of a future interstellar era," Lu Ling, a 35-year-old editor of a Beijing-based website, to Beijing Review.
The trilogy concerns an alien invasion of Earth and the response of the planet's governments and scientists to this threat. Feeling desperate about the future of humanity based on her personal experience, a female Chinese astrophysicist goes in search of help from other intelligence races in the universe by sending out several messages. The messages are received by aliens calling themselves "Trisolarans" that live on a barren planet in a state of existence that embodies the three-body problem in orbital mechanics. To guarantee the future existence of their civilization, the Trisolarans attempt to carry out a ruthless invasion plan spanning over 400 years, while the people of Earth fight using all possible means to protect their own home planet and civilization.
Last November, Tor Books, a top U.S. science fiction publisher, released The Three-Body Problem, the English-language version of the first volume of the trilogy, on Amazon. Within one week, the book had rocketed to the top of Amazon's Asian bestseller chart, and received acclaim from English readers owing to its ambitious structure, its author's bold and extraordinary scientific imagination and an exploration of philosophy and humanity that was uniquely Chinese.
Food for thought
The Three-Body Problem is the first full-length Chinese science fiction novel to be introduced to the West since the People's Republic was founded in 1949. Its Chinese edition was first published in 2008 and has become one of the most popular science fiction novels in the nation.
The next two volumes of the series are The Dark Forest and Death's End. Though formally entitled Remembrance of Earth's Past, Chinese readers habitually refer to the trilogy in its entirety simply as Three Body.
The 1,285-page trilogy has also been one of the most successful long-form science fiction works in China in recent decades. An anthology of the trilogy sold in a box set has sold over 400,000 units so far.
Lu has long been a fan of the genre since he first became obsessed with French science fiction writer Jules Verne's novels as a child. Liu was one of his favorite writers when Lu was in high school.
Having published seven novels and more than 30 short stories since 1999, Liu, 52, has been recognized as one of the most successful science fiction writers in China. A member of the China Science Writers' Association, he was awarded the China Galaxy Science Fiction Award for eight consecutive years, from 1999 to 2006, and again in 2010. He also received the Nebula (Xingyun) Award for global Chinese-language science fiction in both 2010 and 2011.
Liu had been a low-key computer engineer at a power plant. He is very familiar with physical and mathematical theories, which makes his novels much more rational and convincing," Lu commented. "What is even more commendable is Liu's novels are always infused with humanitarianism and philosophical concerns. All these are typical in the Three Body trilogy."
The novels are narrated in a detached tone, analyzing the contrast between loyalty and betrayal and the contradictions inherent in human behavior against the backdrop of humanity being faced with braving the cold dark expanse of the universe alone.
In the novels, Liu describes the earth as a united power, with all domestic grievances having been temporarily put to one side to focus on resisting the alien invasion. He has formed a whole set of theories regarding a hypothetical Meteoritical Society based on "the law of the dark forest," which stresses that interstellar communication is similar to predicament of a hunter in a dark forest: Since the hunter cannot judge whether a strange noise comes from a fierce beast or an ally in the dark, he must shoot first in order to protect himself. The trilogy has boldly deduced that a civilization crisis could inevitably occur in the future interstellar era.