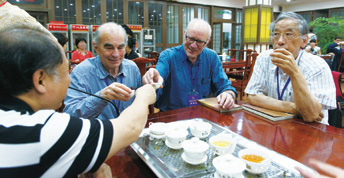 HOME OF TEA: Foreigners and locals drink tea and enjoy the associated culture at a time-honored teahouse in Quanzhou, southeast China's Fujian Province (LIU BOYI)
A seaside city of 8 million people, Quanzhou in southeast China's Fujian Province was once described by Marco Polo (1254-1324) as the "Alexandria of the East" in the late 13th century, when it was known as Zayton (or Zaitun) by traders arriving from the Arab world and heralded as one of the world's most glorious ports.
Quanzhou was established in 718 during the Tang Dynasty (618-907). It later became one of the most important Chinese ports along the Maritime Silk Road during the Song (960-1279) and Yuan (1271-1368) dynasties.
Quanzhou has welcomed sailors and travelers from many different cultures and religions. A number of famous medieval explorers, such as Marco Polo and Ibn Battuta (1304-68) from Morocco, described the port as one of the most vibrant harbors in the world.
During Song times, Chinese maritime trade flourished. From Quanzhou, Chinese ships reached many ports of Southeast Asia, India, Persia, Mesopotamia, Africa, the Arabic Peninsula and finally Europe. They sold silk, porcelain, tea and books in exchange for various products from the different countries.
Quanzhou's development coincided with a period of great commercial and cultural interaction in China. Cultural relics in the Quanzhou area, from sacred Muslim tombs to Indian carvings, bear witness to the variety of cultural and religious practices that converged there.
However, with the restrictions of trade imposed from the Ming Dynasty (1368-1644) onward, the city lost its position as a commercial center. Shortage of arable land forced people to seek a livelihood elsewhere. During the late Ming Dynasty, the continuation of the Silk Road's overseas connections facilitated large-scale migration from Quanzhou to Southeast Asia.
A symbol of openness
Because of its history, Quanzhou has become a symbol of cultural pluralism and international cooperation. The presence of sailors, merchants and explorers contributed to the development of peaceful coexistence between the many different ethnic and religious groups in the city, including Buddhists, Hindus, Taoists, Nestorians, Manichaeans, Jews, Catholics and Muslims.
This cultural openness is illustrated by the diversity of historic religious sites and monuments in the city. In addition to this, the numerous tombstones and artifacts that are exposed in Quanzhou's Maritime Museum also tell a story of strong inclusiveness, as they show different religious and cultural symbols brought together.
Islam provides one of the most obvious evidence of Quanzhou's openness and inclusiveness. This religion was introduced into Quanzhou in the Tang dynasty, when large numbers of Arabian-Persian merchants settled in the city. Quanzhou provided a cultural environment that valued religious freedom and openness. As a result, many mosques were built, one of which, Qingjing Mosque, is the oldest Muslim place of worship in China.
Although Quanzhou's openness was seriously dampened during the Ming and Qing (1644-1911) dynasties, the city now has the ambition to become a new cultural meeting point. Meanwhile, the tradition of religious and cultural integration is a strong asset for Quanzhou as the Chinese Government emphasizes cultural dialogue and cooperation.
A tradition of trade
Quanzhou's cultural traditions also include many products and handicrafts that were exported through the Maritime Silk Road. The most important products, tea and porcelain, still play an essential role in the city's economy.