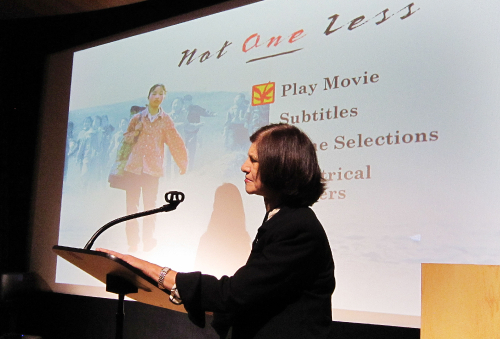 GLOBAL VISION: Roberta Seret, founder of International Cinema Education, at the screening of Not One Less in New York City in December 2014 (HUANG WEI)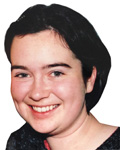 Packing more than 100 high school students into a theater to watch a subtitled foreign film would be a challenge for most educators, but as the ending scenes for the emotional drama Not One Less by acclaimed Chinese director Zhang Yimou began to roll, the muffled sniffles could be heard from the young audience at the UN's theater in December 2014. The students, many of whom were learning Mandarin, were invited to the screening by International Cinema Education (ICE)--an NGO that has given more than 8,000 students the opportunity to experience foreign culture through the power of film.
The award-winning Not One Less follows the story of a young girl in rural Hebei Province who takes a job as a substitute schoolteacher in a small village. When one of her students drops out of school to search for work in the city, the young teacher tracks him down and brings him back to the village. The girl's dedication to keeping all of her students in school illustrates the challenges inherent in the rural education reform which requires students to undergo nine years of compulsory education. Educators were faced with the problem of swathes of rural schoolchildren dropping out to find work.
Teaching global citizenship
For ICE founder Roberta Seret, Director of Professional English at the UN, where she teaches the English language and its related culture to diplomats, the film is an opportunity to transport New York students to rural China without a plane ticket or visa.
"We're going around the world in these films," Seret said.
ICE's mission is to use film as a catalyst to teach high school students about global issues. Key to the success of the program is a Socratic-style approach with an emphasis on post-screening discussions with an expert. For the screening of Not One Less, Seret invited Du Xiaoxue, a UN intern and New York University student, to speak with the students.
"I believe in the power of education and that hard work can create miracles," Du said.
Du shared her own experiences as a volunteer teacher in the countryside as the students asked thoughtful and illuminating questions about economic equality, the power of self-determination and compassion.
Cultural exchange is "not just about learning," Seret said. "It's about the human interaction, the human element. Being a global citizen is a way to stimulate and open your mind."
Wang Lin, a Mandarin teacher at the Chapin School in New York, brought his students to the UN to view Not One Less and said they had been preparing with class discussions and worksheets ahead of the screening.
Film is a wonderful way to learn language, Wang said, as it engages and entertains the students with stories.
"All my students highly enjoyed the event--watching the movie followed by the discussion," Wang told Beijing Review. "Many have told me that they learned a great deal about Chinese language and culture from this event. They told me that the movie is so touching that it will have a positive impact on their views toward the human world and the love of mankind. It was beyond my expectations that the outcome of this event has been so great and my students have really learned a lot."
Wang said the benefits of attending the screening extended beyond learning language. He conducted a follow-up discussion with students on their return to school and some students wrote a journal in Mandarin discussing the event.
"Chinese movies are an important component of our Chinese program at the Chapin School and we will continue to let our students watch good movies like Not One Less," Wang said.