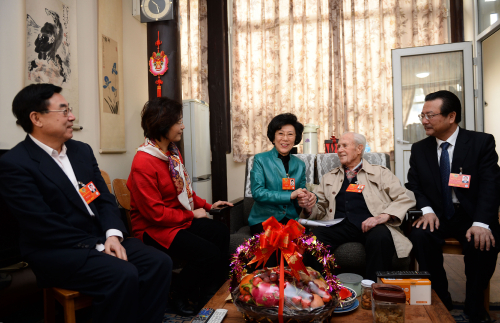 HOME VISIT: Sidney Shapiro (second right) chats with his fellow CPPCC National Committee members including Huang Youyi (first left), Vice Chairman of the Translators Association of China, in his Beijing home on March 9, 2013 (JIN LIANGKUAI)
On Nanguanfang Hutong in Beijing's historic Shichahai area located in the heart of the capital city lies a small antiquated courtyard adorned with flowers. For several decades, this was the place that renowned translator and author Sidney Shapiro called home. He arrived in China in 1947 and eventually chose to spend the rest of his life thereafter in the Middle Kingdom.
Now, Shapiro's room lies empty as he passed away at the age of 98 on October 18, 2014, just two months shy of his 99th birthday. Though the man himself has shuffled this mortal coil, his legendary relationship with China remains a mystery to many. Some cannot help but ask why an American would choose to spend over two thirds of his life in China, even going so far as to gain Chinese citizenship in the process.
First impressions
Before coming to China in 1947, he joined the U.S. Army during World War II and was selected to study Chinese at Cornell University. He traveled to Shanghai that year by ship and through one of his Chinese friends in the United States, he met and quickly fell in love with an actress and author who had graduated from Shanghai's prestigious Fudan University and wrote under the pen name of Fengzi, meaning "phoenix" in Mandarin. The two married in 1948 and their relationship was to last a lifetime, remaining together until her death in 1996.
At that time, the Communist Party of China (CPC) was fighting to overthrow the Kuomintang regime in the second, post-World War II phase of the Chinese Civil War. For Shapiro, Shanghai was an immense disappointment. The city was then ruled by the Kuomintang and much to his dismay, Shapiro found that a wide gap existed between the rich and the impoverished. As a CPC member, Fengzi was secretly offering help to the Party's cause, so Shapiro was presented with the opportunity to get to know many influential Party members who introduced him to the ideologies of Marxism and Leninism.
"I saw that people lived an extremely hard life under the cruel rule of the Kuomintang, with a large number of people starving or freezing to death every day," he told the Guangzhou-based Nanfang Metropolis Daily in 2006. "I realized that only revolution could solve China's problems."
Shapiro went on to open a law firm in Shanghai and offered help to Fengzi and her Party comrades. He helped edit an English magazine advocating land reform and provided his office as a meeting venue for secret agents from CPC-controlled areas to discuss how to transport medical supplies to these areas across the Kuomintang's blockades.
Fengzi soon found herself on the Kuomintang's blacklist and the couple was forced to leave Shanghai. They had intended to go to a Communist-controlled area but gave up due to insurmountable difficulties and chose to go to Beijing instead. They arrived in the city in 1948. Compared with contemporary Shanghai, Beijing better fit how Shapiro had envisaged China.
"Beijing was quiet and had beautiful hutongs and the Palace Museum," Shapiro said on a China Central Television talk show in 2006.
In Beijing, Shapiro was invited to attend the founding ceremony of the People's Republic of China on October 1, 1949 together with his wife. "It was a remarkable historic moment. People were so excited that they cried and laughed. At that time, I was curious to see what would become of this country," Shapiro said.
Literary talent
As an American-educated lawyer, Shapiro found it difficult to land a job in Beijing. Instead he engaged in freelance translation at home on a casual basis.
He started by translating the novel Daughters and Sons, which represented the courage of Chinese guerrilla forces in fighting against Japanese invasion during World War II. The English version of the novel was published in the United States in the 1950s.
When he was translating the book, a friend of Fengzi visited the couple and found out that Shapiro was versed in the art of translation. The friend then offered to help Shapiro find a job as a translator with the Bureau for External Cultural Relations.
Shapiro later transferred to the Foreign Languages Press to work for its Chinese Literature magazine as a translator and editor. The monthly magazine, which was established in 1951 and ceased publication in 2001, played an important role in introducing Chinese literary works to the world in the latter half of the 20th century.