In the depths of winter, central China's Hunan Province has much to offer the traveler. While its picturesque mountains, lakes and forests are covered in snoSavoring the Snoww, travelers can experience stunning winter vistas different from those encountered in China's frozen north.
Changsha
Why go there?
Changsha is a city that boasts both beautiful mountain views and stunning waterscapes. Gazing upon breathtaking snow-covered scenery in winter, Juzizhou Island and Yuelu Mountain are the traveler's best bets.
Yuelu Mountain and its environment together constitute a state-level scenery zone. At an altitude of 300.8 meters, the mountain is located along the west bank of the Xiangjiang River. The area is renowned not only for its beautiful scenery but also for its vibrant cultural atmosphere. Indeed, the area's flora was once the subject of a piece of verse by Du Mu, a well-known poet in the Tang Dynasty (618-907). Locals later built a pavilion and named it Aiwan Pavilion after the poem. Now, the pavilion's location is one of the prime spots from which to enjoy the area's stunning wintertime scenery, where the mountain, its nearby lake and the pavilion come together to form the likeness of an ink-wash scroll.
Juzizhou Island is where Chairman Mao Zedong finished one of his famous poems in the fall of 1925. The winter views on the island are among some of Hunan's most beloved. When snow falls, the sky and the Xiangjiang River are both covered in a blanket of brilliant pure white. Against a backdrop of such complete silence and solitude, one can easily find inner peace, encapsulating the essence of all that is special about this scenery.
Transportation
By plane: Take a 2.5-hour flight from Beijing.
By train: Take a high-speed train, about six to seven hours, from Beijing.
Lodging
Hotels in Changsha range from budget accommodation to five-star establishments.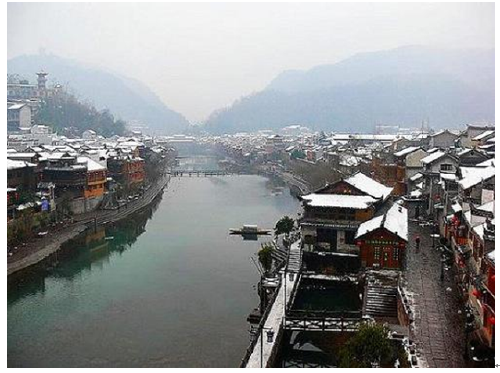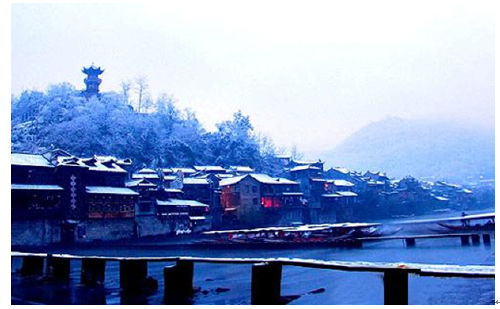 The Ancient Town of Fenghuang
Why go there?
Fenghuang, an ancient town first built in the early 18th century, is located in west Hunan's Xiangxi Tujia and Miao Autonomous Prefecture. Fenghuang, meaning "phoenix" in Chinese, is named after the mountain behind the town which, according to ancient legend, is shaped like a flying phoenix. Most residents of the town predominantly belong to the Tujia or Miao ethnic groups. Thus, the town possesses utterly singular beauty and distinctive architectural features such as the stilted buildings dotted along the Tuojiang River. In 2001, Fenghuang was granted the status of state-level intangible cultural heritage.
As distinct from its appearance in other seasons, Fenghuang takes on an entirely different look in winter. While all of the town's buildings are covered in a coat of snow, the Tuojiang River runs slowly but steadily through the area. The town's distinctive black stilted buildings appear even more majestic in the snow. At the same time, red lanterns hanging from rooftops help engender a warm atmosphere and a merry mood.
Transportation
By plane: Take a flight from Beijing to Changsha, and then take a 6.5-hour bus ride to Fenghuang, or take a flight to Zhangjiajie, and then take a four-hour bus ride to Fenghuang. Alternatively, take a three-hour flight from Beijing to Tongren, and then catch a one-hour bus ride to Fenghuang.
By train: Take a train from Beijing to Changsha or Zhangjiajie, and then take buses to Fenghuang.
Lodging
Accommodation ranges from family hotels along the Tuojiang River to five-star hotels in the downtown area.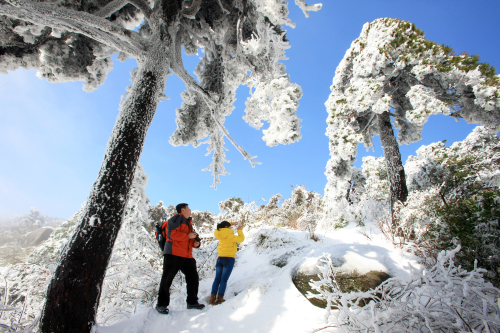 Hengshan Mountain
Why go there?
Hengshan is a vital location for travelers wishing to take in snow-covered vistas. The southernmost of China's Five Great Mountains, it has been a tourist attraction throughout history. Emperors of each successive dynasty engaged in the practice of conducting a heaven-worshipping ceremony on Hengshan. As a religious and cultural center in south China, it is not only the location from which several of China's Buddhist factions derive, but also a holy mountain of Taoism. Hengshan Mountain includes 72 peaks, and the most magnificent, Huiyan Peak, can be viewed from downtown Hengyang.
Hengshan's winter comes with scenery characterized by soft rime, a rare meteorological phenomenon in south China. Here, even the most pedestrian of trees becomes a beautiful piece of natural sculpture with green leaves and branches suspended within ice and frozen in time. Standing on mountaintops and surveying the surrounding landscape, you will feel the mountain's buildings have been transformed into grand palaces worthy of gods and goddesses inhabiting a silver world.
Transportation
By plane: Take a 2.5-hour flight from Beijing to Hengyang, and then take a one-hour bus ride to Hengshan Mountain.
By train: Take a high-speed train, 7.5 hours from Beijing.
Lodging
Accommodation ranging from family hotels to five-star establishments can be found in Hengyang, located close to Hengshan. Smaller hotels can also be found on Hengshan Mountain.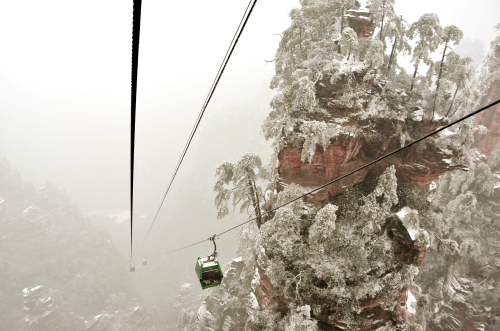 Zhangjiajie
Why go there?
Zhangjiajie in northwest Hunan is popular for its uniquely beautiful landforms, which combine rivers, forests and a distinctive cone Karst landscape. The Zhangjiajie National Forest Park comprised one of the shooting locations for the Hollywood movie Avatar.
In winter, the face of Zhangjiajie's landscape is adorned with the makeup of ice and snow. Over 3,000 cone Karst peaks rise together to create a tremendous sight not unlike white coral in form. On close inspection, one can see that trees on the Karst mountains are decorated with a sheet of crystallized sleet and snow. Viewed from afar, the scene as a whole resembles one from a children's story or a giant ink painting, as everything in the area looks as though it is covered by fluffy white chiffon.
While cone Karst mountains project power, the area's brooks and rivers exemplify soft charm. Walking in this winter wonderland, one's heart cannot fail to open.
Transportation
By plane: Take a 2.5-hour flight from Beijing.
By Train: Take a regular train, approximately 20 hours from Beijing, or alternatively take a 5.5-hour train ride from Changsha.
Lodging
Accommodation ranges from family hotels decorated in a distinctive local style in the scenic zone to five-star hotels in the downtown area.
Email us at: dingying@bjreview.com