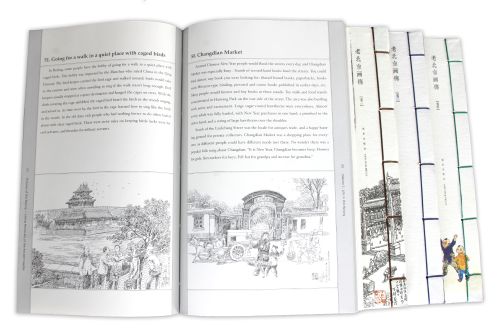 SCENES OF OLD: The book includes many hand-illustrated drawings—a vivid, personalized depiction of old Beijing (COURTESY OF NEW STAR PRESS)
China attracts tens of millions of inbound tourists annually, with the ancient capital of Beijing topping the list of their destinations. But while many visitors seek to explore the city's long history through its traditional customs and classic architecture, several decades of rapid development has utterly transformed the Beijing experience. To appreciate the "old city" as it appeared generations ago, one must now look to the art produced by those who lived in it.
Fang Yan, a 74-year-old painter who grew up in Beijing, has devoted himself for decades to preserving old Beijing on his canvases. His newly published illustrations collection, Pictures of Old Beijing: Living Memories of the Ancient Capital, has presented a panoramic view of Beijing during the period spanning from 1912 to 1948.
Published by New Star Press, the collection contains four volumes titled Life in Old Beijing; Ancient Architecture; Old Tianqiao Scenes; and Local Customs and Practices. Each volume is bound together using colorful threads on the right like ancient Chinese tomes. The collection features more than 400 pictures vividly depicting the daily life, food, customs, festivals, street performances and buildings of old Beijing. Half of the pictures are black and white and half are in color. A short description accompanies each illustration.
The book has been distributed in China as well as in English-speaking countries such as the United States, Britain and Australia. So far, nearly 2,000 copies have been sold.
Sun Zhipeng, Director of the General Editorial Office of New Star Press, told Beijing Review that the collection could be of interest to foreign visitors to Beijing who wish to learn more about the city's history.
Preserving history
Fang spent over one year painting the pictures included in the collection. In order to create an accurate portrayal, he had to research a large number of historical accounts both online and in books before putting his pen to paper. A picture was drawn based on historical accounts together with his memories. It sometimes took him several days to draw a small picture in order to guarantee accuracy.
"Only people as old as me are able to draw ancient Beijing because we have seen what the city was like in the old days," said Fang.
Many of the architectural sites he painted have been demolished and many customs were lost in the course of history. For example, most of the 16 city gates drawn by Fang were torn down during the 1950s and the 1960s to facilitate transportation, leaving only parts of the Zhengyangmen and Deshengmen gates remaining. Beijing proper was once surrounded by a city wall with a total of 16 gates, nine for the Inner City in the north and six for the Outer City in the south. The Forbidden City, where the emperor resided, was located in the Inner City.
Vendors selling stringed jujubes, sesame oil and goose feather fans in hutongs (residential alleyways); traditional forms of transportation such as mule carriages, sedan chairs and rickshaws; and martial arts performances, wrestling matches and puppet shows were once ubiquitous in the Tianqiao area in the ancient Outer City. These activities, which were formerly commonplace in public, would appear quite unusual to today's Beijingers--especially the younger generation.
When he was young, Fang lived near Xizhimen Gate in the northwest of the ancient Inner City, where he would often climb onto the gate tower to fly kites and pick wild jujubes with his friends. With a keen interest in painting, he often drew pictures of city gates, temples and other ancient buildings. In winter, when it was too cold to stay outside, he would go to the train station and sketch portraits of passengers.
Fang said that the painting skills accumulated early in his life laid a solid foundation for his future career as a painter.