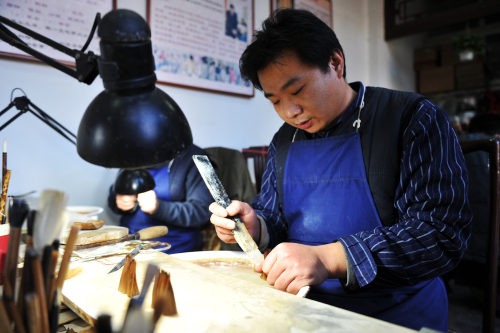 FIFTH-GENERATION HEIR: Wang Houxian, a proponent of Daiyuexuan's brush-making skills, works on an ink brush (WEI YAO)
In the early winter of 1916, Dai Yuexuan, a young ink brush maker from Huzhou, east China's Zhejiang Province, founded his own store on Liulichang Street, a renowned center for antique shops and the production of arts and craft tools and instruments in Beijing. Today, Daiyuexuan, the business carrying the name of its founder, is the Chinese capital's best and most time-honored ink brush producer.
Not only is the company the curator of a quickly vanishing set of skills, it is also representative of China's intangible cultural heritage.
A stroke of genius
Traditionally, Chinese literati possessed four instruments with which to ply their trade: brush, ink stick, ink stone and paper. People began to refer to them as the "four jewels of the study" during the Southern and Northern Dynasties (A.D. 420-589).
The ink brush is the oldest of these four jewels, dating back to the Han Dynasty (202 B.C.-A.D. 220). Since the late 14th century, Dai Yuexuan's hometown, Huzhou's Shanlian, has been regarded as home to the most famous and highly prized traditional ink brushes.
"Our brushes are made using the best materials, which is the underlying principle of Daiyuexuan," said Bai Wenchong, Manager of Daiyuexuan's flagship store in Liulichang, to Beijing Review. He stressed that the original tablet of Daiyuexuan was inscribed upon by Feng Guozhang (1859-1919), then China's head of state.
Ink brushes are usually made from animal hair. Each type of hair has a specific ink capacity and distinct brush strokes are produced depending on the softness, hardness, thickness and length of the hair used. Hence specific types of brushes are used for different styles of calligraphy and painting.
Bai revealed that Daiyuexuan's ink brushes are primarily made with white goat hair, black rabbit hair, yellow weasel hair, or a combination of the aforementioned. The ink brushes produced by Daiyuexuan have long been celebrated for their meticulous craftsmanship and special features of being perfectly straight, sharp and vigorous and for forcibly coupling hardness with softness.
"Materials selection is very strict," said Bai. Its yellow weasel hair comes from northeast China. Because of the long cold winters there, yellow weasels have better coats of hair than their ilk in other locations. Additionally, only hair growing in the middle of a weasel tail can be selected to make ink brushes as hair on the tail tip is often damaged from abrasion arising from contact with the ground.
White goat hair comes from Huzhou. Bai pointed out that there is a reason why Huzhou has produced the country's best ink brushes for a period lasting over 2,000 years. The region's goats feed on mulberry leaves, the staple food of silkworms. Owing to their special diet, the white goats bred there have more luxuriant hair. Ink brushes made with white goat hair from Huzhou have better elasticity and longevity, Bai said.
According to Bai, the materials used for the brush handle are also very important. Brush handles are commonly made from bamboo, but special brushes may have handles formed from sandalwood, jade, or carved bone.
Daiyuexuan's highest-quality ink brushes are made with exquisite craftsmanship and are checked in accordance with strict standards. Wang Houxian, a fifth-generation proponent of Daiyuexuan's ink brush-making skills, explained to Beijing Review that it takes over 100 separate procedures to complete a single brush.
Wang has been engaged in brush making for 22 years. "I spent three years as an apprentice when I was young. But I have continued honing my skills to this day. In this business, people can always make perfection more perfect," he said. Wang explained that brush making relies on the accumulation of experience as well as the quality of the various materials employed. For example, he said, hair is laboriously sorted and then bundled together for specific uses.
It's easy to understand how a mixed-hair ink brush may have different functions based on the differing proportions of the hairs used. Even though the proportion is the same, ink brushes can be of varying elasticity, because animal hairs are selected from different parts of the body or in different seasons, Wang said.