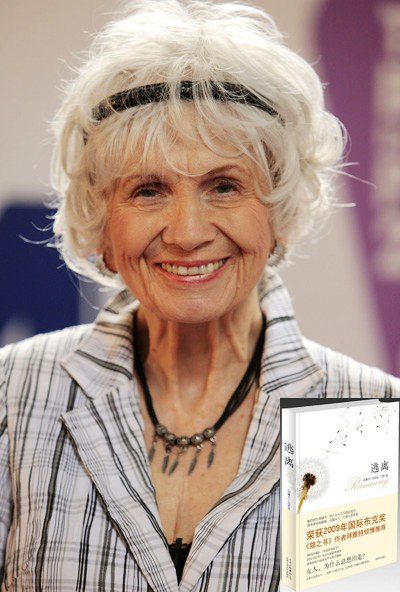 Alice Munro's Runaway has been published in China (XINHUA/AFP)
The Nobel Prize in literature has always had great influence on China's readers. However, when news came that this year's laureate was Canadian author Alice Munro, the Chinese were caught off guard, as the writer and her works were little known in the country.
On October 10, the Swedish Royal Academy of Sciences announced that the 2013 winner was the 82-year-old Canadian short story writer Munro. In its statement, the Nobel Prize committee called Munro "master of the contemporary short story," adding that "she is acclaimed for her finely tuned storytelling, which is characterized by clarity and psychological realism."
Li Wenjun, the Chinese translator of Runaway, a collection of short stories by the Nobel laureate, said that "it is no surprise that Chinese readers are not familiar with Munro. People across the country read way too little." The author's Nobel success would surely promote Canadian literature in China and across the world, Li noted.
Overnight success
Munro's Runaway (2004), which won the 2009 Man Booker Prize and her only work made available in China, has sold out in many book stores.
Chen Mingjun, editor in chief of Xin Jing Dian (or New Classics) Publishing Co., said the Chinese edition of Runaway has sold about 30,000 copies to date.
"After the Nobel Prize results were announced, purchase orders for Runaway via dangdang.com, an online bookstore, increased by over 3,000 a day from October 11 until it was eventually sold out," he noted.
Xin Jing Dian purchased the Chinese copyright for Runaway in 2009 and has stated that it would print another 400,000 volumes as soon as possible to meet increasing demand.
Li Yao, editor of foreign literature at Xin Jing Dian, said "It came as a big surprise that Munro won the Nobel Prize."
"As early as 2007, the publishing company signed a cooperation contract with Munro to publish some of her works in the Chinese market. At the time, we believed she would attract readers via her excellent storytelling abilities and feminist perspective, as well as her sense of realism," Li explained. However, since short stories rarely appeal to Chinese readers, coupled with the author's low profile and insufficient promotion, sales results were meager.
According to Chen, Xin Jing Dian is busy preparing for the future publication of Munro's latest work Dear Life (2012), with translation currently under way.
Yao Yuan, a translator working on Dear Life, recently told Yanzhao Metropolis Daily that the publication date is determined by many factors. "While some translators can finish other authors' works in just one month, I'd say Munro's piece needs time."