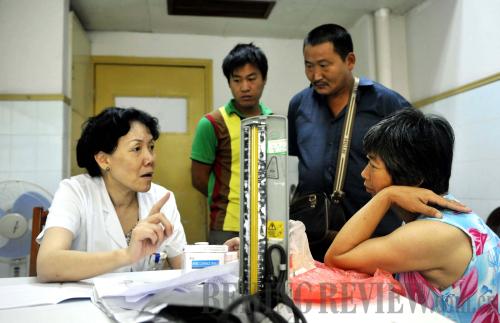 DIAGNOSING: Hou Fanfan (left) talks with patients in her office at Nanfang Hospital on June 22, 2011 (CHEN YEHUA)
Because of the steep cost, only 10 percent of uremia patients are willing to pay for dialysis therapy. "The other 90 percent wait to die. I feel sad every time I think about it," Hou said.
Hou noticed that ACE can provide renal protection in patients with early stage renal insufficiency. In the past, patients who had advanced kidney disease were forbidden to use ACE because doctors felt that the side effects were likely to cause more harm.
But Hou posed a simple question: Could ACE be used for late-stage kidney disease if the side effects were controlled? It took five years of clinical experiments for Hou and her team to find out.
Her research found that ACE could reduce the risk of renal disease developing into kidney failure by 43 percent for late stage patients, effectively slowing the deterioration of the kidneys and thereby prolonging possible dialysis treatment.
Hou and her team published their research in The New England Journal of Medicine in January 2006, with the title Efficacy and Safety of Benazepril for Advanced Chronic Renal Insufficiency, causing a sensation in the medical field. The journal commented that Hou's findings changed the way doctors approached treatment for kidney disease.
A doctor's duty
A good doctor should do three things well, according to Hou. "First, clearly understand the patient's condition; second, have a mastery of medical skills; and third, be considerate toward the patient and reduce his or her financial burden."
In addition to throwing herself into research, Hou takes a patient-first approach. In order to assess the positive and negative effects of the new therapy, Hou tracked several hundred patients over five years. She told members of her research team to provide their contact information to patients in case they have any questions about their treatment.
Hou also told her colleagues to prescribe affordable medicines to their patients in order to help ease any financial distress. As a result, Hou and her renal division have not received a single complaint in 20 years.
In earlier 2012, Hou was elected as a delegate to the 18th National Congress of the Communist Party of China. "As a delegate, I'll put a focus on health service reform," Hou said.
"China's health reforms have reached a critical phase. Reforms should move forward and address all challenges so that ordinary people are able to afford medical care and have better access to the country's medical services," Hou continued.
1950: Born in Shanghai
1970: Studied in Southern Medical University
1995-98: Studied and researched at the Medical School of Harvard University
1999: Returned to Southern Medical University as a professor and medical scientist
2006: Published the article Efficacy and Safety of Benazepril for Advanced Chronic Renal Insufficiency in The New England Journal of Medicine
2009: Elected an academician of the Chinese Academy of Sciences
2012: Elected as a delegate to the 18th National Congress of the Communist Party of China
Email us at: tangyuankai@bjreview.com