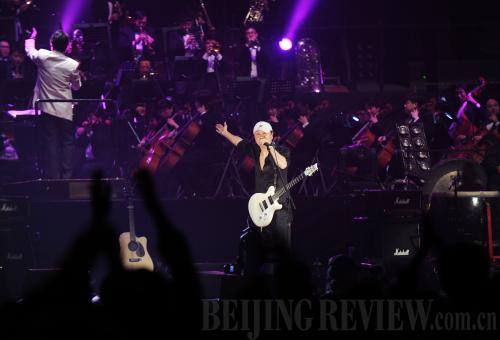 ROCK SYMPHONY: Cui Jian performs on the stage in Beijing with a symphonic orchestra on December 31, 2010 (CFP)
Rock meets classical
Compared to Peking Opera, the combination of rock and the symphony is more popular, especially among young people.
On December 31, 2010, and January 1, 2011, Chinese veteran rock musician Cui Jian and the Beijing Symphony Orchestra joined forces for two concerts at the Beijing Workers' Stadium.
"This attempt to combine rock and classical music will bring the audiences an absolutely different listening experience," said Cui at a press conference on November 4, 2010, with Tan Lihua, principal conductor and Music Director of Beijing Symphony Orchestra.
"It is the first time a large-scale concert of rock and classical music has been held in China, even in Asia," said Cui.
Cui is a singer-songwriter and trumpet player. Hailed as "the godfather of Chinese rock," Cui started his music career as a trumpet player in the Beijing Symphony Orchestra in 1981, at the age of 20.
"I always want to be on stage with Tan, and now it has come true," said Cui. "Thirty years ago, there were no people playing rock in China but a certain number of symphony fans. Now, the number of rock fans is greater than that of symphony. This is a big leap forward and combining them on stage is my long-awaited dream. I think now is the right time."
In the West, the fusion of rock and symphony was conducted several decades ago, the classic Beatles songs are constantly being adapted into classical music. The Scorpions, Metallica and other famous rock bands have performed with internationally renowned orchestras. But in China, such attempts are rare.
"I was shocked when I saw the violin players suddenly stand up and dance to the music," said Zou Hang, Music Director of the concerts. "It was all spontaneous, without any prior arrangement.
More than 80 musicians from the Beijing Symphony Orchestra were on the stage.
"They are not merely accompaniment to me," said Cui. "Everyone plays the lead role at the concerts."
"I think it is very cool," said Hao Xinrui, a college student from Beijing Normal University. "It is exciting to see so many musicians on stage playing rock, especially when they are playing fast rhythms. The effect is just spectacular."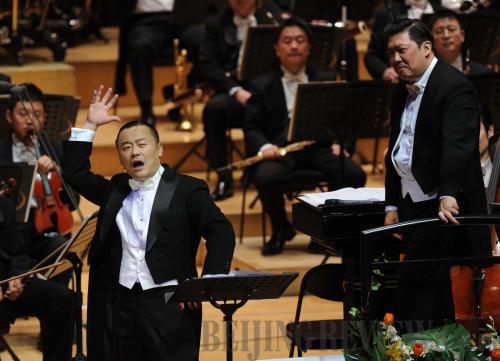 COMIC SYMPHONY: Zhou Libo (left) introduces symphonic music to the audience in a humorous way, with Yu Long standing by on January 30 (CFP)
Classic comedy
On Jaunary 30, China Philharmonic Orchestra led by its artistic director and principal conductor Yu Long, together with Shanghai's famous comedian Zhou Libo, presented a unique concert entitled A Musical Discourse Between Zhou and Yu in Beijing. It was an effort to promote and popularize symphony in China, Yu said.
Usually a solo performer, Zhou talks about the lives of urbanites in a mixture of Shanghai dialect and standard Mandarin. He has been a star of the stage in Shanghai since 2008 with his Shanghai-style stand-up comedy.
"This is not a performance of Shanghai-style stand-up comedy, but my logic and humor will be the same," said Zhou, who said he has always been a lover of classical music and his music knowledge is "amateur among professionals, but professional among amateurs."
During the performance, Yu made an introduction of the basics of symphony music and the different sections of a symphony orchestra, while Zhou interjected with his personal interpretations.
"As always, I want to strip off the noble dress of classical music and show its real body. I related the topics to current affairs," said Zhou. "For this performance, I compared the different sections of a symphony orchestra to the parts of a society, and revealed the relationship between an orchestra and the society."
The program included some of the most popular works of Western classical music, such as Ludwig von Beethoven's Ode to Joy, Johann Strauss' Radetzky March and Georges Bizet's Carmen Overture.
"I think Zhou's participation helps shorten the distance between the audience and symphony music, and let the audience have more fun while appreciating symphony," said Yu.