Siberian tiger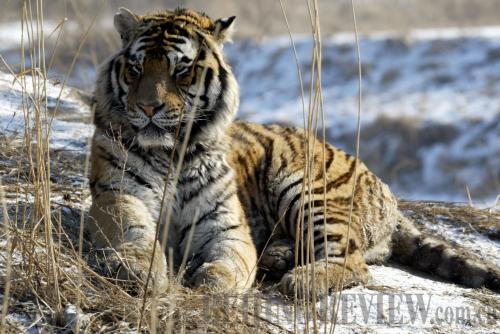 A bred Siberian tiger in northeast China (CFP) 

At the beginning of this year, a team consisting of protection experts set out to search for traces of Siberian tigers, including paw prints in earth and marks in tree trunks, even excrement, in the deep mountains along the border between northeast China and Russia.

The Siberian tiger is the largest of the eight remaining tiger subspecies. Its habitat is also the largest of all tigers—300 to 500 square km for a female adult tiger and 600 to 800 square km for a male adult.

Statistics from the Wildlife Conservation Society, an organization in the United States managing national and international conservation projects, research and education programs, show there are no more than 20 wild Siberian tigers alive in China.

Huichun is a small town in northeast China's Jilin Province, adjacent to Changbai Mountain. The area near the town contains the country's largest number of Siberian tigers, which varies between six to eight wild big cats.

"Huichun is near the China-Russia border. It is convenient for wild Siberian tigers to come into China from Russia. If we can provide a good living environment for them, I believe more Siberian tigers will settle down in Huichun," said Li Zhixing, General Secretary of Huichun Tianhe Siberian Tiger Conservation Society.

Also in northeast China is a 1.44-million-square-meter Siberian tiger park on the northern outskirts of Harbin, Heilongjiang Province. The park is the world's largest base for breeding Siberian tigers and training them to live in the wild. At present it has more than 900 pure-bred Siberian tigers of different ages. The number will pass 1,000 this year with the breeding of 100 new-born tigers.

Xu Yanchun, Deputy Director of the College of Wildlife of Northeast Forestry University, said inbreeding between Siberian tigers could cause weakness, growth retardation, high death rates and weak immune systems of tigers, which could lead to mass deaths.

The Siberian tiger park used advanced technology, setting up family genealogies from the first artificially bred Siberian tigers in order to control inbreeding. Since 2001, the park has been using DNA detection.

"Choosing pure-blood Siberian tigers, according to DNA pedigrees, to breed can promote new-born tigers' survival rates. Currently, the survival rate of Siberian tigers in the park is about 90 percent," said Liu Dan, the park's general engineer.

South China tiger

In October 2007, Zhou Zhenglong, a villager in Zhenping County in northwest China's Shaanxi Province, claimed to have taken a photograph of a wild South China tiger, arousing heated debate in the country. South China tigers hadn't been seen in the wild since the 1980s, experts said.

Although a court adjudicated the picture was a fake, the Qinling-Bashan Mountains area where Zhou lives actually was the habitat of the South China tiger.

The South China tiger is a subspecies native to the forests of South China and also the ancestor of all tiger subspecies in the world. In the early 1950s there were about 4,000 wild South China tigers in China. Until 1996 the International Convention on Endangered Species of Wild Fauna and Flora of International Union for Conservation of Nature and Natural Resources with the United Nations listed the South China tiger as the No.1 endangered species of the world's top 10 priority protected animals.

"In merely 40 years, the South China tiger became the fourth subspecies of tiger facing extinction," said Yuan Xicai, General Secretary of the Guangdong Zoological Society.

"Currently, there are only 92 bred South China tigers in China," said Yin Yuzhong, Deputy Director of a zoo in southwest China's Chongqing Municipality. Since starting to draw up genealogies for the subspecies in 1995, recorded South China tigers number 457, of which 18 were captured from the wild. Six of the 18 wild ones in Shanghai Zoo and in Guiyang Qianling Park Zoo in southwest China's Guizhou Province respectively have been registered as responsible for births, forming two family branches—Shanghai branch and Guiyang branch.

Immediately before this year's Spring Festival, a couple of South China tigers in Shanghai Zoo successfully gave birth to twin female tigers, increasing the population of the Shanghai branch to 22.

In 2003, a pair of South China tigers from Shanghai Zoo was sent to South Africa to be trained to live in the wild. But by 2005 the plan was deemed to be a failure.

"The environment in South Africa is much different from China's. The experiment was doomed to failure from the beginning," said Pan Wenshi, Director of the Giant Panda and Wildlife Conservation Research Center of Peking University.