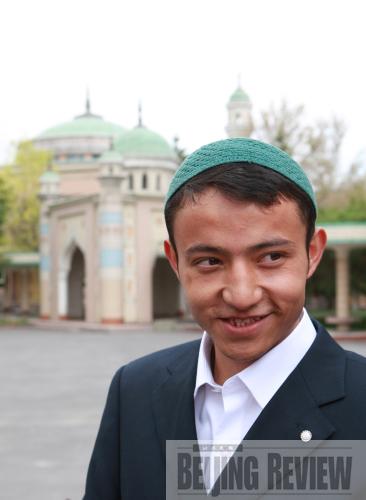 ALMOST AN IMAM Xinjiang Islamic Institute student Abdusami Ablati wants to become a respected imam like his father (JIANG XIAOYING)
The morning of May 8 was a busy one for Abdusami Ablati, a fourth-year student at Xinjiang Islamic Institute. The 24-year-old was busy preparing for Jumuah, a congregational prayer session held every Friday by Muslims, while at the same time, he was packing for his first trip out of Xinjiang Uygur Autonomous Region. Every student before his graduation goes on the tour, which is organized and funded by the institute. It will take Abdusami and his classmates to Beijing, Shanghai and Nanjing in Jiangsu Province for two weeks.
"I have only seen the Palace Museum and the Great Wall in books and I really look forward to seeing them with my own eyes," said Abdusami, who comes from Kashi in the southwest of Xinjiang. According to government statistics, Xinjiang is home to 10 Islamic ethnic groups totaling 12 million people—China's largest Muslim population. The region holds over 24,200 Islamic mosques.
Four years ago, Xinjiang University's School of Civil Engineering and Xinjiang Islamic Institute both admitted Abdusami, one of the top graduates from his high school. Without hesitation, he chose the Islamic school. The son of a congregational mosque imam, Abdusami had his family background as an advantage when he applied to the religious school. The institute weighs candidates' Arabic proficiency, Islamic devotion and understanding of the Koran when selecting applicants, all of which Abdusami learned from his father at an early age. The school only accepts male Muslims between 18 and 25 years old.
While in Beijing, Abdusami will take an exam for government-sponsored scholarships to study in Egypt's Al-Azhar University, the most renowned Islamic academic institute in the world. "I want to further my studies on Islam after graduation so that I can go back to Kashi and become a more qualified imam or Islamic institute teacher," said Abdusami.
The government-funded Xinjiang Islamic Institute has 160 students and has so far trained 540 local Islamic scholars since its founding in 1987. Students study for five years and take courses in geography, history, physical education and computers, besides the Islamic courses that constitute 70 percent of their learning. Over 80 percent of the students are ethnic Uygur and the institute teaches in their mother tongue.
Most graduates have become popular imams in mosques across the autonomous region, said an official at the school. "Our graduates have quickly become the spiritual guides of local Muslim communities since they have mastered Islam's essence as well as understood its demands in a modern society," said deputy principal Wupur Rexit. Since 2001, 28 graduates have gone abroad to study in foreign Islamic institutes.
Abdusami admires his father's deep knowledge of the Koran, which he learned from a Mawlawi in Kashi. But Abdusami believes that he is learning faster than his father ever did. Xinjiang is also home to other two Islamic institutes that hold 500 prestigious Islamic scholars. "All of my teachers have studied abroad in prestigious Islamic institutes and I have already mastered wider natural science knowledge than my father," said Abdusami, who uses the Internet for research and has just completed a paper on the speed of light as calculated in the Koran.
On May 8, Abudureyim Wupur led a Jumuah at Dong Kuruk Bridge Mosque in Urumqi, the capital city of Xinjiang Uygur Autonomous Region. Dong Kuruk is one of the largest mosques among the 433 in the city. The ceremony attracted nearly 3,000 worshippers, packing the building so tightly that some had to pray outside.
Abudureyim became the imam of Dong Kuruk Bridge Mosque immediately after graduating from the Xinjiang Islamic Institute in 1998. During the half-hour sermon before going into the Jumuah, he prayed for world peace and asked the auditors to always greet all people with courtesy.
Abudureyim was invited by the local disease control center to visit Muslims at local drug rehabilitation centers. During these visits, he told addicts that abusing drugs is clearly against Koran, since it is a suicidal pursuit.
Abudureyim regularly goes online to search Islamic websites in Chinese and Arabic to further his studies in the Koran.