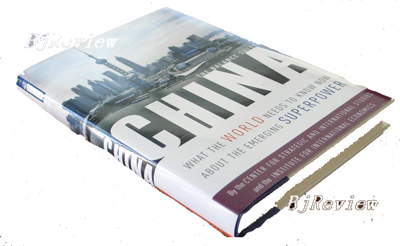 As one of the world's fastest growing economies with a 2-million-strong army, China is the cynosure of the world's eyes, and many want to know what China's rising means for the future of the world. Through a wide spectrum of analysis, China: The Balance Sheet seeks to address these concerns. Authors Bates Gill and Derek Mitchell, from the Center for Strategic and International Studies, and C. Fred Bergsten and Nicholas Lardy, from the Institute for International Economics, combine statistical and qualitative methods to provide an in-depth analysis of China's economic advantages and military strategy.
At its outset, the book, with a subtitle "What the World Needs to Know About the Emerging Superpower," asks a series of common, but key, questions. Chapters two and three address China's domestic economy and politics, leaving chapters four and five to discuss international trade and politics, and security concerns. This one book does the work of many by discussing these multiple issues and the relationships between them.
Your reviewer, however, found The Balance Sheet an excellent tool for U.S. politicians, rather than world leaders. Each section concludes with an analysis of what the two countries can do to improve relations. In addition, it is clear both sides need to understand that the other has a different way of doing things. In fact, China's way of doing things recently could be useful to the U.S. or Western foreign policy goals. For instance, China's emphases on a peaceful rise and abstention from other countries' domestic affairs have created a bridge for dialogue in Northeast Asia and now possibly Central Africa. The title of an emerging superpower is a misnomer as well. There is little discussion about a new superpower status and Chinese leaders have emphasized they are seeking coexistence, not world domination.
For nearly three decades now, China has been one of the world's fastest growing economies. Where once there was concern that China could not keep up the pace, now its own political authors fear they can't slow it down. Will it collapse? There are weak spots in the social, health, education and labor sectors. For instance, few Chinese have healthcare, and the ones that do can barely afford the premiums. Most save 25 percent of their disposable income, suitable to foot emergency hospital bills while treatable ailments remain a luxury few can afford. Workers formerly in state-owned enterprises and farmers in particular have insurance premiums beyond their income, or no insurance at all. In response, Central Government officials have established pay-in systems. Because less than 5 percent of the budget is spent on healthcare, many citizens remain under or uninsured. Ironically, the strength of the economy lies in the very reforms that are causing so much pain. Education (which thrives on hard science), labor (which is allowed freedom of movement), the embrace of market forces, encouragement of inward direct investment, and a nearly 25-percent disposable income savings rate have driven the economy up to the third largest.
Reform has created political challenges too, including corruption, "mass group incidents," sex selection, and a looming healthcare crisis from a population imbalance. Many Chinese, especially in the countryside, are angered by land confiscation without adequate compensation, and corruption among officials who ignore national environmental and safety standards. The abundance of 20-something single males and nearly 150 million floating,