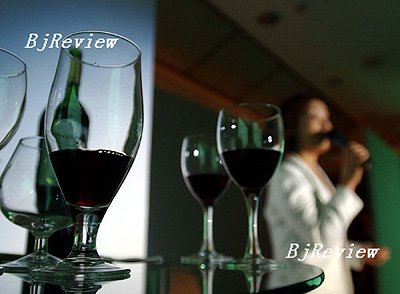 There was a time when trying to find a good red wine in China was a difficult affair. But as with all the rapid changes in this advancing country, that is no longer the case. The nectar of the gods is today an integral part of China's trendy social world. In lounges, nightclubs, discotheques, upscale restaurants and official banquets, corks are popping and glasses are being filled with Cabernet sauvignon. Fashionable youth, nouveau rich and even one time skeptical folk who clung to their old drinking habits of hard liquor and rice wine, are now sipping reds either as a symbol of status and good taste or for health reasons.
In vino veritas
Despite rice wine being the most popular alcoholic drink for Chinese throughout history, its red grape cousin is muscling in to stake a claim on the palates of deep-pocketed locals.
"It is very popular in business circles to serve vintage French wine as a prelude to negotiations," said Liu Xin, who works in a financial company in Beijing.
And there is no shortage of ads espousing the virtues of wine. Zhou Ning, a marketing manager of a real estate company in Beijing, said there are often billboard ads of a couple enjoying wine, or an elegant woman holding a glass of wine on the sides of Western-style apartment buildings. Adding wine into house ads is intended to tell potential homeowners that people who live in the apartment community are cultured, upper class, he said.
In many circumstances, price itself has now become part of the glamor of wine. Most wine consumers in Beijing are brand conscious, and drinking wine is a way they can show off their newly found wealth. For this younger crowd, it's all about the mood and atmosphere that surrounds the red liquid that W. C. Fields once called "bottled poetry." According to Alex Remy, Manager of the Beijing office of Sopexa, an association aimed to promote French food and agricultural products, many people in China buy wine to show their status. It makes wine consumers feel important and those who receive wine as gifts feel respected, he said.
The group of Chinese middle class is growing. Although it is hard to get an accurate number, experts estimate that at least 100 million of middle class are rapidly rising in China, according to an article on the 21foodcn.com, a professional food website and the largest online food market in China. The enlargement of city bourgeoisie has stimulated the sales of luxury goods in China, including wine.
Don St. Pierre, Sr., President of ASC Fine Wines, the largest wine import and sale company in China, said the growing wine consumption is part of the trendy luxury goods phenomenon. "The wine trend started in the newly emerged middle class but it will gradually affect the upper class, " he added.
And as the taste for wine grows, people in Beijing are beginning to learn how to savor that taste. "I used to like drinking wines with a pure, pleasing taste," said Liu, the company worker who is also an avid wine drinker. "But now, I begin to favor those wines with a lasting aftertaste and various taste layers and I know now that wine is part of Western food and drink culture."
In 2002, when Zhao Fan, a wine judge, held a private wine appreciation party, only seven people attended. Now, he has to limit the number of people who want to attend. "But not all people coming to my parties know much about wine," he said. "Some people do not even know how to hold a wine glass correctly, but they are clearly eager to learn about wine culture."
Zhao is teaching a course at the China Agricultural University on wine appreciation, which is very popular among students.
In an interesting spin off, even the rise in automobile sales has impacted the wine industry. As more and more Chinese can afford a private car and go on weekend outings, wine is now the main drink for picnic parties. Miss Wu, an office worker in Beijing who prefers wines with a fresh fruity flavor, recently spent over $2,000 for a dozen bottles of Bordeaux wine, which she hopes to enjoy with her friend on her next country outing.
Some Chinese are also installing wine racks in their living rooms to display their collections. Senior managers of big companies in Beijing are even taking the plunge and building private wine cellars to store their liquid assets.