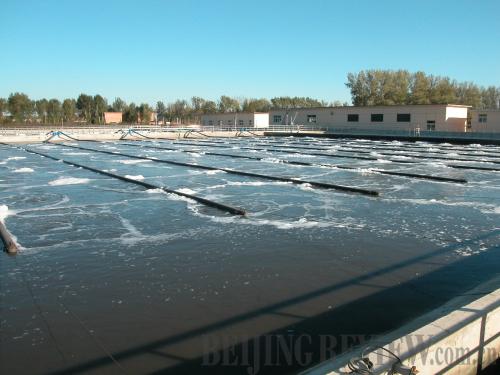 Wastewater is processed by microbes in China Enfi Engineering Corp.'s Liangxiang sewage treatment plant in Fangshan District, Beijing (COURTESY OF METALLURGICAL CORP. OF CHINA LTD.)
Around Liangxiang university town in the southwestern suburb of Beijing flows a waterway called Ciwei River, where abundant green vegetation and ongoing real estate projects thrive alongside the vibrant fish leaping out from the water's surface. Yet, a mere decade ago, the river was a drainage ditch, where there were only swathes of cropland and no traces of human residence. As local residents say, one could smell its stink within a radius of 5 km.
It was not until 2002 when sewage discharged by local people was diverted from Ciwei River to a nearby sewage disposal plant that the nearby environment began to show signs of recovery. The contractor of the sewage treatment project is China Enfi Engineering Corp., a subsidiary of Metallurgical Corp. of China Ltd. (MCC), the largest metallurgical construction contractor and service provider for metallurgical enterprises in the world and ranked among the Fortune Global 500.
"At first, a total of 40 million yuan ($6.28 million) was invested to pump out the sludge, remold the riverway and establish the sewage disposal plant. The price of the nearby land has skyrocketed," said Xu Qiming, Vice General Manager of China Enfi Engineering Corp.
Now that it handles more than 90 percent of construction contracts tendered by iron and steel companies in China and enjoys a 60-percent stake in the same market worldwide, MCC has maintained a leading position in core technology and innovation and an edge in industrial chain integration in the iron and steel sector. "In the face of resource shortage, environmental pollution and ecological degradation, MCC has strived to take the lead in recycling and environmental protection by pursuing innovation," said Zhao Zhishun, chief economist of MCC, recognizing that aside from contributing to economic development, state-owned enterprises also need to shoulder social responsibilities.
By establishing energy conservation and environmental protection companies, MCC has mastered a series of advanced technologies in terms of sewage treatment, fume and dust disposal, desulfuration and solid waste disposal, and grown into a green pioneer in the iron and steel industry and a major partner which can provide companies in the trade with all-round environmental protection technologies throughout the production process, said Zhao.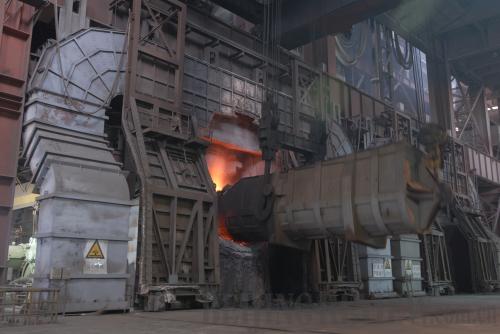 The 300-ton revolving furnace makes steel in a factory of Magang (Group) Holding Co. Ltd. in Maanshan, east China's Anhui Province (COURTESY OF METALLURGICAL CORP. OF CHINA LTD.)
Wastewater treatment
As early as 2002, MCC had begun to set its sights on sewage treatment through subsidiaries such as China Enfi Engineering Corp., Huatian Engineering and Technology Corp., and MCC High-Tech Engineering Co. Ltd. So far, it has set up 20 sewage treatment projects with total capacity exceeding 2 million tons per day. In 2014, these projects contributed roughly 500 million yuan ($78.5 million) to the company's total revenue, according to MCC.
Of these projects, the plant in Liangxiang represents the first step taken by MCC in wastewater treatment. Now, it can treat 40,000 tons of municipal wastewater and supply 5,000 tons of recycled water per day. This September, its sewage treatment capacity and recycled water supply capacity are expanded to treat and supply 80,000 tons and 35,000 tons per day, respectively. Now, it's responsible for the treatment of the wastewater in Liangxiang and part of its neighboring town, covering an area of 39.6 square km populated by over 300,000 people.
"The plant sticks to the highest standards of municipal sewage treatment in China, which are stricter than that in Europe and the United States, and the treated wastewater can be used in aquaculture and swimming pools," said Lu Dongyu, an engineer from China Enfi Engineering Corp.
Moreover, it's also a pilot project which integrates photovoltaic (PV) power generation with sewage treatment. The solar panels and film PV modules mounted above the treating ponds can generate 2,000 kilowatt-hours of power per day on average, supplying 20 percent of its total electricity consumption.
"All the solar panels and film PV modules are produced by our Luoyang-based polycrystalline silicon factory in Henan Province," said Lu, noting that it was MCC that first broke up Western countries' technological monopoly in the PV industry.
In fact, MCC is also trying to diversify its operation model for sewage treatment projects from solely functioning under the "build-operate-transfer" model to more options such as "transfer-operate-transfer" and equity merger and acquisition. Meanwhile, efforts have been made in extending its industrial chain, coordinating water supply and joint development, said Lu.
Green iron
As a metallurgical giant, MCC is also committed to recycling and green production in iron and steel factories.
Along the Yangtze River in Anhui Province, there are a cluster of factories owned by Magang (Group) Holding Co. Ltd., a large iron and steel enterprise set up by MCC in 1958. Its control of pollution and sewage discharging is of paramount importance to the protection of the Yangtze River ecosystem.
In 2015, Magang Group will spend 1.7 billion yuan ($266.9 million) in the maintenance and operation of energy conservation facilities and 300 million yuan ($47.1 million) in desulfurization, denitrification and the reduction of fume and dust emission. Expenditure in energy conservation and environmental protection makes up roughly 5 percent of the annual revenue, said Yan Hua, Vice General Manager of Magang Group.
What's worth mentioning is its fourth steel rolling central factory, a major project of Magang Group in structural adjustment during the 11th Five-Year Plan (2006-10) period. Assisted by two other MCC subsidiaries—China MCC 17 Group Co. Ltd. and Huatian Engineering and Technology Corp., Magang Group has adopted a number of emission reduction and secondary resources utilization technologies, such as the desulfurization of sintering flue gas, the dezincification of iron-bearing dust, the application of iron slag, the system integration of sintering production and the comprehensive application of waste heat and excess pressure.
By treating the pollutants discharged during iron and steel manufacturing, Magang Group has reached the goal of low energy consumption, low sulfur and low carbon as well as high efficiency of energy conversion and consumption and efficient and recycled use of water and iron resources, said Yan.
Since 2006, its comprehensive energy consumption per ton of steel production has declined to 718 kg of standard coal, the circulation rate of industrial water has risen from 70 percent to 96 percent, and the comprehensive utilization rate of solid waste has been lifted to 98 percent. From 2011 to 2014, Magang Group saved 1.05 million tons of standard coal, accomplishing 105.6 percent of its energy conservation goal during the 12th Five-Year Plan (2011-15) period.
"As a large state-owned enterprise, MCC is willing to lead a new development trend in China by protecting the environment and upgrading technologies and management methods," said Yu Shigong, President of China MCC 17 Group Co. Ltd.
"While striving to become the most excellent and competent metallurgical construction service provider, MCC should also act like the national leader in the 'green' field," said Yu.
Copyedited by Kylee McIntyre
Comments to dengyaqing@bjreview.com