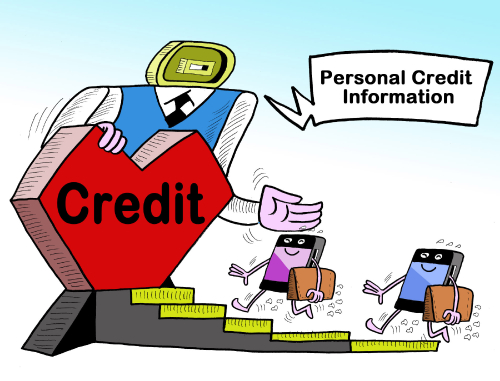 (CNS)
Booking a hotel room with your credit records, applying for immediate petty loans online, checking the credit record of the housemaid you are to hire, trusting a stranger to deliver goods for you by only checking his credit records--all these scenes will soon come true, and it is the personal credit information business that will bring people these conveniences.
In January, the People's Bank of China (PBC), the country's central bank, released a document requiring eight non-banking institutions to be ready to conduct personal credit investigation within six months. The companies included Sesame Credit Management under Alibaba Group, Tencent Credit Services, China Chengxin International Credit Rating Co. Ltd. (CCXI) and Intellicredit Inc.
Although the eight institutions have not yet presented timetables for the personal credit investigation business, China is inching closer to becoming a credit-based society.
Final spurt
"We are preparing for the check by the PBC, and will further improve the business in accordance with related regulations," said Feng Jun, President of Beijing Sinoway Credit Co. Ltd., which is among the eight institutions required by the PBC to conduct personal credit investigation. From registering businesses, recruiting personnel, setting up data centers, establishing partnerships and testing the first products, Sinoway has been ready.
The central bank has recently issued the application form and list of required documents to the eight institutions, urging them to report their latest information on organizational structures, business conditions, internal control systems and technical back-ups.
Li Xuan, CEO of Intellicredit Inc., said the form mainly includes submitted related corporate information, and the company will soon make internal and external checks to prepare for the final examination of the PBC.
While Sesame Credit Management's Sesame Scores and Lakala Payment Co. Ltd.'s Koala Scores have already been opened to the public, Tencent Credit Rating and CCXI's credit rating service are in public beta, more personal credit products are taking their turn in the limelight.
On May 30, Lakala's Koala credit rating service launched a "credit circle" service to provide various discounts for consumers. On June 6, Sesame Credit extended the public beta into the whole country and offered free car rentals. Intellicredit's "cloud platform against fraud" was opened on June 15. The credit service subsidiary of Ping'an Insurance (Group) Co. of China launched its first personal rating product and financial information service platform on June 11.
Li Guangyu, President of Koala, said personal credit information has a large market demand with a promising future, but the largest problem currently is that the personal credit data are not adequate. Various sources of data are needed to make ratings more accurate, but the eight institutions still have a lot to do in the mutual exchange of data and connection to the central bank's personal credit system for a collection of data from the government.
"In the future, we are likely to exchange data with the other institutions designated by the central bank. We consider it conducive to the growth of the market through cooperation among credit investigation institutions based on information security and mutual benefit," said Qiu Han, general manager of Ping'an Insurance's credit service subsidiary. "But in the primary period of development, various institutions must concentrate on better utilizing their own data and developing their own advantages."
A multi-billion market
Personal credit records are usually used in granting credit, car rentals, college admission and job recruitment. In developed economies, credit investigation has become a mature industry, but it has long been unofficial in China.
Why has this industry suddenly become a market focus in recent years? Zhang Zheng, Vice Dean of School of Economics of Peking University and Director of the China Credit Research Center, said two major factors have pushed forward the development of the credit investigation industry. First, as inclusive finance grows, financial services become connected with more ordinary people, hence the market needs the accumulation and inquiry of personal financial credit. Second, the Third Plenary Session of the 18th CPC Central Committee held in November 2013 vowed to establish and improve a social credit system, making the country focus more on the development of the credit investigation industry.
How large is the credit investigation market? According to a report on China's credit investigation industry released by the PBC in 2013, by the end of 2012, China had over 150 credit investigation agencies with an annual revenue of 2 billion yuan ($326.8 million). Industrial insiders estimate the market potential is much higher in actuality.
Zhang estimated that, according to the prices set by the central bank, individuals can check their personal credit records free of charge three times, and after that, each inquiry will be charged 25 yuan ($4.08). If each of the 1.3 billion Chinese makes one paid inquiry, the revenue will amount to 32.5 billion yuan ($5.31 billion), and together with other supporting services, the market size may reach 40 billion yuan ($6.36 billion).
"Our personal behaviors on the Internet are increasingly recorded, and such data are valuable for many institutions," said Zhang Jun, CEO of Ppdai.com, China's first peer-to-peer (P2P) lending site. In March, it launched its risk control system Magic Mirror.
Song Rui, CEO of Luoji Logistics, a service-linking platform for logistics, said most truck drives have recorded their personal information and driving records on the platform, some insurance companies are contacting him for the information of drivers to calculate insurance premiums.
Fair Isaac Corp. (FICO), a leading U.S. credit score firm, is getting more active in the Chinese market. According to FICO China's managing director John Chen, after FICO entered China in 2007, it used to regard banks as its major clients, but in recent years, it has recognized the growing significance of Internet-based finance; therefore, it has launched the FICO Alternative Lending Platform in China for the country's P2P lending platforms.
Challenges
Though its plans are attractive, China's credit investigation industry still faces difficulties.
Scattered information is difficult to collect. Kong Lingqiang, President of CCXI, said that personal credit data are scattered in various government agencies and companies, and most of the data are not shared with other institutions, making it difficult for credit investigation companies to collect. It is not certain whether and how the central bank's individual financial and credit databases will be open to personal credit institutions.
Privacy is not yet clearly defined in Chinese laws and regulations. According to Kong, in the Internet era, individual information is prone to be disclosed, but China has no laws or regulations defining what information can be collected by personal credit investigation institutions.
The profit model is not clear. In a mature credit-based society, selling credit reports is profitable. But in China, the fledgling industry is demanding a huge amount of investment in the current period.
What will the structure of China's personal credit investigation industry be like in the future? John Chen believed it will be decided by the market. "The current U.S. model is a result of market competition, and intense competition is necessary to improve the credit investigation industry," he said, adding that the full coverage of data, openness of platforms and fairness and authoritativeness of rating institutions will be critical for the success of the credit investigation industry.
Zhang Zheng suggests that the Chinese Government be active in improving related laws and regulations, clearly defining privacy as soon as possible. Furthermore, various government departments must cooperate with each other in sharing information, creating a good policy environment for the personal credit investigation industry.
Copyedited by Kylee McIntyre
Comments to wangjun@bjreview.com