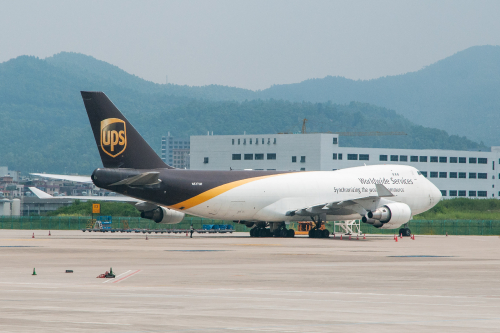 A UPS cargo plane lands at Shenzhen Airport on August 26, 2014 (CFP)
After China's high-speed train maker CNR Corp. Ltd.'s merger with its long-lost rival CSR Corp. Ltd. in March, a new wave of reform for China's state-owned enterprises (SOEs) seems imminent and imperative. Against this background, after Zhou Laizhen, Vice Minister of Civil Aviation Administration, disclosed the budding thought concerning air freight reorganization at the China Civil Aviation Development Forum on June 24, rumors over a consolidation of the country's three largest airline cargo carriers began to gain ground.
Though a concrete plan of the consolidation has not been unveiled, the State-Owned Assets Supervision and Administration Commission of the State Council, China's top regulatory agency for SOEs, allegedly has started preparatory studies. As Zhou said, the possible merger will give birth to the largest colossal air freight company in Asia and the fourth largest in the world.
The three involved airline cargo carriers are Air China Cargo, China Cargo Airlines and China Southern Cargo. Since Pudong Airport in Shanghai is China's largest air freight gateway, all of the three companies have located their main operation bases in the city.
Due to an economic slowdown at home and competition from railway and sea transportation sectors, China's air cargo industry has been struggling in the red in recent years. According to Li Jiupeng, General Manager of the Shanghai Eastern Logistics Co. Ltd., the number of in-service cargo planes witnessed a double-digit percentage decline in the first six months of 2015 compared with a year earlier.
In the adverse circumstances, it's quite hard for Chinese airline cargo carriers to keep afloat in the market. Take Air China Cargo for example. In 2012 and 2013, it suffered a loss of 1.09 billion yuan ($0.18 billion) and 349 million yuan ($56.22 million), respectively.
Moreover, all of the leading global airline cargo carriers are operated by transnational express groups, such as FedEx, UPS and DHL, which have grasped the lion's share of China's air cargo transportation market.
As early as 2009, the Civil Aviation Administration of China (CAAC) admitted that airline cargo carriage is an underdeveloped part of China's entire air transportation industry, and it suggested companies in the sector undergo reorganizations, mergers and acquisition to effectively compete with foreign counterparts. However, the administration's attempts to consolidate the industry eventually failed in 2010 due to a lack of strong support from a higher-level governing body and divergences among parties involved. Yet, after being suspended for five years, the scheme has been put forward again to reverse the underdog position of Chinese air cargo carriers.
External pressure
Since China opened up its air freight market after joining the World Trade Organization in 2001, foreign air cargo carriers such as FedEx and UPS have taken over more than 70 percent of the country's air cargo transportation market, with local companies' share dwindling to 28 percent, said Tian Baohua, former President of the Civil Aviation Management Institute of China.
Qi Qi, an associate professor at the Guangzhou Civil Aviation College, believes the pending consolidation will help the three involved companies out of the current awkward situation. Since profits of air transportation usually come from economies of scale, the merger will give birth to a more powerful airline network in China, which can face up to foreign rivals, he said.
Currently, Air China Cargo has 13 airplanes, ranking first among the three companies to be merged. It just returned to profitability in 2014. China Cargo Airlines owns 12 airplanes and experienced losses in both 2013 and 2014. China Southern Cargo expanded its fleet size to 14 airplanes by purchasing two Boeing 777 aircraft in late June and July.
Even so, the three companies combined strength can't match that of foreign magnates like UPS and FedEx that have 238 and 676 cargo planes under their belt, respectively.
Moreover, fast-growing private express companies such as S.F. Express and YTO Express, by virtue of their ever-increasing business volume, are striving to take part in the endeavor. By May, S.F. Express' fleet had included 19 self-owned planes, most of which are Boeing 757 and Boeing 737 aircraft, and 18 rented planes, far exceeding anyone in the three state-owned carriers' fleets in terms of size. YTO Express, which just obtained permission from the CAAC to break into the air transportation market, is expected to have its first three Boeing 737 cargo planes in late July.
Compared with express companies, however, traditional cargo airlines have more extensive business networks and can utilize the bellyhold of passenger planes to transport their cargo, according to industry insiders.
Strength in numbers
A major challenge Chinese air cargo carriers confront derives from their ineffective development modes rather than small capacity, said Li Jun, Chairman of the China Air Transport Association, at a symposium in aviation logistics development last November.
"Air cargo carriers in China focus on airport-to-airport transportation, which requires huge investment and involves high risks, but is located in the low-end of the value chain and can be easily substituted," said Zhang Dezhi, Vice General Manager of China Southern Cargo. "Because these Chinese carriers don't have direct contact with their customers, they have to rely on international freight forwarders who usually have an upper hand in negotiating prices."
Zhang noted that low profit is a major cause for the plight of the three large Chinese air cargo carriers.
Some industry insiders have warned that if it cannot secure stable supplies of cargo like express companies do, the incoming air carriage titan will face more cost pressures.
"Now, the three air cargo carriers can still make use of the bellyhold of the passenger planes owned by their parent airlines. Once merged, they will spin off, and it will be more difficult for them to lay their hands on these resources," said Qi, suggesting that the planned consolidation involve companies that can contribute to the supply of cargo.
Wang Jun, Vice President of Air China Cargo, perceived that what consignors need now is companies that can provide them with comprehensive logistics solutions, rather than freight forwarders and air carriers. More specifically, traditional air transporters should transform to comprehensive service providers encompassing not just air freight but also warehousing, customs clearance, insurance and multimodal transportation, which requires a business model upgrade as well as a structural adjustment of resources, internal organization and business range.
"Since 2008, almost all the airport-to-airport cargo carriers have been struggling to make ends meet. But door-to-door express companies that provide land-air transportation are less exposed to economic shocks, because they control the links with the highest added value," Tian said.
Compared with domestic air carriers, foreign airlines such as Lufthansa, Cathay Pacific and Korean Air have seized the majority of high-end sources of cargo like fresh perishable goods, because they have more sophisticated whole-journey management, control mechanisms and high-quality services, Zhang said.
In fact, some Chinese air carriers have started searching for new opportunities amid industry downturn. In 2013, China Cargo Airlines consolidated its air carriage business and injected it into Shanghai Eastern Logistics Co. Ltd., aiming to expand toward both ends of the value chain and the service chain by integrating land and air transportation. In June, Shanghai Eastern Logistics reached a deal with the Shanghai Waigaoqiao International Trading Operating Center to transport cherries from the United States to Shanghai. Before that, a range of commodities labeled with China Eastern Airlines EAEMall, such as Ecuadorian rainbow roses, Norwegian salmon and Chilean cherries, have found their ways on some e-commerce websites and TV shopping platforms.
While the planned merger will perfect the airline network and optimize the allocation and deployment of resources, some problems will come up, said Li Xiaojin, head of the Institute of Air Transport Economics under the Civil Aviation University of China in Tianjin.
"The consolidation and distribution of resources, ground support as well as differences in the corporate cultures of the three involved companies will be the main sources of frustrations and obstacles," Li said.

The Big Three
Air China Cargo is a Beijing-based joint-venture freight project between Air China Ltd., the country's largest airline, and the Hong Kong-based Cathay Pacific Airways Ltd. China Cargo Airlines is a Shanghai-based venture between China Eastern Airlines and China Ocean Shipping Co. China Southern Cargo is a subsidiary of China Southern Airlines that is headquartered in Guangzhou, south China's Guangdong Province. The gross revenue of the three companies stood at about 8.79 billion yuan ($1.42 billion), 5.29 billion yuan ($852.2 million) and 7.18 billion yuan ($1.16 billion), respectively, in 2014.
Copyedited by Kylee McIntyre
Comments to dengyaqing@bjreview.com