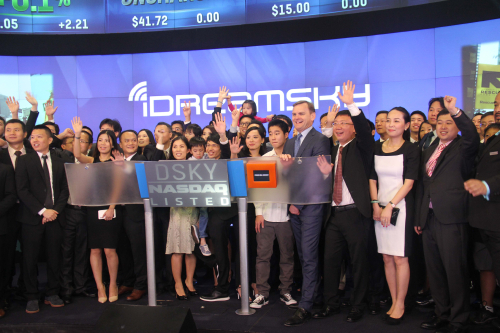 Chinese mobile gaming company iDreamSky Technology Ltd.'s staff pose for a photo at a ceremony to celebrate its IPO at Nasdaq Global Select Market on August 7, 2014. Los Angeles-based Glancy Binkow & Goldberg LLP announced on April 2 that the law firm, representing investors of iDreamSky, has filed a class-action lawsuit against the company (XINHUA)
U.S. investors seem to have gotten over their fear of Chinese stocks. After years of heavy restrictions spurred by allegations of fraud by short-sellers, auditor resignations and stock delistings, companies like Alibaba are once again finding an eager investment market in the West. But will lessons learned in recent securities litigation lead to different outcomes?
A panel of legal experts, moderated by Geoffrey Sant, special counsel at New York's Dorsey & Whitney LLP, recently discussed how Chinese companies are dealing with the complex Web of American securities regulations and dealing with a hallmark of the U.S. system--the class-action lawsuit.
"There have been a number of cases in the last two or three years which have really provoked a lot of discussion, scared a lot of Chinese companies and made a lot of plaintiff lawyers very happy," said Stephen Radin, partner at Weil, Gotshal & Manges, LLP.
Quite simply, the rules that govern company directors in the United States apply to the directors of U.S. companies based in China, Radin said, and that may come as a surprise to many Chinese executives. This has important implications in both directions. Chinese directors need to familiarize themselves with the U.S. legal regime, and Chinese companies that incorporate themselves in the United States need to understand that they are subject to U.S. law--even if the leadership is thousands of miles away in Beijing. On the other hand, U.S. directors of Chinese companies need to learn the language and culture of their founders.
Case in point, Radin said, is the 2013 ruling on Puda Coal, a class-action suit brought by shareholders that the board of directors was grossly negligent in its oversight responsibilities--including the directors' failure for 18 months or more to discover that all of the company's assets had been stolen.
Radin, reading the judge's court ruling, said, "If you're going to have a company domiciled for purpose of its relations with investors in Delaware and the assets and operations of the company are situated in China that, in order for you to meet your duty of good faith, you better have your physical body in China an awful lot. You better have in place a system of controls to make sure that you know that you actually own the assets. You better have the language skills to navigate the environment in which the company is operating. You better have retained accountants and lawyers who are fit to the task of maintaining a system of controls over a public company."
Earlier this year, a whopping $69 million judgment was issued in a case where the Chinese defendants failed to appear before the court, Radin said. Whether the plaintiffs will be able to collect that judgment remains to be seen, but the amount of the ruling shows the seriousness with which U.S. judges regard these class-action cases. Even if the judgment in unenforceable, no Chinese director wants a judgment like that over their head, he added.
Kayvan Sadeghi, of counsel at Morrison & Foerster, LLP, said securities litigation is a "cost of doing business" in the United States, which many Chinese directors may not realize. Class-action suits may not be preventable, but risk can be minimized.
"Directors in other countries sometimes take great personal offense to the notion of a securities litigation and want to know how they can fight back without understanding that this may not be preventable. That said, there are a lot of steps that should be taken. Really, the key is to understand the same rules apply if you are a company with your operations elsewhere. The biggest overall takeaway is transparency, and that is one of the hardest things to get across to people in other cultures who are not used to the disclosure obligations that come with U.S. securities laws. There are a lot of aspects of that, but developing a set of internal controls is one of the key things," Sadeghi said, adding that retaining counsel from a firm with expertise in both China and the United States can mitigate many issues before they become problems.
Even Alibaba, the darling of Wall Street and issuer of the biggest IPO on U.S. markets ever, has been hit with a high-profile securities class-action lawsuit. Given the size and attention the IPO attracted, analysts say it was "inevitable" that a class-action suit on behalf of shareholders might follow. The issue at hand was a white paper published by China's State Administration for Industry and Commerce (SAIC) accusing Alibaba of failing to crack down on the sale of fake goods, bribery and other illegal activity on its biggest e-commerce platform Taobao. A few days after the release, a class-action lawsuit on behalf of shareholders was filed accusing Alibaba of failing to disclose it had met with the SAIC six months earlier, just before the company's $25 billion IPO. The complaint alleges, among other things, that in the offering Jack Ma and Joseph Tsai, the company's co-founders, sold millions of the personal holdings in the company's stock in the offering.
The suit was later withdrawn, but it brought forward the issue of how a company like Alibaba would deal with a similar lawsuit. What are Chinese companies required to disclose when listing on U.S. markets?
Alibaba in its IPO even warned investors that if they win a judgment against the company they "may not be able to collect." Though the idea that a company the size of Alibaba would abandon the U.S. market and retreat to China to avoid paying a judgment is unlikely, some Chinese companies may be willing to risk a default judgment by avoiding the court case altogether. U.S. shareholders are unlikely to collect if Chinese companies pull out of the market altogether.
Cultural differences
Though class-action securities cases are common in the United States, they very rarely go to trial, said panelists. Usually cases are settled long before they reach trial. But for Chinese directors, settling a case feels like an admission of guilt and may engender a "loss of face." Therefore, Chinese companies may be more willing to try their luck in court. Chinese clients often express terror at the prospect of a class-action lawsuit, said Richard Silberberg, partner at Dorsey & Whitney, LLP, and American lawyers are often terrified as well--it is difficult to explain to Chinese directors the nature of U.S. securities litigation.
For example, Chinese tech firm Lenovo, in its acquisition of a software company called Superfish that tracks users' Web searches to place targeted ads on websites, drew 23 class-action lawsuits over violating U.S. wiretap laws and other charges.
"Try explaining to a company like Lenovo the legitimacy and reasons for 23 separate cases. Why haven't they been wrapped up into one, and how do we deal with that? The biggest challenge one has is to develop a relationship of trust and confidence with a Chinese entity. It is a work in progress," Silberberg said. "It's a lack of trust in the judicial process and a lack of confidence in U.S. lawyers."
Even after 40 years working with clients, Silberberg said some of his Chinese clients are reluctant to share with him any documents that could be damaging to the company, even though he is obligated to protect his clients' confidentiality.
Speaking from the perspective of the plaintiffs, Christopher Seeger, Partner at Seeger Weiss LLP, said language barriers are a serious problem in litigation. Recalling one case, Seeger said taking depositions can be impossible, with each side bringing their own interpreters.
"What it turned into was three days of the interpreters fighting, and, at one point, almost a fistfight," Seeger said.
As a linguist-turned-lawyer fluent in Chinese, moderator Sant said he has "always been fascinated by the language part" of taking depositions with Chinese entities. "From my view it's a hugely problematic issue, because many Americans don't understand that translating language doesn't work like an equation. You can't plug in one word or statement and then pop out that one. The languages work so differently."
For example, the Chinese word wenti can be translated into English as "problem," but it can also be translated as "question" or "issue." Chinese sentences can be vague, with no subject. The translator has to make the decision how to interpret the meaning of the words.
"That interpretation has a huge effect on whether a document is seen as positive or negative for you," Sant said.
Charles Yablon, professor and director of the Samuel & Ronnie Heyman Center for Corporate Governance at Cardozo School of Law, gave the closing comments to the panel, praising the discussion as "fruitful."
"It's important to remember here we are dealing with a country with a long and complex culture--one, which has many unique institutions and methods of operations. I'm speaking, of course, of the United States of America," Yablon said.
Yablon recognized that American law must seem strange to the rest of the world, and even more so for a culture coming from different legal roots and historical background.
"It creates this very difficult situation which really requires education," he said, "and I would submit to you that a lot of what we heard here was lawyers that also have to act as teachers and educators. A lot of this discussion was how to educate your client."
Furthermore, another cultural consideration is the role of judges, Yablon said. In most of the world, judges are viewed as bureaucrats and part of the political system.
"In the United States, judges see themselves as, well, judges," he said, "wielding the sword justice. If you get on the wrong side of the judge, the potential effects are very grave."
Clearly, it is not enough for Chinese entities to register as American companies. They need to familiarize themselves with Chinese law and what it means to be a director and run a company," Yablon concluded. "In the United States, litigation is part of the cost of doing business." n
The author is a contributing writer to Beijing Review, living in New York City
Copyedited by Kylee McIntyre
Comments to yushujun@bjreview.com