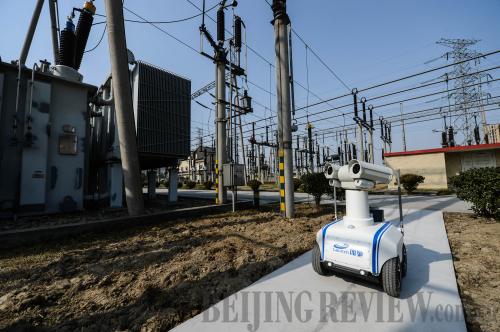 ROUTINE CHECK: The first substation inspection robot, which can move along the magnetic lines of force laid underground, was put into use in Yuhang District, Hangzhou, on February 11 (XU YU)
He argued that, though capable of producing robots, many Chinese robot manufacturers are not sophisticated in complicated system development.
"Application systems represent not only technological strength, but also high profits," said Wang.
Aside from the sluggish development of application systems, a complete robotic manufacturing chain has not yet come to fruition in China.
"Even leading Chinese robot manufacturers like Siasun have to buy core components and parts from foreign enterprises, such as reducers, electrical machines and bearings," said Lu Jilian, a retired professor from the BIT's Intelligent Robot Institute.
According to Wang's calculation, Chinese robot manufacturers purchase 80-90 percent of their reducers, 60-70 percent of electrical machines, and 40-50 percent of controllers from their foreign counterparts.
"That is to say, what Chinese enterprises can do is to produce robot shells, while foreign companies have absolute superiority in the exploration of core components and parts," he said.
Now, Chinese manufacturers are heavily dependent on foreign-developed core technologies and are struggling to provide the auxiliary items for their robotic products, said Wang Weiming, Deputy Director of the Equipment Department of the Ministry of Industry and Information Technology (MIIT).
Government support
"Reviewing the 40-year trajectory of China's robotics industry, the government has played a decisive role. Without its policy support, the course could have been far more difficult," he said.
Professor Lu echoes Wang Weiming's viewpoint, believing that governmental support is indispensable when promoting Chinese-made robots in both the domestic and overseas markets. Since the Seventh Five-Year Plan (1986-90) period, for instance, the robotics industry has enjoyed preferential policies.
According to the guiding opinions on promoting the healthy development of China's robotics industry released by the MIIT in December 2013, by the year of 2020, a relatively complete robot industrial system will be put in place, which will be composed of three to five internationally competitive enterprises and eight to 10 supporting industrial clusters. In addition, the density of robots will be elevated to 100 per 10,000 workers
At a meeting of academicians of the Chinese Academy of Sciences and Chinese Academy of Engineering held on June 9, 2014, Chinese President Xi Jinping said that the "robot revolution" will probably trigger the Third Industrial Revolution and its R&D, production and utilization are highly suggestive of a nation's capacity for technological and scientific innovation and high-end manufacturing.
"We should not only enhance the quality and efficiency of robotic production, but also leave no stone unturned in seizing market share," said Xi, expressing great determination to promote the rapid growth of the Chinese robotics industry.
In 2014, the National Science and Technology Major Project also put emphasis on industrial robots and their application in the automated workshops of sectors including the production of car engines and aviation, aerospace, shipbuilding and industrial explosive materials.
In November 2014, MIIT's Vice Minister Su Bo made it plain that the MIIT will soon get down to formulating China's robotic technology roadmap and the 13th Five-Year Plan (2016-20) for the robotics industry.
Email us at: dengyaqing@bjreview.com