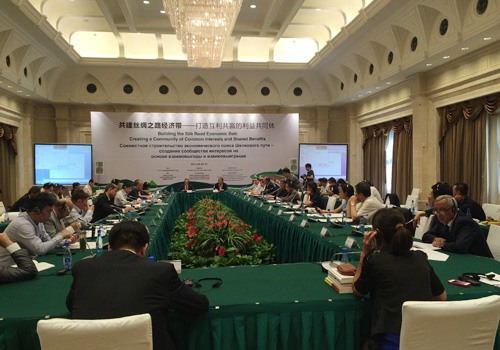 PUTTING THEIR HEADS TOGETHER: Scholars and experts express their opinions at the session of Creating a Community of Common Interests and Shared Benefits during the Silk Road Economic Belt International Seminar held in Urumqi, capital of Xinjiang Uygur Autonomous Region, on June 26 (DENG YAQING)
"CNPC will expand Chinese-Central Asian energy cooperation at all stages from well drilling, oil extraction and pipeline construction to exploration and development, processing, technology service and training," said Zhang Yaocang, Vice Chairman of the Board of CNPC.
Rich in oil and natural gas resources, Central Asian countries have been trying to exploit more export channels. Meanwhile, China, which used to rely largely on energy imports from the Middle East, hopes to diversify import sources to bolster energy security, said He Lunzhi, a professor from the Economic Research Institute of Xinjiang University.
Aside from agricultural and energy connections, many experts believe the Silk Road Economic Belt should be founded on a network of traffic corridors, with Xinjiang acting as a pivotal port of transfer.
Zhang Chunxian, Party Secretary of Xinjiang Uygur Autonomous Region, stated that three corridors linking China with Europe as well as an integrated transportation network connecting China with Central, West and South Asia, Europe and Africa will be put in place.
More specifically, the north corridor starts from Altay and Tacheng in Xinjiang, passes through Russia and Kazakhstan and finally reaches Finland; the central corridor runs across Horgos and Alataw Pass in Xinjiang, passes Kazakhstan and Turkey and ends at Rotterdam, Holland; and the south corridor sets out from Kashgar in Xinjiang, goes through Iran and arrives at Gwadar, Pakistan.
"Now, the most urgent task is to build Xinjiang into a comprehensive transportation hub, which is comprised of railways, expressways and air routes," said Zhang Chunlin, Director of the Xinjiang Development and Reform Commission.
At the same time, Central Asian countries have also set about stepping up infrastructure building. At present, Kazakhstan is pressing on with the 2,787-km road transportation corridor linking West Europe with west China. Once completed, the distance between China and Western Europe will be shortened by a third.
Once Xinjiang is established as an important transportation center cementing Central Asia and China, it is foreseeable that China will eventually morph into a major channel for energy and minerals trade spanning the Atlantic and the Pacific oceans, said Pan Zhiping, an expert on Central Asian issues.
Economic interactions
"As an important section of the Silk Road Economic Belt, Central and West Asia will undoubtedly gather growth momentum through their participation," said Alexander Lukin, Vice President of the Diplomatic Academy of the Ministry of Foreign Affairs of the Russian Federation.
Vladimir Petrovskiy, Chief Academic Researcher of the Institute of Far Eastern Studies under the Russian Academy of Sciences, said the building of the Silk Road Economic Belt initiative can incorporate with Eurasian Economic Union projects, and the two can develop in parallel until a free trade zone is built.
"More economic interactions along the belt will add to the volume of freight traffic to Russia's railways in North Asia, the capacity of which has not yet been fully utilized," said Liu.
"Tajikistan is completely landlocked, so the revival of the Silk Road means a lot to the country," said Akbarali Sattorov, Chairman of Tajikistan's Union of Journalists, listing three major tasks the Central Asian country faces—guaranteeing energy security, putting an end to the country's transport and communication isolation, and ensuring substantial food supplies.
"The renewal of the Silk Road will certainly improve the livelihood of nearly every resident," said Akbarali, referring to the fact that Xi's visit to Central Asian countries last September brought contracts worth as much as $60 billion. To name a few, China and Uzbekistan signed contracts worth $15.5 billion related to petroleum and natural gas; China and Turkmenistan signed contracts worth $7.6 billion to extract natural gas; China and Kyrgyzstan signed contracts worth $7.5 billion to build natural gas pipelines; in Kazakhstan, the CNPC invested $5 billion to purchase an 8 percent share of an oil field in the Caspian Sea.