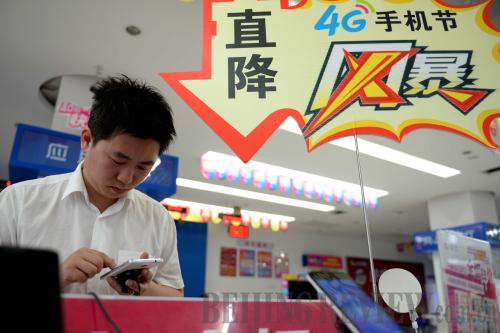 MORE DISCOUNTS: A consumer selects 4G cellphones at an outlet store of China Mobile in Nanchang, east China's Jiangxi Province (CHEN ZIXIA)
On May 17, World Telecommunications Day, China's telecom operators launched promotions as usual, but this year, they directly cut their prices. China Unicom offered discounts as high as 90 percent off for data packages, and China Mobile slashed its 4G service prices by 40 percent.
Their moves came in response to a circular released by the Ministry of Industry and Information Technology (MIIT) and the National Development and Reform Commission (NDRC) on May 9, which granted full pricing autonomy to all telecom operators. As of May 10, the two bodies will no longer examine telecom fees, and telecom operators will be able to set their charging model, billing standard and price structure.
Yu Hong, a researcher with the Institute of Industrial Economics of the Chinese Academy of Social Sciences, said this change means market-oriented reform of China's telecom industry will advance forward, which will be conducive to building up a freer telecom market with vibrant competition.
Wang Ningyuan, a researcher with Shenzhen-based industrial research company CIConsulting, thinks freeing up all telecom fees represents significant progress in China's decision to comprehensively deepen its reform. The telecom industry used to be regarded as a sector involving national security, hence was controlled and "guided" by related government departments. In recent years, however, market access to the telecom industry has been relaxed, with private capital being allowed to enter the industry. However, this policy has achieved little effect. On this occasion, fully freeing up telecom prices indicates the government's firm determination to reduce government intervention.
A press release from the MIIT said granting fully flexible pricing power to telecom operators will be of great significance to further encouraging market competition, allowing full play to the role of the market as an "invisible hand" and increasing the efficiency of the telecom market.
Decided by the market
China's telecom market is currently monopolized by three state-owned operators: China Mobile, China Unicom and China Telecom.
Before the recent circular was released, China's telecom operators were implementing a billing standard as stipulated by the Regulations on Telecommunications promulgated by the State Council in 2000, which says that prices for basic telecom services should be set or guided by the government, or adjusted by the market and prices for value-added telecom services should be adjusted by the market or guided by the government.
In 2005, the MIIT and NDRC jointly issued a document, stipulating a "ceiling" for local land-line phone charges and mobile roaming charges. For example, charges for mobile roaming calls should not be higher than 0.6 yuan ($0.1) per minute, and those for incoming roaming calls should not be higher than 0.4 yuan ($0.06) per minute.
Because of government control, the competition among telecom operators is inadequate. In May 2010, China announced its decision to allow private capital to invest in more sectors, including the telecom industry. In 2011, the NDRC filed for investigation against China Unicom and China Telecom for monopoly. However, the results of private capital entering the telecom industry have been far from satisfactory.
According to Wang, government control over telecom charges is one of the major reasons for the imperfect competition in China's telecom market.
Wang said that the MIIT and NDRC will free up all telecom charges and let the market decide prices. This will be a new opportunity for the market-oriented development of China's telecom industry.
According to the circular, telecom companies can freely design service packages and prices tailored to consumer demand under the principle of legitimacy, fairness and honesty and offer multiple package options to meet different customer needs. The MIIT and NDRC only require that telecom operators make simple and clear descriptions of service packages, including charges for each service and how subscribers will be charged.