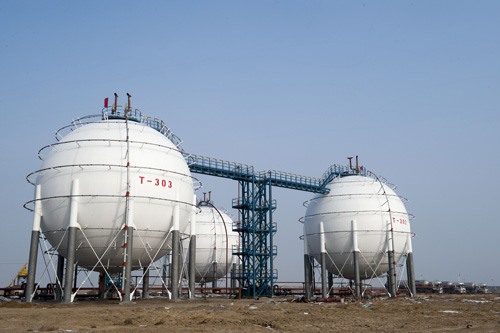 CROSS BORDER: A petrochemical plant owned by Alashankou Horizon Petroleum and Gas Inc. seen at Alashankou Comprehensive Bonded Zone in Xinjiang Uygur Autonomous Region (JIANG WENYAO)
When a Han Dynasty emperor sent his envoy Zhang Qian on a diplomatic mission to Central Asia almost 2,100 years ago, he set in motion an economic miracle.
Establishing relationships with countries in the region and distant European nations, the resulting cross-border trade on a route that began in northwest China's Xi'an in Shaanxi Province and connected Europe and Asia, became known as the Silk Road. This legendary economic corridor grew to become the longest and most prosperous trade route of its time.
History shows that due to frequent wars, dynastic changes and shifts in China's economic center, the Silk Road faded into obscurity.
Today, in the context of the lingering global financial crisis and European sovereign debt crisis, there are optimistic expectations for a Silk Road resurrection.
On September 7, in his speech at Nazarbayev University during his state visit to Kazakhstan, Chinese President Xi Jinping proposed European and Asian countries, along with China, to establish an economic belt based on the original Silk Road through an innovative cooperation model, which aroused positive reactions among Central Asian countries.
"The Silk Road economic belt is a new economic development zone linking China and Central Asia and Europe. The belt connects the Asia-Pacific economic circle in the East and the European economic circle in the West," said Sun Zhuangzhi, a research fellow from the Institute of Russian, Eastern European and Central Asian Studies under the Chinese Academy of Social Sciences.
With a combined population of the countries and areas the economic belt covers being almost 3 billion, the huge market potential is obvious.
Local gov't competition
The ancient Silk Road originated from Xi'an and ran through Shaanxi, Ningxia Hui Autonomous Region, Gansu Province, Qinghai Province and Xinjiang Uygur Autonomous Region. Local governments in these areas have mobilized experts to formulate development plans for the new Silk Road. Once this is done, the National Development and Reform Commission (NDRC) will gather proposals and research results from local governments and work out a development plan for the economic belt.
The Central Government has yet to decide the starting point of the new Silk Road within China, and a number of cities are vying for this plum status.
Among them, Shaanxi suggested, a Xi'an International Trade and Logistics Park and Xi'an Comprehensive Bonded Zone would facilitate cooperation and exchanges among European and Asian countries.
Lianyungang, a port city in east China's Jiangsu Province, by virtue of its railway lines and strategic position linking Xinjiang and Central Asia, is also a strong candidate.
According to the NDRC, some people have even recommended Beijing and Tianjin as options. What is clear is that convenient and fast modern transportation networks across the regions make it less likely to necessitate using Xi'an as the springboard, as was the case in ancient times.
Economic boost
Despite these uncertainties, the NDRC has carried out some preliminary studies, and some policies are being drawn up.
Officials from the NDRC said that the economic belt would expand cooperation between China and Central Asia into sectors like technologies, investment, finance and services, and exert a significant influence on the involved economies. At present, economic interactions mainly take place in the fields of human resources, energy and mineral products.
The energy sector will benefit the most from the new Silk Road. Since most of China's oil imports are now transported by sea, making it susceptible to interference from external factors, expanding onshore oil transportation has been part of China's strategy to diversify oil import sources, in an effort to ensure energy safety. Compared to marine transportation, onshore pipeline transportation of oil and natural gas involves far fewer risks.