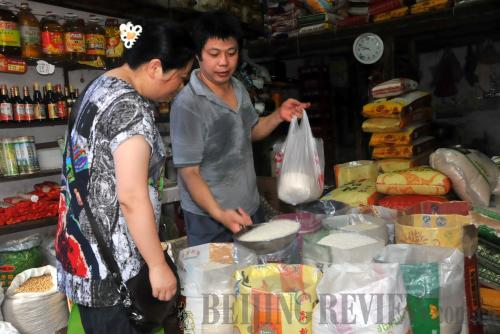 FOR A BETTER PRICE: Customers shop for rice at a general store in Nanchang, Jiangxi Province (LIN YANXING)
Central China's Hunan Province is one of the country's biggest rice producers. Because Yuan Longping, China's "father of hybrid rice," has his research base in Hunan, the province is highly renowned in the country's grain market. But, the granary has recently fallen into crisis because of a tainted rice scandal.
According to a February 27 report in Nanfang Daily, in 2009 a bulk of rice containing excessive heavy metal cadmium was sent to Guangdong Province. The news immediately caused a great uproar. Provincial government departments held a meeting on the same day to find a way to guarantee grain safety in the market.
The Guangdong Provincial Government said in a release that in 2009 Shenzhen Cereals Group, a state-owned enterprise for grain reserves and a major rice supplier in Guangdong, purchased about 10,000 tons of rice from Hunan. An inspection by Shenzhen's quality supervision authority found the rice substandard, containing excessive cadmium.
If just one batch of rice is found to contain excessive cadmium, it might not arouse public panic. But further investigations by government departments and media found that Shenzhen Cereals Group had even tested and found excessive cadmium from rice it purchased from Hunan seven years ago.
Other media reports say that the Agriculture Department of Hunan Province disclosed at a 2012 meeting that heavy metal pollution—including high levels of cadmium, arsenic, copper, zinc and lead—was on the rise in agricultural areas. Absorbed via the roots, pollutants accumulate in crops. In recent years, more and more farm products exported from Hunan have been rejected by importing nations for their high metal levels. Chen Jian, Sales Manager at Changsha Depot of China Grain Reserves Corp., says most rice produced in Hunan contains excessive cadmium.
Rice is largely consumed as a staple food in China, but it's also a crop more prone to absorbing excessive heavy metals than other crops like corn and wheat. Experts say more attention is needed by the government to ensure the safety of rice cultivation.
A serious pollutant
Cadmium is a highly toxic heavy metal used in paints and batteries. A small dose of cadmium is harmful to one's health and can even cause cancer. It can accumulate in the human body for 10-30 years, causing pathological changes in organs such as the kidneys and bones, or even damage the health of the next generation. Countries including China have listed cadmium as a primary metal to watch out for in grain production. According to the Chinese standard, the content of cadmium must not be higher than 0.0013 milligrams per kg of rice.
Xu Xudong, Deputy Director of the Institute of Hydrobiology at the Chinese Academy of Sciences, says rice with excessive cadmium indicates that soil pollution in China has affected grain quality and safety.
"We have been concerned that accelerated urbanization will increase the demand for land, hence reducing the amount of cultivated land below the warning line of 120 million hectares. But now, we should also worry about the damage of heavy metal pollution on cultivated land," Xu said.
How much land in China has been polluted? There is no exact figure. The Ministry of Environmental Protection and the Ministry of Land and Resources conducted in 2010 a joint survey on the country's soil pollution, which covered 4.5 million square km of land in the industrialized regions of the Yangtze River Delta, Pearl River Delta, Bohai Economic Rim and the old industrial base in northeast China. The results have not yet been released.
On October 25, 2010 Zhou Shengxian, Minister of Environmental Protection, delivered a report to the Standing Committee of the 11th National People's Congress, which found the quality of China's land environment to be poor. In China, 10 million hectares of cultivated land has been polluted, accounting for 8.3 percent of the 120 million hectares of land. This is the most authoritative figure till now on soil pollution.
Prevention is key
"Only with prevention can we avoid cadmium poisoning," Xu said, adding that he's most concerned about whether the polluted land has been too seriously damaged for future cultivation.