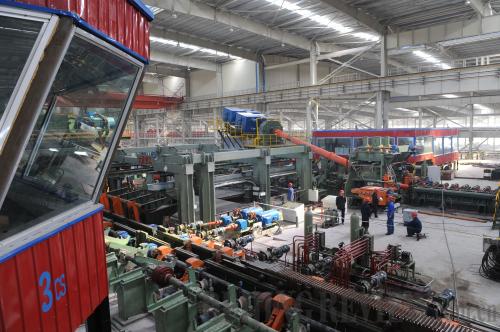 INDUSTRIALIED: Workers on duty at a steel tube production line of Fengbao Special Steel in a Linzhou-based factory (ZHAO PENG)
After dipping to a three-year low in the third quarter of 2012, the Chinese economy registered a robust 7.9 percent growth in the last quarter, sending positive signals to the rest of the world that China's economic prowess could be on the rebound. But will the momentum carry into 2013?
At a forum held by the financial portal website Hexun.com and the Stock Exchange Executive Council in Beijing on January 19, experts on China's economy exchanged ideas on whether the country can maintain its rebounding growth in the new year and in the long term.
Predictions
At the forum, Wang Wei, chief editor of Hexun.com, published the Hexun 2013 Forecast on Macro Economy, predicting that China's GDP will rise 7.8 percent in 2013, which is the same as the previous predication of the Standard Chartered Bank.
In its newly released World Economic Outlook, the World Bank expected China's economy to expand by 8.4 percent in 2013, 8 percent and 7.9 percent in 2014 and 2015.
Chen Xikang, a research fellow at the Chinese Academy of Sciences said at the forum that the World Bank's predication is reasonable. "But only if domestic and international circumstances are stable, and there is no deviation of national policies, can China witness an 8.4-percent growth rate," he said.
Other factors could impact the country's rebounding growth. If China and Japan go to war over a group of islets in the South China Sea, China's economic development could be adversely impacted. If the eurozone sovereign debt crisis and the U.S. fiscal woes worsen, it will be difficult for China's foreign trade to grow alongside its GDP.
Wang Tongsan, Director of the Institute of Quantitative and Technical Economics at the Chinese Academy of Social Sciences, argued that overseas market demand and world economic circumstances would determine whether China's GDP growth in 2013 would surpass 8 percent.
The United States can overcome its debt problem only by elevating its debt ceiling. Otherwise, a new crisis will drag down the U.S. economy. In addition, uncertainties persist in the eurozone sovereign debt crisis. The lack of authority and the failure of a fiscal pact make the future of the eurozone bleak, Wang said.
Currently, Japan has the highest rate of national debt to the GDP among developed countries, somewhere in between 230 percent to 250 percent. If the country's debt continues to increase, Japan will be the next country to suffer a sovereign debt crisis, he added.
"Taking all the above-mentioned possible factors into consideration, it's still uncertain whether the Chinese economy can grow by more than 8 percent," Wang said.