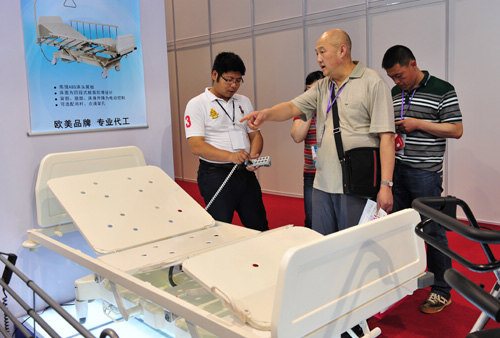 SERVICES FOR THE ELDERLY: A visitor inquires about an electric nursing bed at the First China International Senior Services Expo held in Shanghai in May 2012 (ZHANG JIANSONG)
A boon to the service market
The secondary industry grabs the highest proportion of the country's GDP compared to the service sector, which ranks second and agriculture, which ranks third.
Figures from the National Bureau of Statistics (NBS) showed that in 2010 China's service sector accounted for 43.2 percent of the country's GDP, which means that in 2015 the proportion will surpass 47 percent. In 2010 the proportion of industry was 46.8 percent, and it is estimated that this proportion will not change remarkably in the next five years.
During the 12th Five-Year Plan period (2011-15), the country will accelerate the development of 12 industries, including financial services, transportation and modern logistics. The country will also vigorously develop consumer services, including trading services, culture, tourism, health care and senior services.
The foundation for growth in producer services remains weak. According to NBS figures, the proportion of producer services in the entire service industry in 2010 was only 46 percent, accounting for less than 20 percent of the total GDP. In developed countries, however, the proportion of producer services is normally 60-70 percent, and the proportion in the total GDP is roughly 43 percent.
In comparison, China's proportion of producer services in terms of GDP is less than half of those in developed countries. Producer services are needed to support China's industrial upgrading. Particularly, to integrate itself in global value chains, China must vigorously develop producer services.
Zhao says accelerating the development of the service industry is important as the country pushes forward economic restructuring. In the future, two trends will emerge in the development of China's service sector. First, the service departments of industrial enterprises will be separated and become independent service providers; and second, the present unreasonable and low-level service industries will be continuously improved to meet the demands of economic and social development.
China's service sector will face rare development opportunities. According to the plan, economic globalization will deepen over the next five years, new patterns will emerge in world economic growth and market demand, and scientific and technological innovation and industrial upgrading will achieve new breakthroughs. China and the rest of the world are increasingly interconnected economically, and the service sector is facing more opportunities in international development.
Meanwhile, China has favorable conditions for rapid development of its service sector. China's per-capita GDP surpassed $4,000 in 2010 and will be higher during the 12th Five-Year Plan period. This will inevitably facilitate the upgrading of its industrial and consumption structures, bringing a boon to the service market. As industrialization, urbanization and internationalization are deepened, the foundation for the development of the service industry will be further improved.
"During the 12th Five-Year Plan period, China will accelerate reform and opening up and improve the market economic system, which will create a better environment and further stimulate vigorous development of the service sector," Zhao said.
Email us at: lanxinzhen@bjreview.com