Covering an area of 20 square km, the park features five specific zones: digital technology and new media, creative design, TV and film, antique handcrafts and culture and tourism.
Magical Times Digital Technology Co. Ltd. is a top animation and cartoon company located in Fuzhou, the provincial capital. Its 2011 movie Wishes of Little Stars was a joint project with a Taiwan-based digital company.
In an effort to build its international businesses, Magic Times hired five consultants from Taiwan.
The Taiwan team is responsible for the marketing of the company's key project, the Dou Dou Tiger series.
"They do have a better understanding of image design. Our previous image of Dou Dou Tiger was rather bland. But after the Taiwan team made changes, the image is now perfect for our target audience," said Fang Yanhong, PR Manager of Magical Times.
Tapping a huge market
For many Taiwan-based companies, the first thing that comes to mind regarding the mainland is an immense market potential. The second is establishing ties with mainland businesses.
Tsao Chung-piao, General Manager of Epackage Creative Packaging Solutions, a Taiwan-based company that offers creative packaging solutions, came to the Fifth CSCIF to look for opportunities with mainland counterparts.
Visitors at Tsao's booth were astonished by his paper-made, tables, trashcans, clothes hangers, and bookshelves, and were further surprised to learn that his paper-made chair can support a weight of up to 200 kg.
"I have a shop in Taiwan and don't plan to open more shops there because its market is small. That's why we came to this year's CSCIF—for the bigger mainland market. We are looking for large packaging factories or advertisement companies that we can cooperate with. They will be responsible for the manufacturing and we will offer our creative ideas on paper packaging," said Tsao. "I'm quite confident about the profitability of this business in the mainland market."
Lee Yung-moo is a Taiwanese artist who owns a studio specializing in creating objects made from trees. His booth at the Fifth CSCIF was filled with flowers made of tree leaves and animals woven together with bark.
"Trees give human beings oxygen and hold water, making them a vital aspect of human life. Human beings should never feel superior to plants and creatures but should worship life in any form. We hope to bring this concept to the mainland," said Lee.
Oliver Chen is the managing director of the Taipei Film Trade Association, which represents roughly 160 Taiwanese film industry players. This is the first time that Chen has come to the CSCIF on behalf of the association.
"Taiwan-based film companies want to tap the mainland market very much," he told Beijing Review. "The mainland market has become indispensable for us."
Taiwan and the mainland are like brothers who share ancestry and the same language, said Chen, adding that Taiwan needs the mainland's huge market potential as much as the mainland needs Taiwan's expertise in the film industry.
For Chen of Franz Collection, Franz can help improve creativity on the mainland.
"Artists on the mainland often over-estimate the function of ancient Chinese elements in their designs. Their designs should instead be closely related to daily life and emphasize universal themes. That's what they need to pay more attention to in the future," said Chen.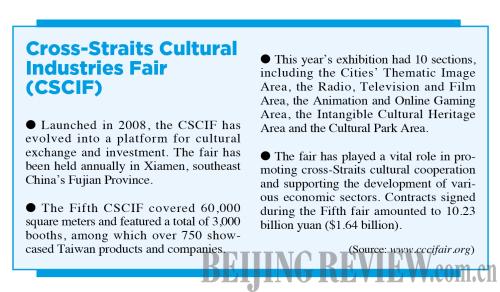 Email us at: zhouxiaoyan@bjreview.com