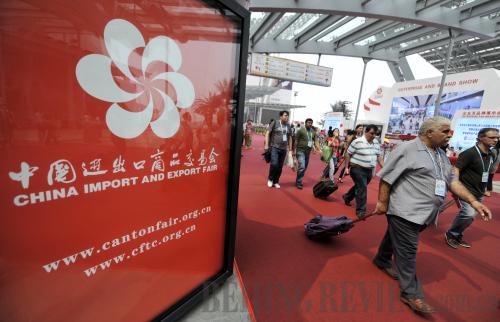 SEIZING EVERY OPPORTUNITY: Businesspeople arrive at the Canton Fair on October 15 (CHEN YEHUA)
China's economy grew 7.4 percent year on year in the third quarter of 2012, slower than the 7.6 percent growth in the second quarter and the 8.1 percent in the first, the National Bureau of Statistics (NBS) announced on October 18.
Growth has slowed for the seventh straight quarter, although it was in line with what economists had predicted for the world's second-largest economy.
The country's GDP reached 35.35 trillion yuan ($5.61 trillion) in the first three quarters of 2012, said NBS spokesman Sheng Laiyun in a press conference on October 18.
"The GDP grew 7.7 percent in the first three quarters, and the economy is generally stable," Sheng said. During the first half of the year, it grew 7.8 percent.
Despite the slide, Sheng said the economy had been stabilizing, especially since September. "We have seen some improvements in the third quarter," he said.
Total retail sales in September hit 1.82 trillion yuan ($291 billion), up 14.2 percent year on year and 1.46 percent month on month.
Fixed-asset investment rose 20.5 percent year on year to 25.69 trillion yuan ($4.11 billion) in the first nine months, with the growth rate accelerating slightly by 0.1 percentage points from the first half.
Challenged by a sluggish external market and global economic woes, the Chinese Government lowered its full-year growth target for 2012 to 7.5 percent in early March, after its economy grew 9.2 percent in 2011.
The pro-growth policies that China has already rolled out are creating new investment demand that will start showing their full impact in the coming months, said Xu Hongcai, a senior economist with the China Center for International Economic Exchanges, a government think tank based in Beijing.
The GDP is likely to grow 7.7 percent year on year in the fourth quarter and exceed the government's target of 7.5 percent for the whole year, Xu predicted.
"Judging from macroeconomic figures in the first three quarters, the country can reach its goal of 7.5-percent GDP growth in 2012 without any doubt," said Wang Xiaoguang, Director of the Department of Strategy and Development at the Economic Research Institute of the National Development and Reform Commission (NDRC). "GDP growth in the next quarter is bound to pick up."
China's GDP growth is estimated to be 7.8 percent in 2012 and 8.2 percent in 2013, according to the IMF's recently released World Economic Outlook.
"Over 7-percent GDP growth is nothing to sneeze at," said Richard D'Aveni, a professor of strategic management at Dartmouth's Tuck School of Business. "Reports of China's imminent demise have been exaggerated."
Having recently returned from China, D'Aveni believes the recent slowdown is a short-term concern and China's long-term prospects remain bright.
"Everybody's apoplectic about slowing growth but they're still growing five times faster than the United States," he told the finance show Yahoo Daily Ticker.
Beyond that, D'Aveni is impressed with China's attempt to transition from an export-led economy to one driven by domestic demand. China's market is the world's largest and rising incomes will continue to generate demand for goods and services, he said.
"The Chinese Government has many more tools to manage a bubble than we do in the United States or than Japan had when their bubble burst," D'Aveni said. "They have so much control over the economy they can make it work. You can't count them out. They will stimulate their economy out of this situation."