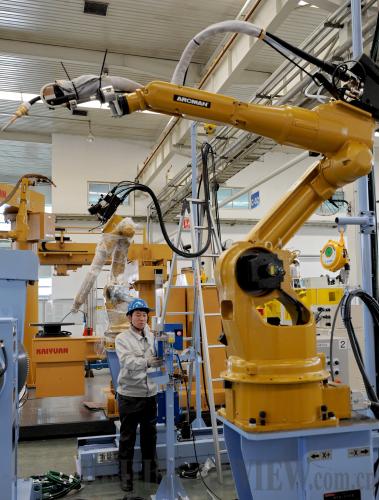 ROBOT BASE: A worker debugs a robot at Tangshan Kaiyuan Robot System Co. Ltd. The industrial robot industry has been listed among the strategic emerging sectors the country vows to spur (YANG SHIYAO) 
Beijing-based National Bio Energy (NBE), China's biggest biomass power generation firm, is feeling the heat of funding and fuel supply pressures. These shortcomings have caused NBE, with its annual biomass power output taking up 60 percent of the national total, to put its ambitious plan of building 100 biomass power plants by the end of 2015 on hold.
Only 40 of the planned facilities have been completed.
The privately owned enterprise has been plagued by funding constraints due to difficult access to credit. That, in tandem with rising competition in a yet-to-be regulated industry with low threshold to entry, has stifled its plan to expand operations on the heels of China's burgeoning post-recession economy.
The problem is not unique to NBE. Emerging industries, especially new energy, have grown erratically in recent years, largely due to blind investment and a lack of systematic planning.
To tame these industries and make them new growth engines for the Chinese economy, the State Council on July 20 unveiled a sweeping national development plan for strategic emerging industries during the 12th Five-Year Plan period (2011-15).
Strategic emerging industries, including energy-saving and environment protection, information technology, biology, advanced equipment manufacturing, new energy, new materials and new-energy vehicle sectors, accounted for less than 4 percent of the GDP in 2010.
The plan sets a target of 8 percent by 2015 for the share of value-added from these industries against the country's gross domestic product (GDP), and 15 percent by 2020.
Zhang Xiaoqiang, Vice Chairman of the National Development and Reform Commission, however, points out that to achieve the goals, these industries need to address such problems as overcapacity and backward technology.
Big boost
While traditional and advantageous industries recorded poor performances as a result of sluggish overseas demand and a plunge in investment, China pinned its hopes on emerging industries to provide a cushion should growth begin to stall.
"Growth rates in traditional industries such as iron and steel, automobile, real estate and chemical industries are plummeting, and the nation hopes emerging industries can play a leading role in economic development," said Wan Jun, a researcher with the Institute of World Economics and Politics, at the Chinese Academy of Social Sciences (CASS).
According to Zhang, some strategic emerging sectors such as advanced equipment manufacturing, environment protection and next-generation information technology outpaced growth of traditional industries in recent months. Hopes are proliferating that these sectors could serve as new growth engines for the national economy.
Aside from countering the growth slowdown, the development plan was intended to transform the development pattern and accelerate economic restructuring.
The global financial crisis in 2008 exposed China's economic flaws and deficiencies, namely, excessive dependence on external demand. As more problems emerged—unreasonable industrial layouts, environment pollution and imbalanced regional growth—economic restructuring has become a national necessity.